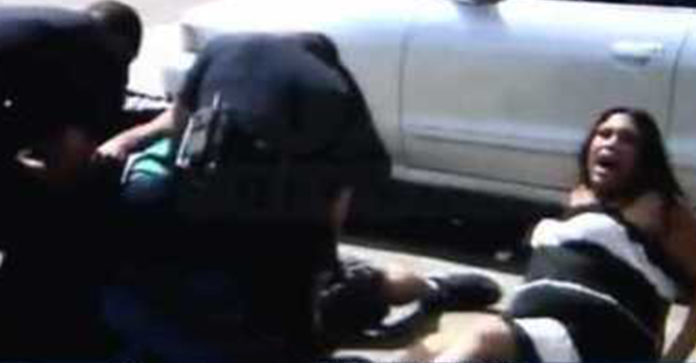 Written by: Carey Wedler at thenantimedia.org
DENVER, CO – In August, a man filmed Denver police beating a man and tripping his pregnant girlfriend over drug suspicions. The police noticed Levi Frasier recording, confiscated his Samsung tablet without permission, and returned it without the footage of the police brutality. Frasier was able to restore the video with a cloud application. It was released last month and just last Thursday, he was arrested at a traffic stop.
He had said of the officer's actions:
"It was very well known that the video was shot and things were done on the video that shouldn't be leaked out, that it would be bad for the reputations of the police officers."
His December 11th arrest happened as he was leaving the F.B.I. office, where he was cooperating with the federal investigation into the violent actions of officers Christopher Evans and Charles "Chris" Jones IV in August. He was on his way to give an interview to Fox 31, whom he gave the video footage to for their investigation last month.
Frasier was stopped for a "newly activated traffic warrant" in Park County, CO.  Fox 31 reported that
"Records show the warrant is for failing to appear in court on two traffic tickets from several months ago, failing to show proof of insurance and lack of vehicle registration."
He was not allowed to bond out over the minor traffic offenses and was forced to spend the night in jail.
Denver police refused to comment on the story. They did, however, previously respond to a story where Frasier criticized the officers. They responded in an attempt to smear his credibility by drawing attention to his criminal record and accusing him of using "aliases."  The report, ironically, was called "Accuracy Matters."
This move drew condemnation from the Denver mayor's Citizen Oversight Board, which wrote an open letter to Denver Police Chief, Robert White:
"Instead of thanking the witness who came forward to share information, the DPD publicly attacked his character.  It is very likely that the DPD's attacks on this witness will only reinforce fears in the community, and inhibit other members of the public from cooperating with DPD or IAB if they witness possible officer misconduct in the future."
The open letter was dated Wednesday, December 10th-the day before Frasier was arrested for his traffic violations.
His arrest is merely another sign that Denver police are desperate and angry after being exposed for their excessive use of force and attempts to censor evidence.
Meanwhile the department has defended the violent actions of their officers concerning the August incident and Officer Charles "Chris" Jones has even received a promotion and raise.
Watch the full video:
___________________________________________________________________________________________
Source: 
http://theantimedia.org/man-arrested-after-filming-cops-beating-man-and-pregnant-girlfriend/