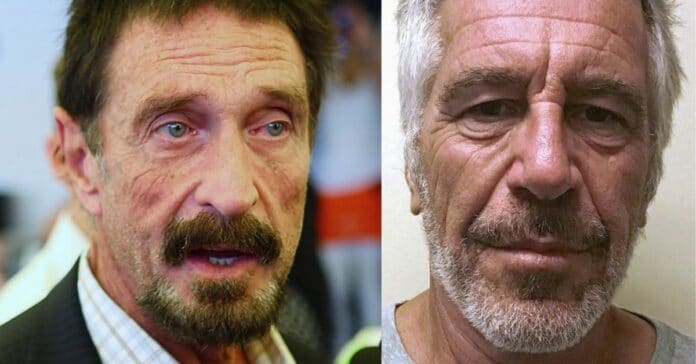 John McAfee and his death sparked creepy conspiracy theories and involved Jeffrey Epstein's name.
After being charged with tax evasion in the U.S., McAfee entered the prison cell and was currently awaiting extradition in a Spanish prison.
However, only a week after Spain's National Court in Madrid approved his extradition to the U.S., the antivirus software magnate took his own life.
Authorities found his dead body inside his cell in Barcelona around 1:00 PM. Although the cause of death remains under investigation, the Catalonia regional government Justice Department said that he could have died by suicide.
His manner of death immediately sparked creepy conspiracy theories that lead Epstein to a trending list worldwide. Because of this, people began digging into McAfee's social media and found some possible hints that he might have been murdered, as well.
In a post in November 2019, the 75-year-old said that if he died by suicide, then it means that the U.S. government officials "whacked" him. Even until now, no evidence could prove his claims about the U.S. government killing him.
Getting subtle messages from U.S. officials saying, in effect: "We're coming for you McAfee! We're going to kill yourself". I got a tattoo today just in case. If I suicide myself, I didn't. I was whackd. Check my right arm.$WHACKD available only on https://t.co/HdSEYi9krq🙂 pic.twitter.com/rJ0Vi2Hpjj

— John McAfee (@officialmcafee) November 30, 2019
In another now-deleted tweet from 2020, McAfee referenced the infamous Jeffrey Epstein, who died mysteriously while behind bars. Although Epstein's death was ruled a suicide, many people believe that he was taken out by the many powerful friends who would have been exposed by his testimony.
In his tweet, McAfee said, "Know that if I hang myself, a la Epstein, it will be no fault of mine."
"I am content in here. I have friends. The food is good. All is well," he also said at the time.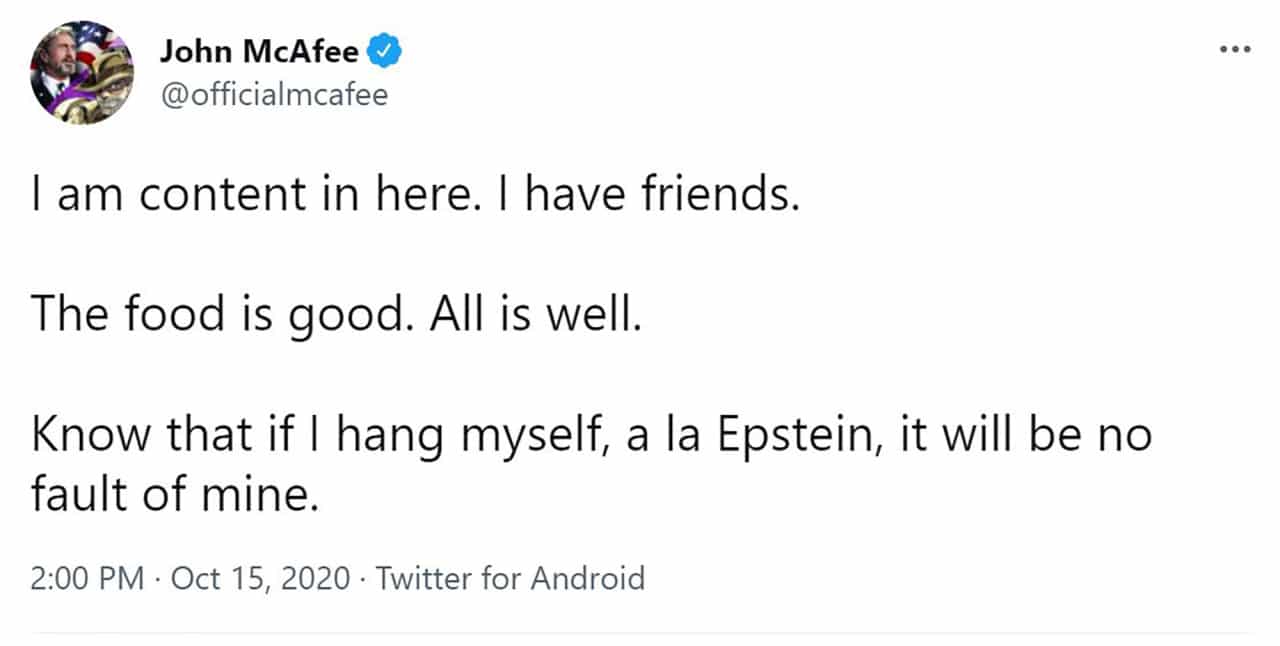 Many of McAfee's posts from prison were lighthearted and philosophical, pondering on the sad state of affairs in prison but also finding humor in his situation.
However, many of his posts, especially his recent ones, showed much more frustration with his predicament.
"I've been three months in a Spanish prison. If I could choose a place to be, prison would not top my list," he said. "If lawmakers were required to spend a single day in prison before being allowed to make laws penalties for nonviolent crimes would be drastically less severe," he said in a recent post.
In the years leading up to his death, McAfee claimed that he was an enemy of the state and members of various governments were out to get him. McAfee was extremely outspoken about his political beliefs and ran for President of the United States under the Libertarian Party Banner in 2016 and 2020.
Meanwhile, after his death has been reported, his official Instagram account posted a plain image of the letter "Q." This led to another conspiracy theory called QAnon.
After reports of John McAfee's death, his social media team just posted a "Q" to his Instagram account.

McAfee has alleged a ton of global conspiracies against him in the past, and done plenty of media stunts.

It was announced today he would be extradited back to the U.S. pic.twitter.com/oUBZiFPRZa

— Ben Collins (@oneunderscore__) June 23, 2021
This particular hypothesis came during the presidency of Donald Trump. The beliefs under this include talk about Trump secretly battling cannibalistic pedophiles who follow Satan.
In the weeks leading to his death, he expressed how contented he feels despite feeling the sorrow in prison.
McAfee's wife, Janice, put more fuel to the fire through a Father's Day post in which she speculated that the U.S. government is determined to kill him inside his cell.
As of the writing, none of these conspiracies have been proven true.