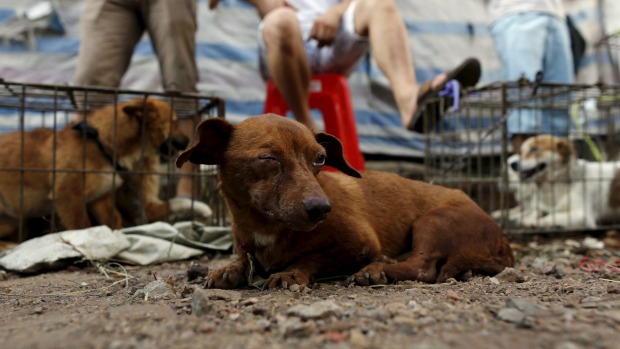 By Brianna Acuesta at trueactivist.com
WARNING: THE FOLLOWING ARTICLE CONTAINS GRAPHIC AND DISTURBING IMAGES
It's getting close to that time of year again: when the Lychee and Dog Meat Festival in Yulin, China, commonly referred to as the Yulin Dog Meat Festival, barbarically murders tens of thousands of dogs for their meat.
Pictures have already surfaced of the cruel practices that the natives put these innocent dogs through and they are disgusting.
These dogs are mostly stolen pet dogs or strays and their misery begins the second they are taken away and packed into sharp metal crates with dozens of other dogs. Videos have emerged of dogs crying in their crates as they are lined up to be slaughtered or sold.
They are starved and dehydrated by the time they reach slaughter, and many of them die from injuries obtained during the journey.
Once they reach the place where they will be killed, they are held down and skinned or burned alive and then thrown in a pot to be boiled and butchered. Those that aren't skinned alive are beaten to death or have their throats slit open.
The Humane Society International said that cats and kittens are also sold as meat at the festival and that they were working to save them as well.
"It's nauseating to think that these poor guys were next to be beaten to death and eaten."
Eating dog meat is an old tradition for the region and others around the world, just as eating pork and beef is in the United States.
Some may argue that the mistreatment and consumption of dogs in their country is the same as what Americans do to livestock. Though there is no justification for how factory farms raise and mistreat their animals made for the sole purpose of being slaughtered and made into food, this dog meat trade and festival is still far worse.
First there's the fact that many of the dogs are stolen from their humans, meaning they're illegally obtained and the humans must know what their beloved pet dog will endure because they were stolen for the festival.
Then there are the actual acts of cruelty against these innocent dogs whose lives, even as starving strays on the street, would have been much better than their barbarous last few days and the horrific end they will face.
Even if one can look past the cruelty, the food safety is way under par because these animals are not tested or treated in any way prior to being eaten. Strays especially are prone to diseases and are among those being openly consumed by festival-goers.
This festival does not discriminate on dogs either. They will take dogs of all sizes and all ages, often slaughtering the puppies as well or, if the puppy is lucky, selling it as a pet.
Adam Parascandola, from the Humane Society International, said, "We've seen all manner of dog breeds coming in to the rescue shelters, some of them obviously someone's pet because they still have their collars on with their names."
Below you can see a puppy asking for attention from a stranger, as puppies do, not knowing that it will soon be skinned alive and eaten.
While countries around the world have taken stances against the festival, Chinese supporters of the dog meat trade have also turned around to refute the naysayers. Some have said that we should have "mutual respect for others" and that "if you don't like to eat something then don't eat it," completely ignoring the animal abuse aspect that many are truly against.
Last year, activists campaigned openly at the festival and at the Yulin government headquarters. They also would intercept trucks hauling dogs to festivals and either give them food and water or attempt to buy crates of the dogs just to save as many as they can. Though hundreds will be rescued, thousands will still be killed.
Some activists have unfurled banners in front of the government headquarters in Yulin to critique the lack of food safety and ask that the government at least enforce existing health and administrative laws. Instead, the authorities continue to disregard requests for law enforcement and allow the festival to occur as-is.
What's worse is that this isn't an isolated event of cruelty. It's estimated that China kills 10 million dogs every year for food and that the killing practices are just as awful on a daily basis throughout the year.
Eating dogs isn't a common occurrence throughout all of China, but is popular in rural and poor areas where dog meat is easy and cheap to find, such as Yulin.
The HSI said there's a glimmer of hope for the younger Chinese generations, as it is the older generation that is caught up in the tradition of the festival while the young people want the "festivities" to stop. As the older generations die out, China has a real chance of banning this festival once and for all.
Despite photo and video evidence from activists that are in Yulin attempting to help these poor animals, the government maintains that the festival is not happening.
What are your thoughts on this treatment of dogs in comparison to America's treatment of livestock? Please comment on, like, and share this article to raise awareness!
---
This article (Men Hold Down Beautiful Dog And Prepare To Skin Him Alive For Yulin Dog Meat Festival) is free and open source. You have permission to republish this article under a Creative Commons license with attribution to the author and TrueActivist.com.