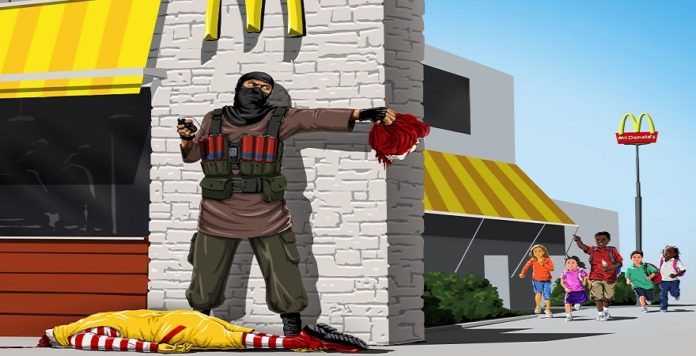 By Amanda Froelich at trueactivist.com
Gunduz Agayev has released another art collection highlighting some painful truths, and this time is calling attention to the harsh realities of war.


---
Artist and activist Gunduz Agayev has, once again, released a series of powerful and thought-provoking images to inspire the masses to think for itself.
Known for his works "Imagine" and "Satirical World Leaders," Agayev posted on Facebook his latest series capturing the gruesome reality of war.
Agayev shared on Facebook: 
In the past men created a God of war and blamed mythic Gods for the wars. However, throughout the history only men were responsible for all the bloodshed. Alas, many of us still do not understand this and want to evade the responsibility.

War is a death, a suicide. Nations massacre one another and the whole mankind. Nevertheless, men are able to inhibit this plague. Fortunately, men also invented peace. It is a way of struggle against war. It must be every man's duty before humanity to continue this struggle.
The following portraits artistically portray a number of painful – yet necessary – truths.
What are your thoughts? Comment below and share this news!
---
This article ([Must See] These 10 Photos Depict The Haunting Reality Of War) is free and open source. You have permission to republish this article under a Creative Commons license with attribution to the author and TrueActivist.com