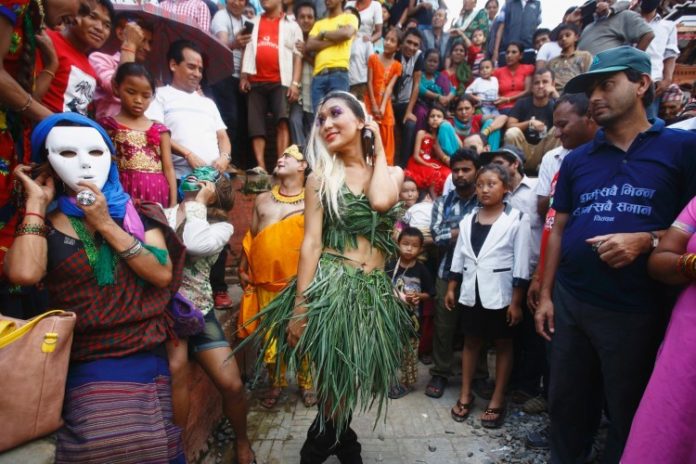 Nepal adopted its first full democratic charter on September 20 that now defines Nepal as a secular country, despite widespread protests for it to be declared a Hindu state. The constitution is the first in Asia to specifically protect the rights of lesbian, gay, bisexual and transgender communities.
The new constitution explicitly states that "sexual and gender minorities" cannot be discriminated against by the state or the judiciary. While mention of same-sex marriage has been avoided, all issues related to marriage will henceforth be handled by the civil code. This provides groundwork for the eventual legalization of same-sex marriage in Nepal.
Proud of my constitution that has given #LGBT rights! First in Asia! #WelcomeConstitution #NepalConstitution #Nepal #Pride #MyConstitution

— LMH:MinHoo'sAngeles (@LMHsAngels_npl7) September 20, 2015
Article 12 states that "each citizen shall be provided with (a) Nepali citizenship ID based on lineage of the mother or father along with gender identity. It gives the right to have citizenship ID that reflects their preferred gender".
Article 18 states that "all citizens shall be equal before the law. No person shall be denied the equal protection and benefit of the laws. There shall be no discrimination in the application of general laws on grounds of religion, race, origin, caste, tribe, gender, sexual orientation, physical conditions, health conditions, physical impairment, matrimonial status, pregnancy, economic condition, language or geographical region or ideology and such other matters".
Article 42 lists gender and sexual minorities among the groups that have a right to participate in state mechanisms and public services to promote inclusion.
"Nothing shall be deemed to prevent the making of special provisions by law for the protection, empowerment or advancement of the interests of socially and culturally disadvantaged women, Dalits, indigenous peoples, tribes, Madhesi, Tharu, Muslim, ethnic minorities, backward classes, minorities, marginalized, farmers, workers, youth, children, senior citizens, gender and sexual minorities, handicapped persons, pregnant persons, disabled or helpless, people of backward regions and economically disadvantaged citizens," the new constitution states.
The country is now in league with a handful of countries in the world which have given such established protection to its LGBT citizens, including South Africa ((1996) and Ecuador (1998).
---
This Article (Nepal Leaves India & The West Behind: Grants Full Legal Equality To LGBT Citizens) is free and open source. You have permission to republish this article under a Creative Commons license with attribution to the author and AnonHQ.com.