The National Football League (NFL) in the United States has issued a warning to players, asking them to avoid eating beef because of the high levels of Clenbuterol. These high levels have been said to cause players to fail drug tests.
Clenbuterol is a muscle-building and weight-loss stimulant. It is a substance banned by the league, and considered a performance enhancing drug. However, recently, many players in the NFL have failed drug tests linked to Clenbuterol. If a player fails this drug test then he is banned for 10 matches.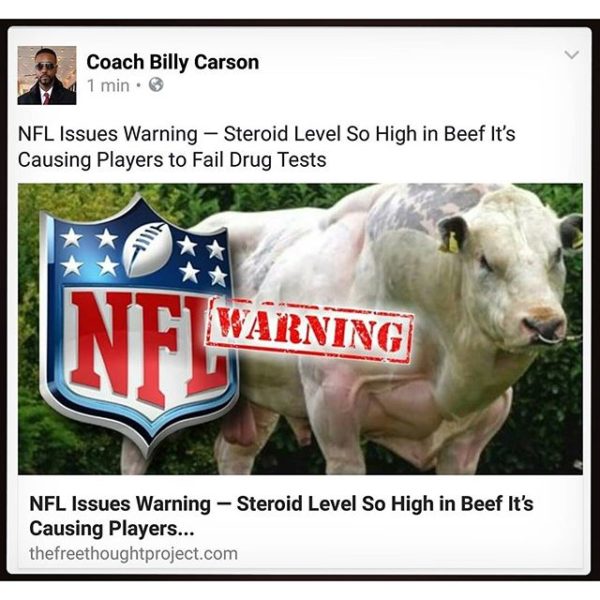 The majority of beef consumed in the United States is imported from China and Mexico. The NFL said beef from China and Mexico is particularly dangerous to the players.
Clenbuterol has the ability to build muscle, which is why farmers use it, increasing the size of their cattle to increase profits. In Mexico, cattle ranchers are banned from using Clenbuterol as a growth enhancer. However, it is said farmers are not complying with the regulation, leading to widespread abuse of the substance within the nation's cattle industry.
The Free Thought Project reports that the NFL's independent drug-testing administrator has officially sent a memo to all players in the league, telling them that consuming large quantities of beef while visiting China and Mexico may result in a positive Clenbuterol test. The memo further stated that if players refused to heed the warning and do otherwise, they do so at their own risk.
"Players are warned to be aware of this issue when traveling to Mexico and China. Please take caution if you decide to consume meat, and understand that you do so at your own risk. Players are responsible for what is in their bodies," the memo said.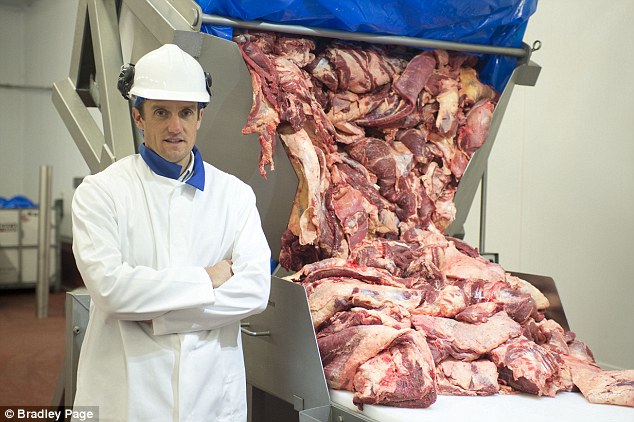 In 2015, the Texan's left tackle, Duane Brown, tested positive for Clenbuterol after a trip to Mexico, during which he ate Mexican beef, sources told ESPN. After a months-long process, Brown was finally cleared in April this year, permitting him to avoid what would have been a 10-match ban.
When the memo was issued, several players in the NFL, including the Arizona Cardinals defensive back, Patrick Peterson, took to Twitter to express his disappointment in the issue.
This can't be real life! #SMH #GottaGoVeganOnVacation ? pic.twitter.com/HmWNpi4cAj

— Patrick Peterson /P2 (@P2) May 3, 2016
The Clenbuterol ban, however, is not limited to the NFL. In 2011, up to five players in the Mexican senior national soccer team tested positive for Clenbuterol. The country's football federation said then, that the positive tests were caused by contaminated meat. When Mexico hosted the FIFA Under-17 World Cup in 2011, FIFA reportedly found traces of Clenbuterol in the country's players competing in the tournament.
Some observers have heaped all the criticisms against lawmakers and law enforcement agencies in the United States, saying they have failed to ensure that food imported into the country is safe for consumption.
Particularly in the meat industry, standards have fallen. There are no ethics. Farmers continue to give their livestock growth enhancing substances, which can be dangerous to human health.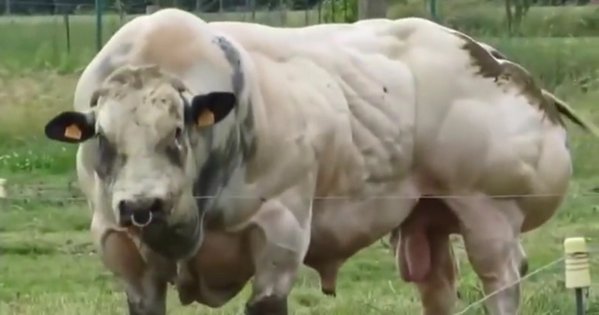 In May, this year, we published an article revealing how the meat industry is abusing animals for profit.  With the help of genetic engineering, the meat industry is churning out fake meat, with serious health implications for consumers.
Farmers have capitalized on mutated genes to grow cattle of a huge size, in order to increase their profit. The animals are massive in size. Even looking at them critically, one can see that the animals are artificially created.
In the United States, for example, animals are injected with growth hormones in order to increase their meat. Traces of these growth hormones have been found in the animals' meat on the market. This has adverse effects on our health – producing a resistance to treatment against bacterial infections with our own antibiotics.
---
You want to support Anonymous Independent & Investigative News? Please, follow us on Twitter: Follow @AnonymousNewsHQ
---
This article (NFL Warns Clenbuterol Level So High in Beef that Players Fail Drug Tests) is a free and open source. You have permission to republish this article under a Creative Commons license with attribution to the author and AnonHQ.com.