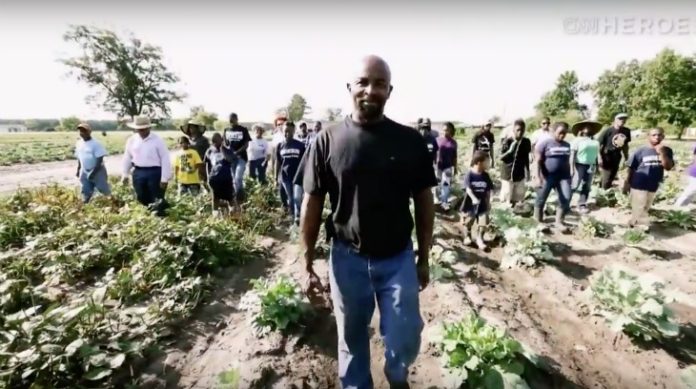 By Amanda Froelich at trueactivist.com
A community in North Carolina has been inspired to grow its own food and create better health thanks to this preacher's activism.

In North Carolina, nearly two-thirds of adults are overweight or obese. This saddening statistic is largely an effect of the Standard American diet, which is high in low-quality fats and refined sugars. Unfortunately, many people who live in "food deserts" – locations where the majority of food items are found in gas stations, not supermarkets – have few healthy options to choose from, or the financial means to do much about it.
One pastor in the area, however, became fed up with the number of funerals he was requested to preside over, therefore, decided to do something about it. Richard Joyner, who preaches at the Missionary Baptist Church in Conetoe, North Carolina, began by planting a garden outside of the church.
"Diabetes, high blood pressure — when we first got started, we counted 30 funerals in one year," Joyner said. "I couldn't ignore it because I was spending more time in funerals than anything else."
CNN reports that the Pastor started a community garden at the church where he preaches, and, over time, ended up multiplying it to 20 plots of land around the community. The garden project now includes a 25-acre farm run by his nonprofit Connote Family Life Center.
It wasn't long after Joyner started this inspired work that he began teaching children in the congregation how to plant and raise crops, so they might grow up with an appreciation for better nutrition. 80 kids now work the gardens and harvest about 50,000 pounds of fresh produce every year! In addition, his congregation manages its own beehives to pollinate the crops.
A nominee for the Hero Of The Year Award hosted by CNNHeroes, his story has touched the lives of many who are inspired to "be the change" and help prevent preventable 'diseases' in their own community.
The good news doesn't end there. Whatever isn't consumed is given away to others in the neighborhood or is sold to local restaurants to raise scholarship money for young people in the church.
Since 2007,  the inspired Pastor's project has helped families in Conetoe cut food bills in half. In addition, church members are learning the benefits of adopting a natural, whole foods diet. For example, one congregation member says she takes six medications – instead of her usual 27 – each day because of the healthy lifestyle changes.
And as a whole, community health has drastically improved. Emergency room visits are down, and the dedicated Pastor has a lot fewer funerals to preside over.
If you're inspired by his actions, you can vote for him to be chosen as Hero of the Year at CNNHeroes.com. The network will announce the winner at their annual televised award show December 6, and will present the 2015 winner with $100,000 for continuing his or her good work.
What are your thoughts on this good news? Comment below and share this article!
---
This article (North Carolina Pastor Is Transforming Food Deserts Into Oases For The Poor) is free and open source. You have permission to republish this article under a Creative Commons license with attribution to the author and TrueActivist.com