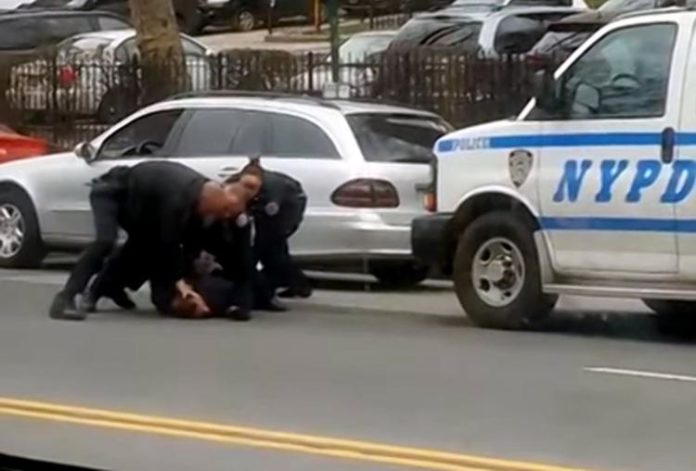 Yet another video has surfaced of police officers, those sworn to protect and serve, repeatedly beating a black man without cause. Earlier this week, cell phone video captured from what appears to be a bus, shows three NYPD officers holding down a fifty-year-old Hispanic man and beating him repeatedly. The video is now being reviewed by the NYPD internal affairs division.
The video first appeared on the Facebook page of Alexis Jasmin. It is unclear if Jasmin was the one who filmed it. The beating took place on the morning of December 31, in the Bronx. According to Jasmin, "As im riding to the hair salon just now smfh ! This man was already in his car and the police were in the van getting ready to pull off. Granted the man did stick his head out the window and say a few choice words. But please tell me why the cops got out the van, snatched him out of his car and proceeded to do this to him. Please explain to me why the officer kept bashing his face like that . This is exactly why i hate the police . His hands were already tied and he kept hitting the man in the face until bloody. RIDICULOUS!!"
The video is hard to watch, with the onlookers asking aloud, "Why are they hitting him? His face is bleeding." According to the Facebook post, the unidentified man was issued a traffic ticket by the NYPD when they were getting ready to leave. According to the witness he then "mouthed off" to the officers. This prompted them to exit the NYPD van they were driving, pull the man out of the car and beat him. According to the witness, he was already handcuffed when they proceeded to smash his face into the concrete and strike him repeatedly. "This man was already in his car and the police were in the van getting ready to pull off."
The NYPD refused to release any information to the press, including the man's name and the name of the officers involved. Once again, video footage demonstrates how recording the police is vital. If this video didn't surface, who knows if these cops would ever face justice. With the vast amount of pressure police are under from the public to remain transparent and punish those who participate in misconduct, it would be in the NYPD's best interests to thoroughly investigate the incident, which is clearly an act of police brutality.
Sources: Raw Story.
---
This article (NYPD Caught on Video Beating Hispanic Man for 'Mouthing Off') is a free and open source. You have permission to republish this article under a Creative Commons license with attribution to the author and AnonHQ.com.
---
Supporting Anonymous' Independent & Investigative News is important to us. Please, follow us on Twitter: Follow @AnonymousNewsHQ