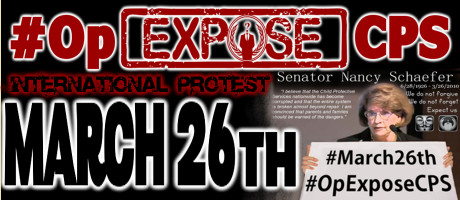 One of the most comprehensive operations occurring within Anonymous right now is OpExposeCPS which aims to stop governments from destroying families and exposing the corruption and immorality running rampant within the system. The leaders of the operation have already scheduled multiple protest throughout the world this year, the first of which occurring this March 26th. As of 3/17/2016 the event has over 9,000 likes on Facebook and protests are scheduled to occur in at least 9 countries.
"On March 26th we are calling all advocates of CPS reform, children's, family's, parent's, mother's, father's and grandparent's rights activists, to join together with the forces of Anonymous, Occupy, Libertarians, Anarchists, III%ers, and activists of all kinds around the globe to protest this broken system. There will be international protests in the United States, United Kingdom, Canada, and Australia." – Anon Resistance –
"We want the illegal practices of the youth care/youth welfare office to be exposed and closed for good. Therefore we have launched an international campaign and have already investigated cases in Germany, Netherlands, France, Belgium, UK, USA, Australia, Canada and Norway. What we have discovered is that children from all around the world are being taken from their parents and separated from their families for no justifiable reason. These children are given little to no contact with their family and instead get pumped through the state run foster care system where they are subjected neglect, abuse and substandard living conditions. These illegal actions on behlaf of several countries government are a clear violation human rights and it has come time to start holding people accountable for this.
Families from all around the world have reached out, connected with each other, shared their stories of strife and are collectively joining together to change the system entirely. We are reaching out for everyone's help, please support us by spreading awareness about this issue or more importantly by attending a protest on March 26th if you have the opportunity to do so. " – International Anonymous Coalition –
Full Pastebin Press Release | OpExposeCPS | March 26, 2016: http://pastebin.com/SYS7qqfK
ExposeCPS Official Web Site: http://www.opexposecps.anonresistance.com/
OpExposeCPS Facebook Home: https://www.facebook.com/OpExposeCPS/?fref=nf
ExposeCPS Forum Home: https://www.anonboards.com/viewtopic.php?f=9&t=1653
---
This article (OpExposeCPS International Protest) is free and open source. You have permission to republish this article using a creative commons license with attribution to the author and AnonHQ. Join the conversation at www.anonboards.com