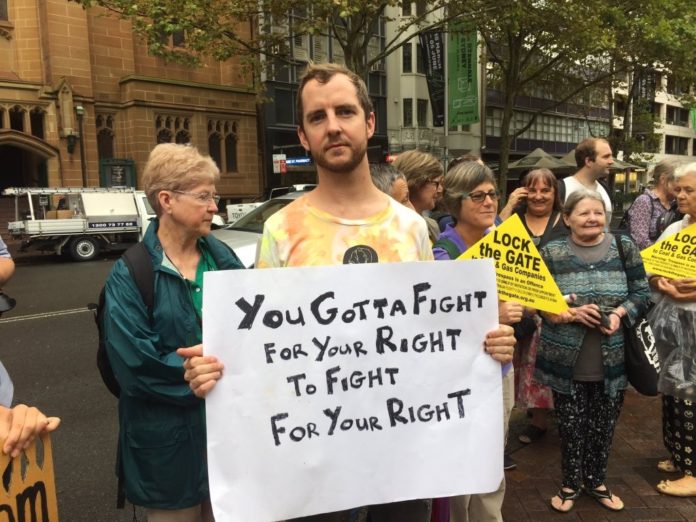 Today marked a day of protest in the Australian state, New South Wales. The protests, however, were protests for the right to protest, as the government responded with newly laid out anti-protest laws.
Debate is continuing this week after hundreds of people rallied together to shut down part of Sydney's CBD, rallying against the "draconian" changes proposed with the new legislation.  The rally of almost 500 protesters armed with placards, stood at the front of the state parliament "You gotta fight for your right to fight," shutting down busy Macquarie Street on Tuesday morning.
Serious business outside NSW Parliament #nswpol #CSG #democracy pic.twitter.com/1hnbFEpdqN

— Land Water Future (@LandWaterFuture) March 15, 2016
The new laws would see increased fines to anyone who entered mining and coal seam gas sites from $550 to 5500. The fines could also carry up to 7 years' imprisonment for protestors deemed guilty, reported Nine News.
Greens MP Jeremy Buckingham showed support for the protestors, announcing plans to vote against the laws he claims are designed to intimate protestors and benefit big industries such as the mining corporations. "It's a community's right to collectively band together and protest," he said.
Police line as protestors occupy streets outside NSW Parliament #righttoprotest pic.twitter.com/gYMfXIffZM

— Tony Mohr (@Tony_Mohr) March 15, 2016
NSW Parliament debating laws today that massively curtail and restrict the right to protest and protect NSW #nswpol pic.twitter.com/hFpvj96tX8

— Land Water Future (@LandWaterFuture) March 15, 2016
The laws remove "protections for political activities," The Guardian reported after a NSW Bar Association submitted a document stipulating the erosion of democratic freedoms for the Australian people. Those political activities, that have "been regarded as an essential part of the social, political and cultural life of any civilized society", are at risk, the Bar Association said, and the newly proposed laws should not be supported.
The laws will also give police extended powers under the proposed legislation set to be introduced into parliament this week, and limit peaceful protests. Currently under section 200 of the Law Enforcement Act, police are limited with what they can do in genuine protests and industrial disputes. The NSW Bar Association argues that the proposals will remove the "important check on police power to ensure some balance…" The Guardian reports.
"The Law Society is very concerned with the apparent trend of expanding police powers without corresponding judicial and other safeguards," their submission read. "In our view, such a trend would represent an erosion of long-standing democratic institutions and individual rights. For the reasons set out above, the Law Society is not able to support the bill in its current form."
Adam Searle, Labor's spokesman has said "The right to protest must be reserved for future generations."
---
This article (New Anti-Protest Laws: Australia Fights for the Right to Fight) is a free and open source. You have permission to republish this article under a Creative Commons license with attribution to the author AnonWatcher and AnonHQ.com.