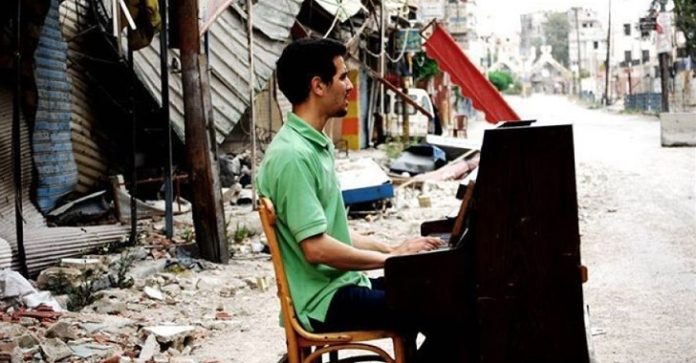 By Michaela Whitton at theantimedia.org


United Kingdom — Palestinian refugee and musician, Ayham Ahmad, from Syria's Yarmouk refugee camp, has been awarded the International Beethoven Prize for Human Rights, Peace, Inclusion and the Fight Against Poverty.
Nicknamed the Pianist of Yarmouk, Ahmad gained international notoriety when videos of him playing his piano amid the death and destruction of the Damascus camp spread widely throughout social media in 2014. The young musician would wheel his piano out into the bombed-out streets and sing amid the rubble and dust.

Yarmouk camp was to become a stark image of the barbarity of the Syrian war as its residents struggled to merely stay alive. When the young pianist eventually lost hope, he gave up providing a soundtrack to the suffering and embarked on the perilous journey to Europe.

"The worst times were when I used to hear my son Ahmed crying during the night. He was hungry but there was no milk," 27-year-old Ayham told the BBC, which filmed his journey in search of a new home and life for his young family. He added that the previous deaths of children on the vicious crossing had made him leave his family behind for now.
"To know what it is like in Yarmouk, turn off your electricity, water, heating, eat once a day, live in the dark, live by burning wood" – Anas, Yarmouk resident, 2014.
Once home to 200,000 Syrians and Palestinians, the population of Yarmouk has shrunk to an estimated 5,000 – 8,000 who remain in the crossfire between government forces and armed opposition groups. In 2014, the UN reported mass malnutrition throughout the camp and other stories emerged of residents being forced to eat animals and grass to survive. Over 95% of Palestine refugees rely on the United Nations Relief and Works Agency (UNRWA) to meet their basic need for food, water, and health care, and the Palestinian League for Human Rights-Syria continues to document the use of barrel bombs and targeting of hospitals by the Syrian regime.

In April, Daesh (ISIS) militants torched Ahmad's piano in the street when they invaded Yarmouk and took control of 90% of the camp. Finally defeated, the musician fled Syria in September — undertaking the notoriously dangerous boat journey from Turkey to Greece — before eventually arriving in Germany.
According to German daily Deutsche Welle, Ahmad was presented the Beethoven award for the first time at Friday evening's ceremony in Bonn, in the company of an all-star cast.



"Along with Beethoven's music, I want to bring attention to his ideals," said Torsten Schreiber, co-initiator of the prize. "I base this on Beethoven's own claim: to do good where one can, to love freedom above everything else and not to deny the truth — even in the face of death."