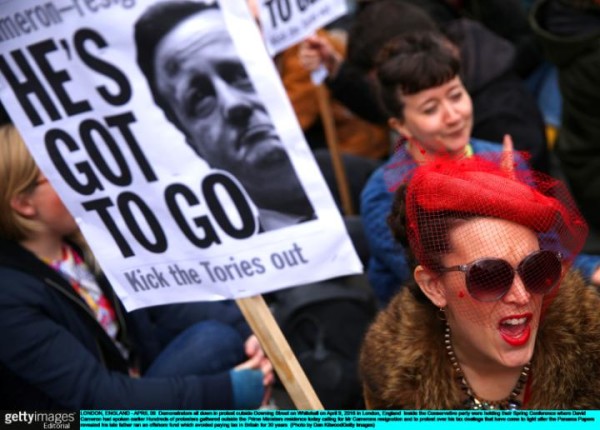 Thousands of people have marched through the streets of London demanding the resignation of the Prime Minster of the United Kingdom, David Cameron, over his involvement in the Panama Papers scandal.
Mr Cameron is amongst world leaders, celebrities, billionaires, and other influential people facing scrutiny since the International Consortium of Investigative Journalists (ICIJ) published reports, revealing the secret financial crimes being perpetrated by these powerful people, with the help of a Panamanian law firm, Mossack Fonseca.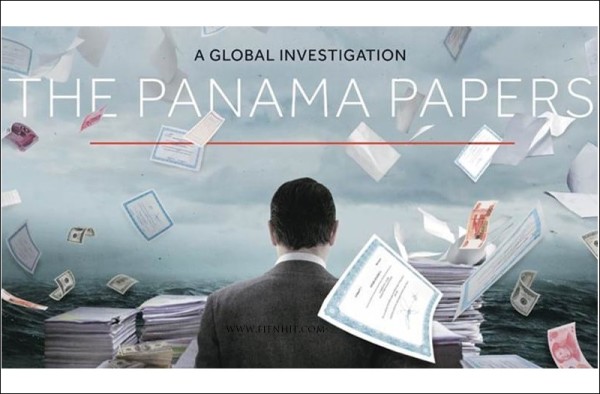 The ICIJ accessed millions of documents hacked from Mossack Fonseca, in which the law firm illegally helped elected leaders and other top officials to set up secret shell companies and offshore accounts to evade tax.
The scandal has already claimed the head of the Prime Minister of Iceland, Sigmundur David Gunnlaugsson. Mr Gunnlaugsson resigned last week after intense public pressure was mounted on him.
@Snowden @lilyallen 'The British'? A few hundred protesting is hardly 64.4 million.

— Chris Middleton (@chrismid259) April 8, 2016
When Mr Cameron was named in the papers, the mainstream media pretended as if they have not heard it. But pressure from anti-corruption bodies and other activists, such as NSA whistleblower Edward Snowden, started a social media campaign with the hashtag ResignDavidCameron.
ResignDavidCameron went viral on many social media platform, prompting Cameron to finally admit that he made about £30,000 ($42,375) from an offshore tax haven, set up by his late father. He admitted that between 1997 and 2010, he and his wife Samantha Cameron, owned shares in his father's Blairmore Investment Trust, a multimillion-pound offshore trust fund managed by Mossack Fonseca.
Thousands calling for #resigncameron passing Trafalgar Square pic.twitter.com/yG9KyEsqFu

— Laura Smith (@LauraSmith_RT) April 9, 2016
However, Mr Cameron also said he sold the £30,000 shares in 2010, four months before becoming Prime Minister, and that he has done nothing wrong.
But protesters on Saturday took their activism on the Internet to the streets of London, including Number 10 Downing Street, the official residence of the Prime Minister of the United Kingdom.
The protesters chanted "David Cameron must resign, tax evasion is a crime." They also floated a giant pig with Cameron's face on it, as they marched to the street of Whitehall.
Protesters said they are even appalled in the whole scandal, after another secret letter leaked revealed that Mr Cameron urged European Union (EU) leaders in 2013, to shield offshore trusts from a crackdown by law enforcement agencies across Europe.
This is SW #London right now #ResignDavidCameron pic.twitter.com/6yC1QyNixJ

— Ihtisham ul haq (@iihtishamm) April 9, 2016
One of the key organizers of the protest, Abi Wilkinson, a freelance journalist based in London told International Business Times that Cameron's alleged tax evasion was only one catalyst for the march. She said Mr Cameron's request to EU leaders to shield offshore companies, and the fact that British oversea territories were deeply involved in the leak, means the Prime Minister can no longer be trusted.
Little coverage so far, but appears thousands of people are protesting in London about Panama #ResignDavidCameron pic.twitter.com/hsM9dUOXKO

— Shehab Khan (@ShehabKhan) April 9, 2016
"Though Cameron's personal tax affairs expose his hypocrisy, the thing that made me feel I had to organize something was the revelation about Cameron personally intervening to block an EU crackdown on tax avoidance. Britain is the hub of the tax avoidance world. The fact that more than half of the 300,000 companies named in the Panama Papers operate through U.K. overseas territories and crown dependencies shows the extent of the problem, particularly given Mossack Fonseca isn't a law firm with any special link to the U.K.," Abi said.
After the protest, on Saturday evening, Mr Cameron issued a statement that the week was terrible for him, and that he has learnt his lessons regarding his involvement in the leaked papers.
BBC later published a story claiming that Mr Cameron had fulfilled his income tax obligations dating back from 2009, when he was the leader of opposition.
#ResignDavidCameron protest in #Londonhttps://t.co/lTZzKPELH8 pic.twitter.com/kQowNqN2ml

— Bogdan Maran (@BogdanMaran) April 9, 2016
But Jeremy Corbyn, the leader of the opposition said Mr Cameron should publish his full tax returns, dating back to before he became prime minister in 2010. He said the public wants to know why Mr Cameron put his investment money outside the country in the first place.
He shouldn't be apologising to the Conservative Party. He should be apologising to the public. #ResignDavidCameron pic.twitter.com/gDRES2adax

— UK Uncut (@UKuncut) April 9, 2016
"I want to see the papers. We need to know what he's actually returned as a tax return. We need to know why he put this money overseas in the first place, and whether he made anything out of it or not before 2010 when he became prime minister. These are questions that he must answer," Mr Corbyn said.
---
You want to support Anonymous Independent & Investigative News? Please, follow us on Twitter: Follow @AnonymousNewsHQ
---
This article (Panama Papers Fallout: Many March in London Demanding Resignation of David Cameron [Photos]) is a free and open source. You have permission to republish this article under a Creative Commons license with attribution to the author and AnonHQ.com.