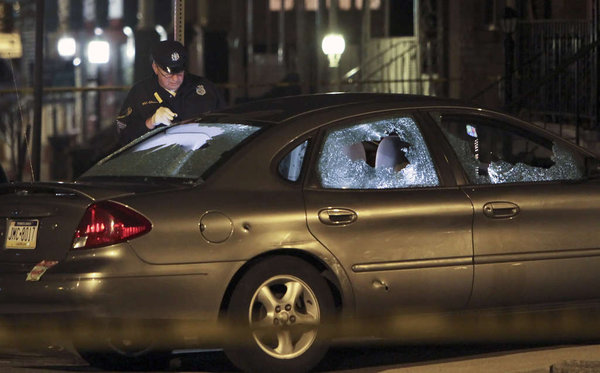 The $4.4 million settlement reached this week between the city of Philadelphia and Philippe Holland, was the largest in the city's history. Holland was a college student trying to earn a little money as a delivery driver. His life was forever altered on April 22, 2014, when his body was riddled with bullets by two undercover police officers.
Holland was shot in the back, the neck and the leg. His car was shot 14 times. He was working – delivering a cheeseburger – when the undercover cops approached his car, believing him to be suspicious. When they approached he tried to drive off, fearing they were trying to rob him. They then unloaded on him for no reason other than he tried to leave. According to the officers, they identified themselves as police, however, according to Holland, he never heard a thing.
Holland was taken to the hospital, and in the years since, has undergone several surgical procedures and will need many more. No one is quite sure why the two undercover officers fired at him that night. The Chief even came out almost immediately, apologizing for the incident. "I don't know if there are really any words other than I'm sorry this whole thing happened."
The shooting into a moving vehicle was a violation of Philadelphia Police policy. The exact policy reads, "Police officers shall not discharge their firearms at or from a moving vehicle unless deadly physical force is being used against the police officer or another person present, by means other than the moving vehicle."
The officers were identified as Kevin Hanvey and Mitchell Farrell. Both were confirmed to have less than a year experience as cops when they were assigned to a plainclothes unit. The distinct lack of experience undoubtedly played a factor in the shooting. Both have been on restricted duty ever since, with discipline having been delayed until after the settlement. While the chief had originally called the shooting a mistake, the more proper term for it is gross negligence and misconduct. The double standards that allow police to commit attempted murder and having it labeled a "mistake," is as insulting as it is immoral.
The settlement is the beginning of a long hard road to recovery, of which Holland has barely just begun. The failure of the department to discipline these officers, who had no business working a plainclothes detail with less than a year on the job, is telling. Why the department would delay discipline can only be interpreted as they intend to sweep this under the rug and allow two over-zealous attempted murderers to roam our streets again. The seemingly outrageous sums of money that are being paid out by law enforcement agencies across the country are having no impact on police violence what so ever, nor are they curbing the unlawful shootings.
---
This article (Philadelphia Cops to Pay $4.4 Million Settlement for Wrongful Shooting of Delivery Driver) is a free and open source. You have permission to republish this article under a Creative Commons license with attribution to the author and AnonHQ.com.
---
 Supporting Anonymous' Independent & Investigative News is important to us. Please, follow us on Twitter: Follow @AnonymousNewsHQ