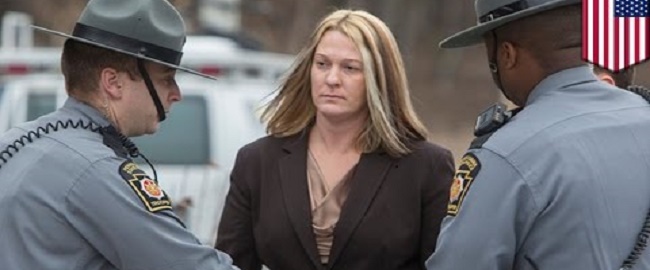 A disturbing video showing a 59-year-old man get tasered moments before his final execution by a police officer has been released, though in a continuation of a disturbing trend the officer has been found "not guilty". This is despite the fact that the jury was allowed to see the damning footage.
Officer Lisa Mearkle tried to pull David Kassick over for an expired inspection sticker. Kassick, however, did not stop his vehicle and tried to flee to his family home. He ran into the backyard, where Mearkle reaches him in time to fire her Taser into his back. This is where the video begins, capturing his final moments.
Mearkle applies the taser for nearly 30 seconds, continuously screaming for Kassick to get to the ground and to place his hands where she can see them. This is despite the fact that he is seen on the ground with both hands stretched out; "I am showing you", he says. She applies the taser again, simultaneously firing once with the pistol in her other hand. Seconds later, she fired again, still shouting for him to show her his hands… "shots fired" she says to her radio unit, as the man lies dying.
She continues to shout at the dying man, shouting for him to show her his hands, not appearing to care that she had just murdered him.
From the video, it was entirely obvious that she had no cause to kill Kassick- he had complied with her every order until death took him.
The shots were taken deliberately, 4 seconds apart, as though to ensure the unarmed man would die for the ultimate crime of daring to inconvenience a cop.
As disturbing as the footage was, more so is the behavior of the police force. It had announced, together with a local restaurant, that it was holding a "benefit" for the killer cop.
"It's ridiculous. It's a slap in the family's face," said one of the commenters on the restaurant's facebook page.
Showing no remorse for the crime committed, and not even an inkling of human empathy for the bereaved victim's family, they intend to hold the event to raise money to cover Mearkle's legal fees. They even called it a "Pig Roast". This must seem like a big JOKE to them…
Race is not the common factor in these incidents, as the organization called "Hunt For Justice" which had defended the officer who had murdered black teen Michael Brown will be in attendance.
FaceBook page Justice for David NOW is organizing a boycott of the restaurant.
Below is a computer-generated reenactment of the scene:
Sources: Filming Cops, The Free Thought Project
---
This Article (Police Celebrate Murder of Complying, Unarmed Man) is free and open source. You have permission to republish this article under a Creative Commons license with attribution to the author(CoNN) and AnonHQ.com.