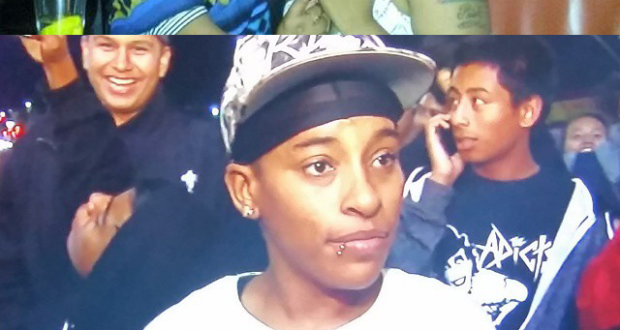 It is no more a rumor. Police in Pasadena-a city in Los Angeles County, California, in the United States, have officially charged the organizer of the BlackLivesMatter (BLM) in the city with terrorism, an action which has sparked serious concerns by BLM activists.
Jasmine Richards also known as #BLMDena was arrested last month by the Pasadena Police Department. She is currently being held on a $90,000 bail and activists say that some other charges have been added to the terror charge.
A press statement from BLM-Los Angeles (BLM-LA) said just hours before Jasmine was slated to attend the Pasadena City Council meeting and share new information from the Office of Independent Review's Gennaco report on the police brutal killing of black person- Kendrec McDade, police officers took Jasmine into custody.
"Initially citing a "failure to appear" charge, police later amended that with charges of making "terrorist threats", trespassing, petty theft, assault and evading the police", the statement said.

The group said they believe the police were not happy with the demonstration BLM-LA had held last month in solidarity with the mother of McDade, on the first anniversary of the brutal killing of her son by Pasadena police.
"Black Lives Matter organizers believe these charges to be in response to Jasmine's' participation in a peaceful demonstration held in Pasadena just six days prior to her arrest. The demonstration, held on March 24th in collaboration with Kendrec McDade's mother Anya Slaughter, on the anniversary of her son's death, was part of a heightened demand for answers in McDade's killing and the public release of the Gennaco report in its entirety", the group said.
Kendrec McDade was said to have been brutally executed by Pasadena police officers Newlen and Griffin on March 24, 2012. After shooting Kendrec 8 times without even bothering to get out of their patrol car, the police then ran over his body and left him bleeding on the street for an hour and a half. No call for paramedics, or even a call to his mother who he cried for as he was dying was made. His mother is said to have learned of the death of her son in the newspaper the next day.
Meanwhile, police officers Newlen and Griffin still patrols the streets of Pasadena as free men, without even being picked up for questioning in connection to the grave crime they had committed against this innocent black gentleman.
Melina Abdullah, another organizer of BLM, said that ever since Jasmine took part in that protest, police have targeted her in order to discredit her work as a community leader in Pasadena.
"As an active member of Black Lives Matter – Pasadena, Jasmine Richards' activism against police brutality has made her a highly visible target for police harassment. These current charges are an attempt by law enforcement officials to mis-characterize Jasmine and undermine her work as a galvanizing force in the Black community of Pasadena", she said.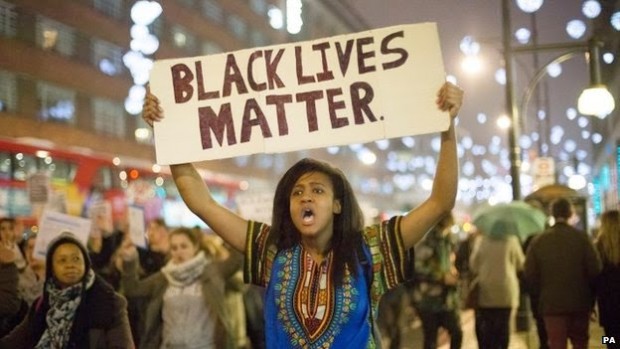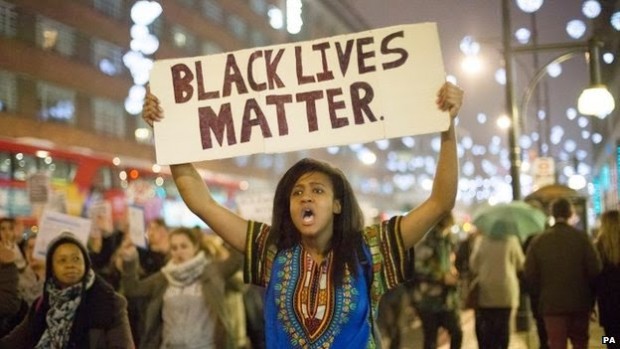 BLM activists say that this is not the first time BLM members have been surveilled and discriminated against by police. They cite an instance in Minneapolis, where BLM members were arrested last year, that caused massive disruption at the Mall of America and the infiltration of intelligence officers in the false name of "National Security". Those BLM members are now facing charges of unlawful assembly, public nuisance, disorderly conduct, trespassing, and restitution fees upwards of $60,000.
"Across the country, Black organizers are being targeted for surveillance, harassment, and heightened charges. But, the implications to freedom of speech and the right to peaceably assemble impact everyone. Anyone with a conscience and a commitment to democracy can see that." – Melina Abdullah added.
With approximately one person killed per week by police in Los Angeles, the County is reputed to have the deadliest cops in the US. Over 615 people have been killed by Los Angeles County Law Enforcement since 2000.
BLM-LA is now appealing to individuals, activists and philanthropists to help with donations so that they can bail Jasmine from police custody. You can contribute by calling this number 626-744-4565 and BLM-LA will respond and give you further direction. We urge police in LA and nationwide to exercise extreme restraint whenever they are dealing with human beings, because lives are precious and need to be protected. Expect us to continue to follow this story.
---
You want to support Anonymous Independent & Investigative News? Simply, follow us on Twitter: Follow @AnonymousNewsHQ
---