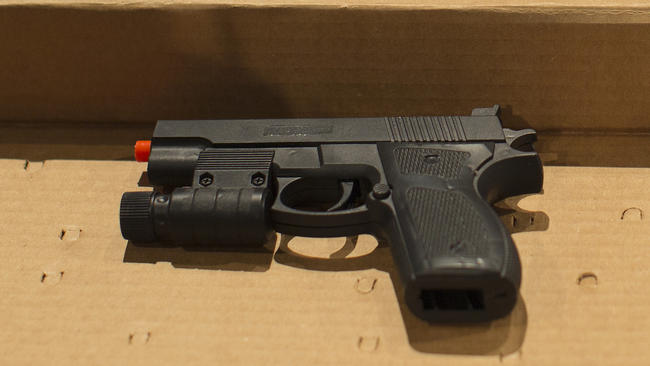 Here we go again… on one hand, you have the encroaching police state where officers seem to need to protect themselves from children, disabled people and every single homeless person. On the other, you have yet another example of extremely poor training from police officers, suggesting that all you need to join the force is the aim and attitude of one of those movie henchmen, who seem to hit everything but what they are aiming for.
Los Angeles, California – A police officer accidentally shot a 15-year-old child while he was aiming at another child, who was holding a toy gun. The police came to the conclusion that the children were at fault for playing with toys and 'tempting' the officers to shoot them. They had the kids detained and proceeded to blame everything on them.
Here's what Los Angeles Police Department spokesman, Commander Andrew Smith, said, "It's certainly an unfortunate situation, but because of people bringing replica weapons out like that, it certainly could have been a terrible tragedy."
According to the testimony of the police, just before 8AM on Tuesday, the officers approached a group of kids in a 'scary-looking' alleyway. The officers claim to have yelled for the child to, "drop the weapon," multiple times before firing in his general direction, hitting another kid instead, multiple times.
The tragedy here, the supreme irony, is that the child who did have the gun could face charges for, "brandishing a replica weapon in the presence of a police officer." However, nothing has been said as to whether the officer will face any charges.
If this were an isolated incident, it would be bad enough. However there are multiple such incidents, including one where a kid was shot, his sister arrested and he was left where he had fallen, to die. It would appear that the police are not going to let one of their own face charges, no matter how heinous their crimes.