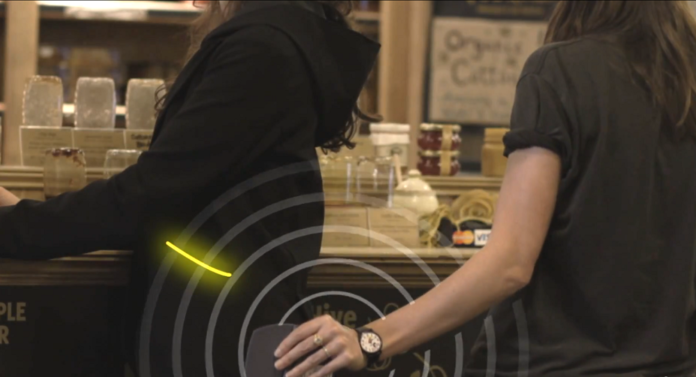 Criminals use RFID and NFC wireless communication to steal numbers
The readers can be brought online or downloaded to phone via an app 
They have to stand six inches away while a transaction is being made
Within a matter of seconds, the technology can pick up and store data
A $300 machine can then replicate the card so it can be used elsewhere
It is estimated 70% cards will soon be vulnerable to digital pick pocketing
Cards can be protected from RFID skimmers by being wrapped in tin foil
A new breed of digital pickpocket has been discovered lurking in stations and shopping centres.
They come armed with technology that can effortlessly steal credit and debit card details without so much as touching your wallet.
Standing just six inches (15cm) away, these criminals use radio-frequency identification (RFID) readers to harvest bank details in a practice known as 'digital skimming'.
ABC7 I-Team recently revealed just how easily thieves steal personal details from cards that use 'wave and pay' radio technology.
David Bryan, a security specialist at Chicago's Trustwave, stood by crowded shopping areas with a device stashed in his backpack that could read card numbers.
'The technology is high-frequency RFID,' Mr Bryan told DailyMail.com.
'It uses 13.56 Mhz to communicate with the card and the reader.
'In this instance, I used low power Embedded Linux Computer, and an easily purchasable RFID reader.
'This was then powered by a USB Battery, and stuck into a backpack.'
As well as a device, digital pickpockets can download an RFID app onto their phone.
If a reader or RFID-app enabled smartphone is within range, it can pick up the wireless signals transmitted when that card is being used to buy a product.
The information can then be input into a machine that can be purchased for $300-$400 to replicate the card.
Security firm Norton says that this year 70 per cent of credit cards will be vulnerable to digital pick pocketing.
'The device can read many different RFID tags- including MiFare Cards, EMV Cards, and many type of RFID tags,' said Mr Bryan. 'It works with many Near Field Communication tags and devices'
Because RFID is always switched on, some payment experts say it's more vulnerable to attack than NFC.
'This demonstration shows that contactless payment card reading technology is not a silver bullet for security,' said Mr Bryan.
Continue reading on dailymail.co.uk