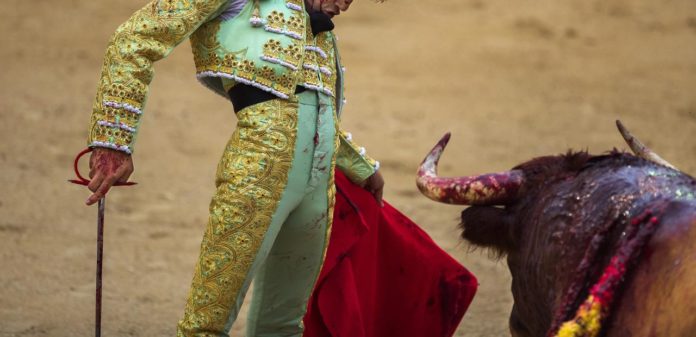 Well known comedian, Ricky Gervais, is continuing to cause a stir on social media with his ongoing campaign against animal cruelty. Gervais had recently reconstructed photos of hunters proudly posing beside the extraordinary African animals they had heartlessly killed for sport, in an effort to raise awareness on the issue.
This week, the comedian took to social media again to extend his animal welfare campaign by challenging a lesser-known practice, but still equally brutal: traditional bullfighting.
On May 3rd Gervais challenged the sport by posted a horrifying, yet enlightening, photo depicting the brutality of the sport. The sport, which is widely popular it its country of origin, Spain, was created over 1,000 years ago. Bullfighting is traditionally seen as a brave, daring and strength-driven sport. However, in reality the sport is one of the strongest demonstrations of mans most disturbing qualities: cowardice, selfishness and cruelty, with the participating bullfighters being nothing more than simple charlatans hungry for a moments glory.
Who likes good old fashioned family entertainment? #BanBullfighting pic.twitter.com/FmMHp3mWU1

— Ricky Gervais (@rickygervais) May 3, 2015
Typically, before a 'fight' the bull is subjected to an array of torture including: Petroleum jelly rubbed into the eyes, newspapers stuffed into the ears and even needles stuck into the genitals.
According to PETA, the animal rights group, the Bulls are even stabbed with spears before entering the arena, causing the animal to be weakened from substantial blood loss. Soon after, several banderilleros enter the ring on foot to further impale the bull with multiple brightly colored rods called banderillas. This, among the other forms of torture, ultimately shifts the chances of winning into the fighters favor. The bull must then face his fully unharmed and physically healthy opponent, who swiftly attempts to strip from him the last of his dignity, before finally taking his life.
My kinda justice… pic.twitter.com/FOGeGT6f5c

— Ricky Gervais (@rickygervais) May 3, 2015
In some cases the Bulls beat the tampered odds and go out fighting.
Roughly 250,000 bulls, which would otherwise be peaceful, are killed every year for sport. Now is the time to abandon this unacceptable and inhumane form of entertainment.
In 2010, the Spanish region of Catalonia banned bullfighting. However we should all not rest until the outdated and inhumane sport is fully abolished worldwide.
---
You want to discuss a certain topic with likeminded people or you want to organize a local protest or you have an idea for a project that can help people in need in your local community or all around the world? Join our forum! www.anonboards.com
---
You want to support Anonymous Independent & Investigative News? Please, follow us on Twitter: Follow @AnonymousNewsHQ
---