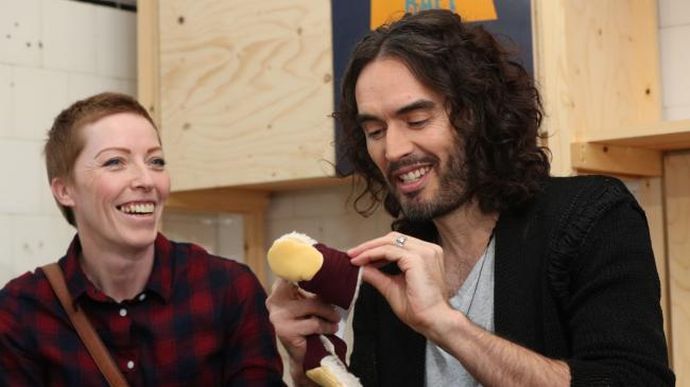 Comedian, actor, and activist Russell Brand has not used drugs or drank alcohol for 15 years. In 2013, he started a fund to raise awareness of, and money for, abstinence-based recovery for drug addicts and alcoholics.  In 2015, he opened the Trew Era Café in London to help former drug addicts return to work.
Russell, who believes addicts are completely powerless over their addiction and unless they have structured help they have no hope to live drug-and-alcohol-free lives, has now launched a new employment service for ex-drug addicts and ex-convicts. He told The Huffington Post UK:
"What we're seeing with Brexit and Trump is merely the manifestation of something that was previously concealed. And the antidote to this [Brexit and Trump] is community and finding out, discovering and demonstrating that we have a great deal more in common than we do in distinction and opposition.
"We've all got the same objectives, we're all going to end up in the same place, we all came in the same way, we're all going out the same way. We have to look for ways to form affiliation and function together. Something as simple and as modest as this, demonstrates that human beings have potential and when human beings connect with one another and have purpose, they can live differently."
Run by prison charity RAPt (Rehabilitation for Addicted Prisoners Trust), who Russell donated the Trew Era Café in 2016, and employment agency Blue Sky, the initiative will offer: training, advice and support to get recovering addicts and offenders ready for work; volunteering, apprenticeship and work experience opportunities; and help to find, get and keep a job.
Aimed at providing work opportunities and skill sets to addicts and convicts to maintain their recovery from addiction and reduce re-offending, the service will also award financial grants for budding entrepreneurs. Brand, who is now a patron of RAPt, told reporters:
"This stuff, this social enterprise thing, I think it's so important. When people get clean from drugs it leaves a great big hole in your life and you feel very adrift and purposeless. In fact that's why you're taking drugs in the first place to deal with that feeling, in my experience. So giving people the opportunity to do something constructive, productive, communal is absolutely vital to long term recovery.
"I know that sounds a bit hippie and a bit woolly and liberal but it's also the most effective way of spending that money because it costs a lot of money to keep people in prison and less money to make people better. It doesn't vent our spleen in the same way, you don't get the same vindictive pleasure of 'GOOD, WE CRUSHED THAT PERSON', but what you do get is a result."
RAPt helps drug and alcohol addicts, both in prison and in the community, through its abstinence-based rehabilitation programs. Employment reduces the probability of someone re-offending by up to 50%, and is a major factor in recovering from addiction, says RAPt CEO Mike Trace:
"If well motivated and supported, ex-addicts and offenders are committed and reliable employees. We know this because over a third of our own staff is in recovery from addiction or ex-offenders themselves and we have seen thousands more thrive with other employers or by setting up their own businesses."
---
This article (Russell Brand Launches Initiative to Help Ex-Drug Addicts, Ex-Convicts Get a Job) is a free and open source. You have permission to republish this article under a Creative Commons license with attribution to the author and AnonHQ.com.
---
Supporting Anonymous' Independent & Investigative News is important to us. Please, follow us on Twitter: Follow @AnonymousNewsHQ