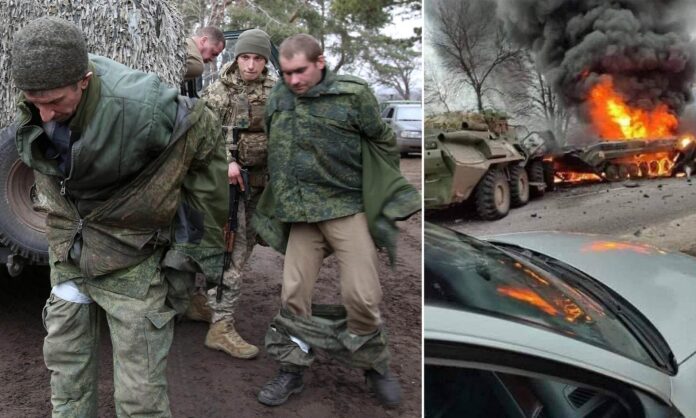 With the Russian army's advance on Ukraine's capital stalled by strong Ukrainian resistance, Russian President Vladimir Putin has put his country's nuclear forces on alert amid tensions. He made the announcement Sunday during a meeting with his top advisers that was also televised.
In Ukraine, the Russian advance on population centers and the capital, Kiev, continues. Skirmishes are reported from various parts of the country.
Both Ukraine and the U.S. report problems of Russian invading forces. The Ukrainian General Staff claims the pace of the Russian attack has slowed. The enemy is having supply problems, soldiers are exhausted, and the force is decimated. There have been military successes east of Kiev. Russian tanks were destroyed in Priluki.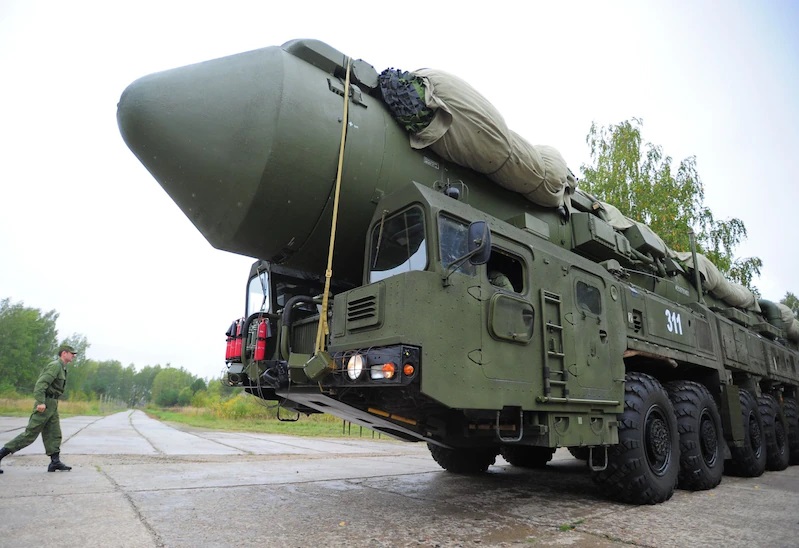 So far, it is estimated that about 4300 soldiers have been killed, Ukrainian Deputy Defense Minister Hanna Maljar wrote on Facebook. Dozens of planes and helicopters, hundreds of tanks and military vehicles are said to have been destroyed. These figures cannot be independently verified. The numbers seem very high and could be spread to boost the fighting morale of the own army.
According to U.S. data, there is "low-intensity" fighting in Kiev. Russian troops are still about 30 kilometers from the city center, he said. According to the report, the units were also suffering from a lack of fuel, among other things.
Fighting northwest of Kiev
At noon, it was reported that the Ukrainian army had retaken the town of Irpin, northwest of Kyiv. The Unian agency published videos purporting to show fallen Russian soldiers. In addition, armored vehicles belonging to the Russians were reportedly destroyed near Hostomel airfield, which has been contested for days.
To protect the capital, more soldiers are being massed there, according to Ukrainian sources. The main concern is to repel the Russian attack in the north and northwest of the capital, according to Deputy Defense Minister Maljar. It is unclear where the troops are coming from.
Russian missiles hit Ukraine
In the afternoon, "Iskander" short-range missiles were reportedly fired at Ukraine from neighboring Belarus. According to Ukrainian sources, at least one projectile struck at or near the airport in the city of Zhytomyr, west of Kiev.
According to U.S. data, Russian forces have fired more than 300 missiles at targets in Ukraine since Thursday morning. Ukraine has very limited defenses against this type of weapon.
"Kharkiv is under our control"
Skirmishes were also reported from Kharkiv in the east of the country. A Russian attack on the country's second largest city was reportedly repelled. "Kharkiv is completely under our control," the governor of the eponymous region, Oleg Sinegubov, said on the Telegram messenger service.
Videos and photos were published on social networks purporting to show a Russian column of armored vehicles. Later, photos circulated of identical vehicles that were apparently damaged or destroyed. These bear Russian nationality insignia. Soldiers are not visible on them.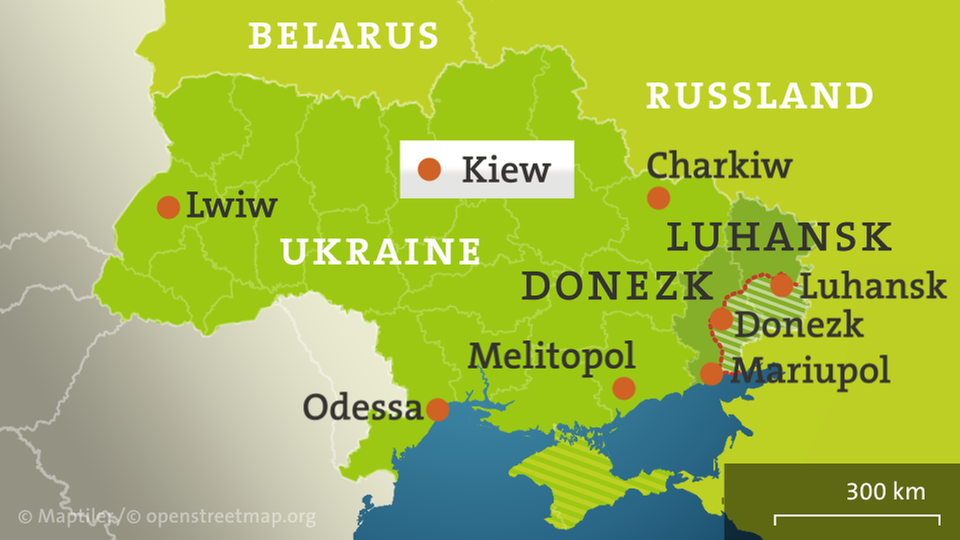 Russia reports soldiers killed in action
For the first time, the Russian Defense Ministry acknowledged losses in the offensive, which it still downplayed by calling it a "special operation." It said there had been deaths and injuries, and that "a few" Russian soldiers had also been captured. Exact figures were not given.
At the same time, military successes were reported. More than 1000 military targets – aircraft, tanks and other combat vehicles – had already been destroyed. 471 Ukrainian soldiers had been captured, Ukrainians had "refused to fight en masse".
Separatists on the advance?
The southern Ukrainian cities of Kherson and Berdyansk were surrounded by Russian troops. In the Donbass, Russian-backed separatists had continued their advance.
The Russian advance in the south of the country barely features in Ukrainian reports. Apparently, units there are advancing inland from Crimea. If they successfully march north, they could eventually cut off supplies to the numerous Ukrainian forces on the "line of contact" with the pro-Russian separatist areas in the Donbass.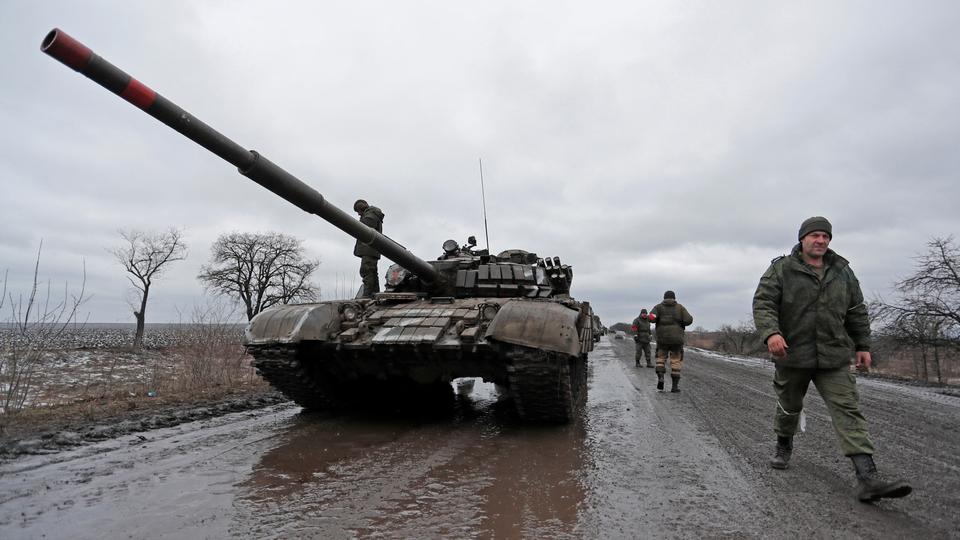 Weitere Waffenlieferungen an die Ukraine
Unterdessen trafen weitere militärische Güter aus NATO-Staaten in der Ukraine ein. Dies umfasst unter anderem Tausende Panzerabwehrwaffen, Hunderte Luftabwehrraketen und Tausende Kleinwaffen; außerdem werden Munition, Schutzausrüstung und humanitäre Hilfe geliefert. Hilfe haben unter anderem Belgien, Schweden, Kanada, Tschechien, Estland, Frankreich, Griechenland, Lettland, Litauen, die Niederlande, Portugal, Rumänien, die Slowakei, Slowenien, das Vereinigte Königreich und die Vereinigten Staaten angekündigt.
Gestern hatte auch Deutschland – das lange Waffenlieferungen in Konfliktgebiete abgelehnt hatte – militärische Hilfe für die Ukraine angekündigt. Unter anderem sollen 1000 "Panzerfaust 3" sowie 500 "Stinger"-Boden-Luft-Raketen an die Ukraine gehen.
NATO-Staaten halten solche tragbaren Waffen für eine besonders wichtige Unterstützung für die ukrainische Armee. Durch die russische Luftüberlegenheit sind größere Waffensysteme gefährdeter, wie die ersten russischen Angriffe gezeigt haben.
Kleinere Trupps von Soldaten mit Panzerabwehrwaffen können russische Fahrzeugkolonnen aus dem überraschend angreifen oder in Städten leichter in Hinterhalte locken. Videos in sozialen Netzwerken zeigen die Effektivität dieser Taktiken.
Tragbare "Stinger"-Raketen können gegen Hubschrauber oder tief fliegende Jets eingesetzt werden, auch wenn die Reichweite gering ist. Die Bedienung der Waffe ist vergleichsweise leicht zu erlernen.