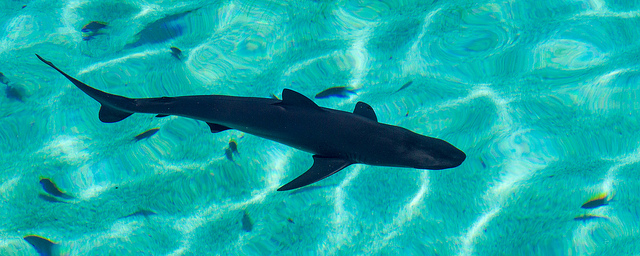 Most people who encounter a shark would be fearful, and likely get out of the water or area as fast as possible, but for conservationist Michael Dornellas, being up close and personal with a 10-foot long dusky shark was an opportunity to save the creature's life.
Dornellas was freediving off the coast of Florida when he encountered the shark and noticed it had a hook in its mouth. Dornellas says it's a common occurance, but observed that the hook was stainless steel, and so unlikely to rust, more likely to settle further back in the animal's jaw, causing it suffering and possibly eventually death.
"Most sharks out there sadly have hooks inside their mouths," said Dornellas. "Certain hooks rust out, certain hooks don't. The shark in this video was (with a) stainless steel hook. I've seen them work all the way back, cutting open the jaws of the shark."
Working quickly and efficiently, Dornellas stroked the shark's muzzle, and smoothly flipped it on its back, inducing a trance-like state in the shark known as "tonic immobility." Dornellas used this opportunity to remove the hook from the shark's toothy jaw, then the big fish righted itself and swam away. It's a maneuver best left to the experts, so it's lucky for this dusky shark Dornellas just happened to be diving when and where he was.
Watch the full rescue below.

---
This Article (Saving Jaws) is free and open source. You have permission to republish this article under a Creative Commons license with attribution to the author and AnonHQ.com.