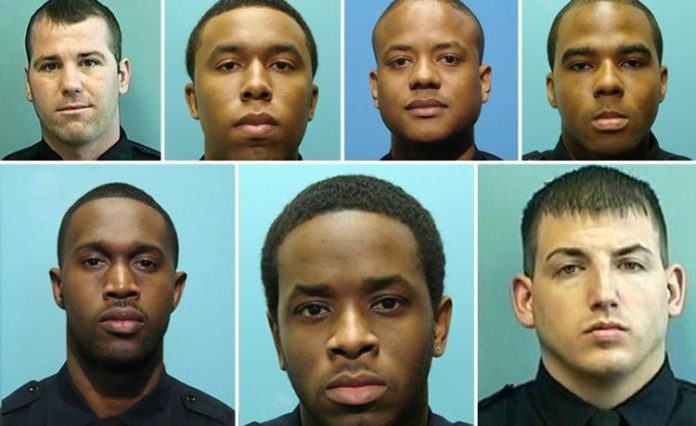 If you weren't convinced that Baltimore Police were one of the most corrupt agencies in the nation (after the Freddy Gray murder), seven of Baltimore's finest were federally charged for corruption this month. All of them were members of Baltimore PD's gun trace unit, who operated with little to no supervision. This comes on the tail end of the Justice Department's investigation of the agency, which has continued since Freddy Gray's death.
The officers involved were identified as Sgt. Wayne Jenkins, and his detectives Momodu Gondo, Daniel Hersel, Evodio Hendrix, Jemell Rayam, Marcus Taylor and Maurice Ward. The federal indictment was handed down this week for racketeering, or conspiring to commit multiple felonies. The officers conspired to make illegal stops of drug dealers of which they would steal their money and drugs only to resell them later. They took amounts ranging from $200 to $200,000 from a single case. They were also accused of forging overtime slips and conducting searches with forged warrants.
According to Federal Prosecutor Rod J. Rosenstein, "These defendants were allegedly involved in stopping people who had not committed crimes, and not only seizing money but pocketing it. These are robberies by people wearing police uniforms." The fact that the Justice Department under Trump continued with the investigation – even though Attorney General Jeff Sessions stated to the media that he would back off from police prosecutions – brings hope that justice won't simply be a foreign concept to the new administration.
It was announced on Monday that all the cases handled by these officers will now be reviewed, as their loss of credibility greatly impacts their ability to participate at trial. The Baltimore PD had previously praised these officers and their unit in October last year. They hailed them for arresting over 110 people in the previous year. The praise came at a time when the federal investigation was in full swing.
The FBI became involved with the case while investigating a drug dealer who allegedly had ties to the Baltimore Police. It didn't take long for the FBI to connect the dots and turn their attention to the gun trace unit. The Baltimore District Attorney's office was already familiar with the names of those arrested. "The majority of these officers have been known to my attorneys as having significant credibility issues. We have aggressively been pursuing personnel records to be able to highlight the issues with their credibility on the force," stated Baltimore Public Defender Natalie Finegar.
Baltimore's Police Chief Kevin Davis told the media, "We have to do a better job of selecting, training, auditing, and making sure they are doing that work consistent with the values of the community." The Chief touched upon the department's failures, however made no mention of internal discipline of any upper level senior supervisors for failing to oversee what was obviously a poorly concealed crime. Davis went on to call the officers involved "1930s style gangsters." When officers are arrested, agency brass always rally together and attempt to deflect blame from themselves, however, it was poor operational oversight at the least, and intentional corruption at the worst.
Once the federal investigation began, the FBI placed bugs in some of the officers' vehicles, catching them making their damning admissions. Officer Jenkins, who topped the list of overtime theft, was captured on audio promising one suspect kilos of cocaine for rolling over on another drug dealer. Officer Rayam was also caught discussing how he "taxed" a suspect stealing from him over $1700, then reportedly stating "He won't say nothing," to Officer Gondo. The indictments are a surprise but are far from shocking. The reality is that rackets like this one occur daily at police departments across the country.
Sources: Baltimore Sun, Officer.com.
---
This article (Seven Baltimore Cops Indicted on Federal Racketeering Charges) is a free and open source. You have permission to republish this article under a Creative Commons license with attribution to the author and AnonHQ.com.
---
Supporting Anonymous' Independent & Investigative News is important to us. Please, follow us on Twitter: Follow @AnonymousNewsHQ