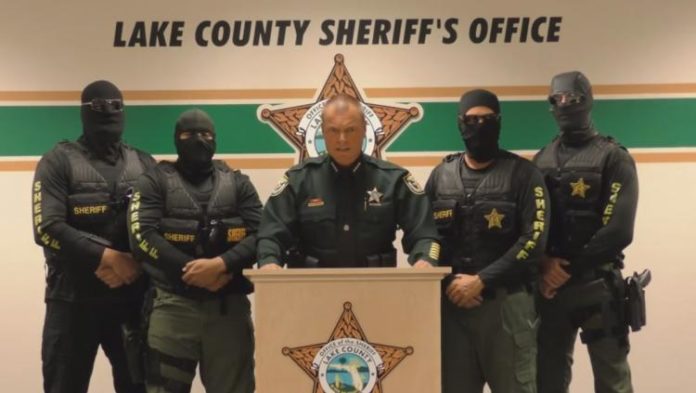 The Lake County's Sheriff Peyton Grinnell was mocked mercilessly on social media after his anti-heroin SWAT video was compared to ISIS propaganda. His video did little to embolden people to his cause, however, his attempts did one thing. They seemingly drew attention away from his agency's involvement in too many corruption scandals to list; one involving the suicide of a deputy who was under federal investigation. While everyone got a good laugh out of their attempts to scare drug dealers, the reality is the Lake County Sheriff's Department has more than a few skeletons in its closet.
Prosecutors announced in February that they had opened an investigation into an incident involving Lake County deputies who barged their way into a house, and in effect held an innocent family hostage. Deputies were responding to a call involving a disturbance at an unknown address. For whatever reason (perhaps they randomly picked the mobile home of the victims), they forced their way into the home without a warrant and without any reason to believe there was a disturbance. The family were then held at gunpoint and interrogated for ten minutes.
Earlier this month it was announced that two Lake County deputies, identified as Raymond Mattiucci and Darrell Blanton, were kicked to the curb after accidentally tasering a civilian and then conspiring to cover it up. Deputy Mattiucci was showing off to a security monitor at the high school he was assigned to. He discharged the weapon, lied to supervisors and then conspired with Blanton to make sure no one ever found out. But people always talk. Both deputies found themselves in an internal affairs investigation. As a result, Mattiucci was allowed to resign while Blanton was terminated for unknown reasons.
Last year, a Lake County sheriff was caught in a sex scandal when a lieutenant was fired for having an affair with a co-worker's wife. It all started with talk of a threesome between Lt. Phil Buffington, Deputy Shawn Vance, and Vance's wife, Alissa. Their threesome never materialized, but Buffington was busted sleeping with Vance's wife. The investigation uncovered alcohol and drug abuse and widespread infidelity within the department. Buffington was terminated for conduct unbecoming an officer.
The biggest scandal that Lake County has had in recent years goes back to 2013. Lake County Deputy Warwick Dale was being investigated by Homeland Security for distributing and possessing child porn. Unable to deal with the pressure of an investigation, Dale shot and killed himself. The agency went out of its way to tamper down publicity of the case, and details are still scarce. Dale's record had no disciplinary action and he was seemingly well respected among his colleagues. It only goes to show that police are better than most at hiding their dark side.
So maybe Lake County Sheriff's Office should think twice before attempting to make themselves YouTube stars while pretending to be pillars of the community. Unfortunately, the problems that are rampant at Lake County also show themselves at police departments, large and small, across the nation. As usual, the police don't believe the rules apply to them, and Lake County is no exception.
Sources: Orlando Sentinel, WFTV, The Denver Post.
---
This article (Sheriff Who Released Propaganda Video Runs Agency Wrought with Corruption) is a free and open source. You have permission to republish this article under a Creative Commons license with attribution to the author and AnonHQ.com.
---
 Supporting Anonymous' Independent & Investigative News is important to us. Please, follow us on Twitter: Follow @AnonymousNewsHQ