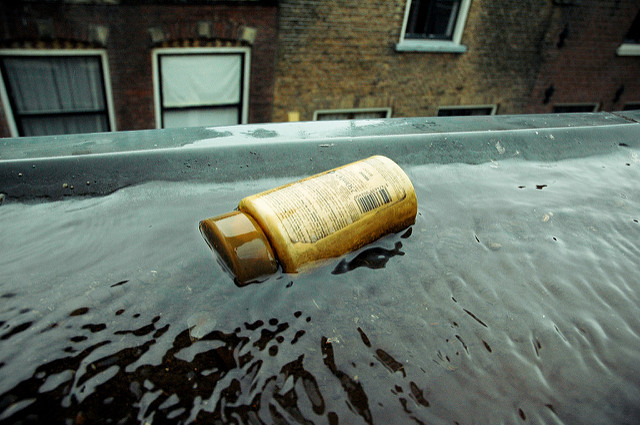 As governments and multinational corporations continue to reduce their wasteful ways and adopt more eco-friendly solutions, many of us at home are wondering what else we can do to reduce our own greenhouse-gas emissions and household waste.


Turning-off lights, taking shorter showers and buying less food are often the first piece of advice we receive when typing "how to be more eco-friendly" into google. However, if you are wondering what else you can do to help make the world a much cleaner and healthier place, Take Part have put together a 'Shrink Your Waste' interactive web page that "shows you easy ways to be a more conscious consumer and improve the world."
Here are few of our favorite tips and recommendations from the Take Part's 'Shrink Your Waste' campaign:
Water Waste
Last month, we reported that a new analysis found that at least two-thirds of the global population—4 billion people—live under conditions of severe water scarcity at least 1 month every year. Surprisingly, locations such as central and western US, Australia and the city of London (UK) were listed among the many western countries affected by this crisis. In the video below, the Take Part has put together a number of ways that you can easily reduce your own water waste.
Food Waste
Roughly one third of the food produced for human consumption every year — approximately 1.3 billion tonnes — gets wasted. Despite this, around 805 million people do not have enough food to lead a healthy and active life. The video below contains a number of tips that could help you increase the longevity of your food and reduce the amount you throw away.
Chemical Waste
When we think about chemical waste, our minds often jump to the harmful chemicals that are produced by large factories; however, as consumers, we often fail to realize how many harmful chemical we surround ourselves with in our own homes. Whether it be the disinfectant that is mindlessly sprayed on every household surface or the shower gel that you use every morning, the truth is we don't fully understanding the contents of these chemical based products.
As a result, we are surrounding ourselves with thousands of dangerous—and sometimes life threatening—chemicals that are damaging to both our health and the environment. Changing to organic cotton, chemical-free cleaning products and organic food are great ways to reduce the amount of harmful chemicals you are exposing to yourself, your family and the environment.
Household Waste
The average American produces 4.3 pounds of garbage a day, according to Duck University researchers. Where does this waste go? In one of the country's 3,500 landfills. The fast fashion, advertisements/deals and cheap convenience items that surround us have caused us to fill our homes with clutter. In fact, Americans spent $24 billion in 2013 alone on self-storage facilities.
By cutting back and removing temptation, you can easily begin to reduce the amount of waste that your house holds and disposes of. Bea Johnson, author of Zero Waste Home: The Ultimate Guide to Simplifying Your Life by Reducing Your Waste, recommends avoiding unnecessary freebies, stopping junk mail, swapping disposables with reusables and recycling worn-out items.
You can find more useful tips and tricks to reduce your waste by exploring Take Part's 'Shrink Your Waste' webpage.
Feature Image: Flickr, Eelke
---
You want to support Anonymous Independent & Investigative News? Please, follow us on Twitter: Follow @AnonymousNewsHQ
---
This Article ('Shrink Your Waste': It Saves Money And Helps The Planet) is free and open source. You have permission to republish this article under a Creative Commons license with attribution to the author and AnonHQ.com.