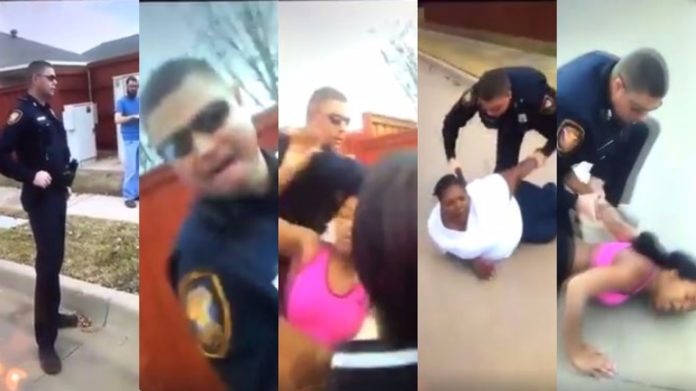 The nation was outraged after video was circulated showing a white Fort Worth cop disrespecting a mother who called for help; then arresting her and her daughters. The officer, now identified as William Martin, will receive only a ten-day suspension, despite the overt racism and brutality displayed.
The victim of this officer, identified as Jacqueline Craig, had called police because a neighbor had choked her son. The man had accused her son of littering. Craig did the right thing calling the police only to have Ofc. Martin completely disrespect her and show more concern for the man who choked her son than her and her family. When she told Martin what had happened, his response was to scold her. Instead of wanting to help, he chastised Craig and said, "Why don't you teach your son not to litter?" Martin obviously didn't want to help.
For no reason at all, he grabs Craig's daughter and throws her to the ground before doing the same to Craig. He pulls his Taser and holds it to Craig's back, while both of her daughters scream in the background. After handcuffing Craig, he tackles her daughter again and handcuffs her. Despite the brutality, it is clear that the brass at the Fort Worth PD didn't take any of it too seriously. A cop can violate his oath to the community and only get a ten-day suspension.
"Officer Martin was contrite. He's ready to get back to work. He's very sorry for what has transpired," stated Fort Worth Police Chief Joel Fitzgerald. Fitzgerald emphasized to the press that the incident involving Martin was "isolated" and that he believed that suspending him for ten days was "significant punishment." The result of the investigation did not show civil rights violations, like we all saw on the video. It did not conclude that Ofc. Martin committed an aggravated battery against two innocent women. Instead, it concluded that he was "discourteous" and used "inappropriate contact." This is what is called a blatant cover-up.
S. Lee Merrit, the lawyer for Jacqueline Craig and her family, stated that this punishment is "lax." He stated that Martin should be terminated and charged with a crime. He believes that the suspension and the chief's commitment to have Martin redo training falls short. The most disturbing part of the outcome is that according to the chief, Ofc. Martin will return to the same neighborhood for patrols after he is cleared to return to work.
---
This article (Slap on the Wrist for Cop Caught on Video Manhandling Mom and Daughter) is a free and open source. You have permission to republish this article under a Creative Commons license with attribution to the author and AnonHQ.com.
---
 Supporting Anonymous' Independent & Investigative News is important to us. Please, follow us on Twitter: Follow @AnonymousNewsHQ