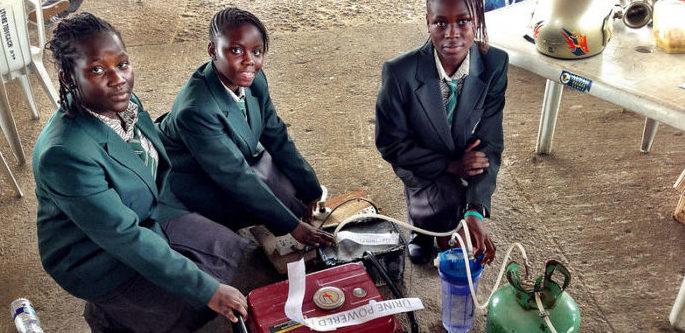 It's good to know there are people with extraordinary talent, which if developed and given the needed support, our planet will be a better place, despite the harm it's currently suffering.
In Africa's most populous country, Nigeria, four young girls have discovered a way to use urine to power a conventional fuel-generator, capable of producing six hours of clean energy.
The girls, identified as Duro-Aina Adebola (14), Akindele Abiola (14), Faleke Oluwatoyin (15), and Bello Eniola (15), displayed their invention back in 2012, at an event called Maker Faire Africa, an annual event to showcase creativity that is held in the Nigerian city of Lagos. The girls are science students at Doregos Private Academy in Ipaja, Lagos.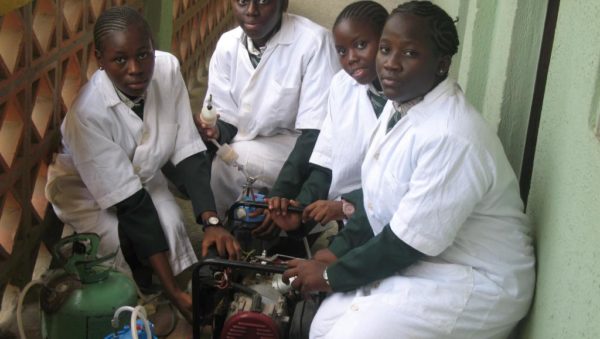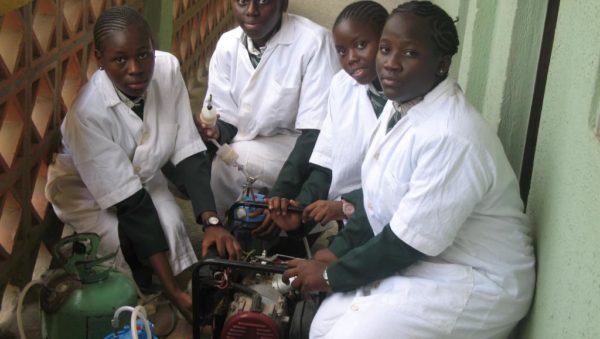 According to how the girls used the urine to power the generator, first, they put the urine into an electrolytic cell. This allowed the hydrogen in the urine to be separated. Then, the hydrogen travels through a water filter for purification. It further proceeds into a gas cylinder, which looks similar to the kind used for outdoor barbecue grills. The gas cylinder then pushes the filtered hydrogen into another cylinder that contains liquid borax, removing moisture from the gas. Borax is a natural mineral, commonly used in laundry detergent. The hydrogen is finally pushed into a power generator. This completes the steps, allowing the generator to power on using the final product, hydrogen.
One danger associated with hydrogen is that it can explode if not handled with care, but the girls remedied this danger. They used one-way valves throughout the device as a safety measure. This guaranteed the safety of their invention. The exhaust gas generated by the urine-powered generator is a water vapor. It does not emit carbon monoxide like the normal fuel-powered generator. This ensures a clean environment.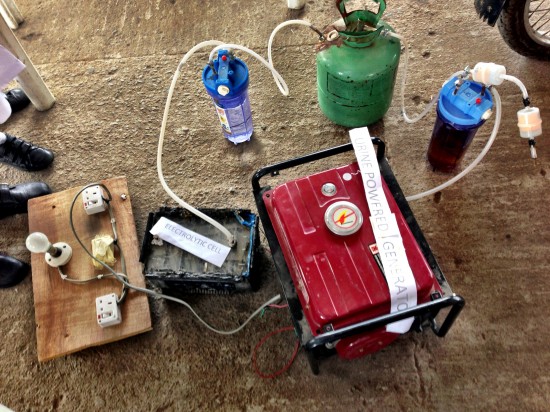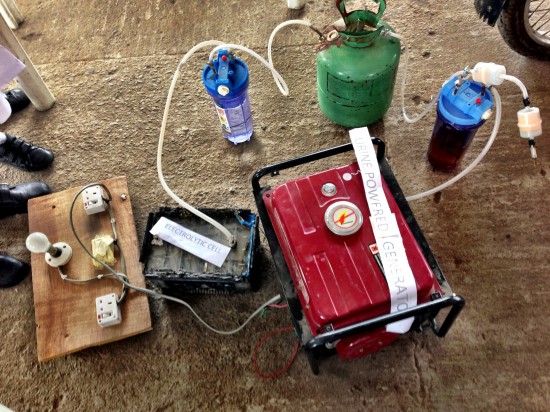 According to Maker Faire Africa, one liter of urine can generate up to six hours of clean electricity. The girls are still working on their technology, searching for a way to use less energy to extract the hydrogen from the urine, which serves as the fuel.
The girls appealed to researchers to build on what they have invented. This, according to them, will ensure the full benefit of their invention.
"They should take up the idea and help us to improve on it so that it can be something that can be in every Nigerian home because this was not made to be lying around; it was made to be used by Nigerians. All we need is support so we can take it to the next level. We want a situation where every home can have this. We also want to make it compact so you don't have to have different compartments, they can all be in a single unit that can just be attached to a generator," the girls told reporters.
Apart from the urine power project, the girls are also working on other projects like a bomb detection radar, motor bike safety devices, and also making paper from maize straw (agricultural waste), to save our trees and the environment.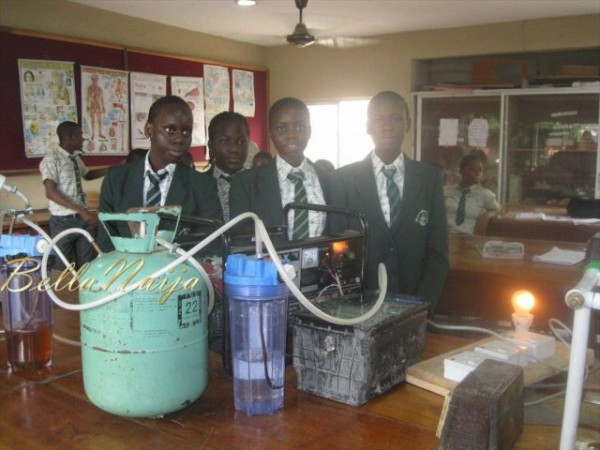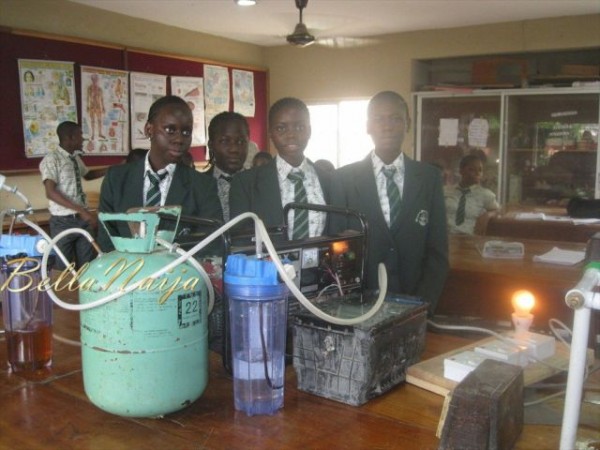 In the past, many researchers have attempted to use urine as a fuel. The girls are the first to have practically demonstrated this in Africa. Their technology will be a huge milestone, especially for their own country.
Despite the abundance of energy sources in Nigeria, many parts of the country are still without electricity. Those who are fortunate to have electricity, generally suffer many power outages, leaving them no choice but to turn to fuel-powered generators for power to run their businesses and households.
Nigeria is an oil producing country and is currently ranked the 12th largest nation to do so, producing 2,524,000 barrels of oil per day. This has led people to suspect that if the girls are not well protected, they could be harmed. The oil companies, and all those who have a vested interest, won't appreciate their commodity becoming unprofitable, especially due to a technology such as the girls' invention.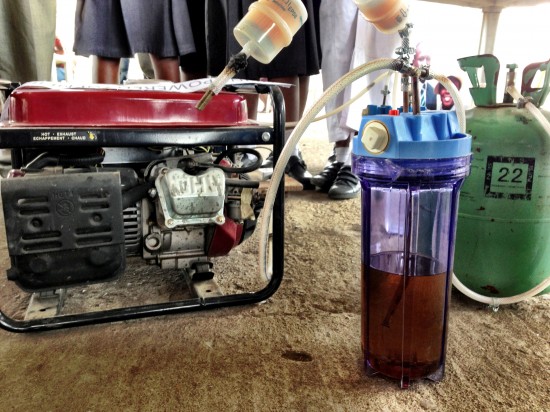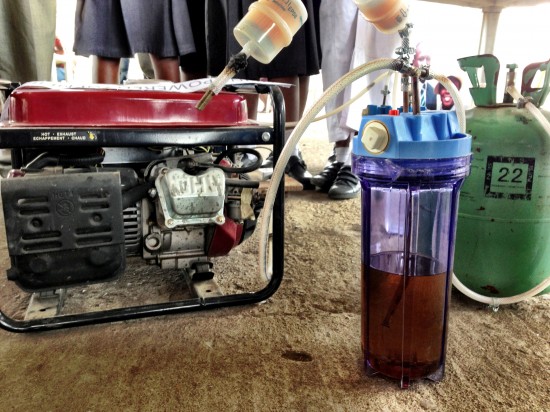 The girls, being able to extract hydrogen from the urine to power the generator, shed light on the whole conspiracy theory surrounding oil.
Energy experts and chemical engineers admit that hydrogen is a high efficient and low polluting fuel. Currently, hydrogen is mainly used as a fuel in the NASA space program. Liquid hydrogen is used to propel space shuttles and other rockets, while hydrogen fuel cells power the electrical systems of the shuttle. The hydrogen fuel cell is also used to produce pure water for the shuttle crew.
If experts know this, and NASA is using hydrogen as a fuel, why is the technology not being developed or given the needed attention? This is the million-dollar question. Yet, the answer is simple. You can refer to two articles we have published recently: "Why the World Can't Rest: The Petrodollar" and "Inventors Who Invented Water-Powered Cars, but Were Killed or Forced to End Their Work".


These articles shed more light on the greater conspiracy surrounding oil. As long as the cabals in the United States, and elsewhere exist, crude oil will continue as a hot commodity in the world, causing all kinds of problems for humanity. Breaking this dependency will mean a huge loss for these cabals.
However, we shouldn't lose hope. Share this story and spread the news about what these girls have achieved. Remember, the media has refused to make them famous by ignoring their invention. If you also refuse to share, the story won't spread. Let's spread the news in spite of the oil cabals.
---
This article (Nigerian Teens Devise a Way to Use Urine as Fuel, Generating 6 hours of Clean Power) is a free and open source. You have permission to republish this article under a Creative Commons license with attribution to the author and AnonHQ.com.
---
You want to support Anonymous Independent & Investigative News? Please, follow us on Twitter: Follow @AnonymousNewsHQ