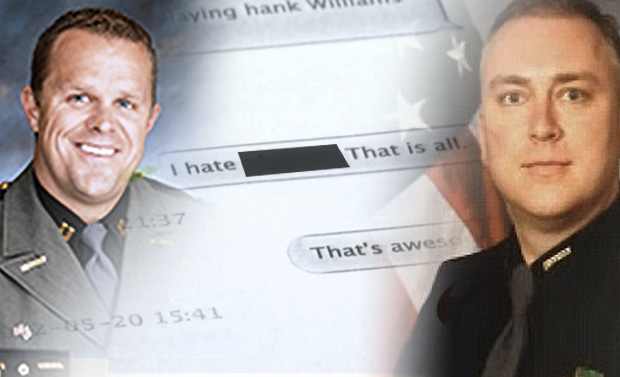 Montgomery County Sheriff's Department had revealed awhile back that 5 of their deputies were under investigation for sending racist messages. What they found turned out to be worse than they expected.
Sheriff's Captain Thomas J. Flanders and Detective Michael J. Sollenberger have both been placed on indefinite administrative leave after it was revealed by Sheriff Phil Plumber that somebody had obtained and shared the dozens of racist messages that they had sent to each other.
Flanders was head of the Montgomery department, where many allegations of racism and discrimination have been made. This would suggest that the allegations had had some merit.
Sollenberger, on the other hand, works in internal affairs. His unit would have been called in to investigate these allegations. This suggests that police officers regulating police officers would generally be a bad idea. He was also a part of the Montgomery SWAT team.
Sent between November 2011 and January 2013, the messages made direct derogatory references to African-American deputies and citizens.
"The N-word was used several times as well as other racial slurs and jokes," Plummer explained. "Racism will not be tolerated in this office."
Some of these text messages include statements like:
"What do apples and black people have in common? They both hang from trees."
"I hate N****rs. That is all." The two suspended cops said to one another.
"Very simply put, they're N****rs, son." Another deputy texted.
An anonymous source had leaked these messages and had contacted the Dayton NAACP. The NAACP then informed the sheriff of the problem in August, 2014. Sheriff Plummer stated that the deputies, "did not apologize," resulting in the termination of their employment.
The three other deputies will only be suspended, as they had, "admitted their mistakes." Deputy Jamie Horton was suspended 10 days without pay, Deputy Joseph Connelly was suspended for 30 days and Sergeant Brian Lewis was only suspended for three days, as he had only sent one racist text to the two former deputies.