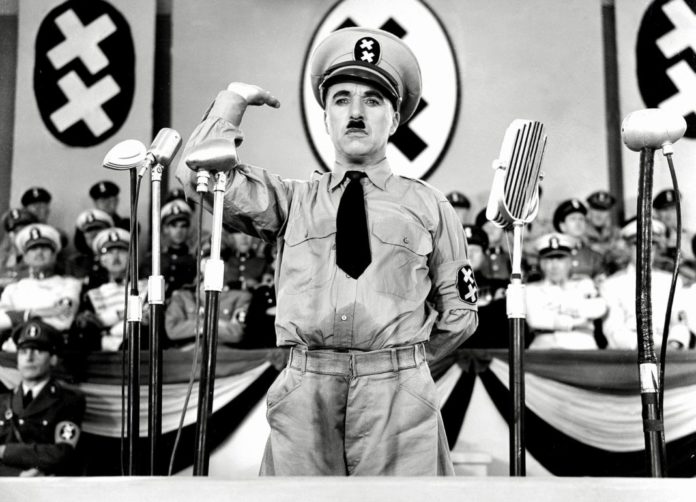 In a career spanning more than 75 years, Charlie Chaplin — the iconic actor of the silent film era — gave people something they desperately needed. With his trademark "Little Tramp" character, famous for his toothbrush mustache, bowler hat, bamboo cane, a funny face, and a funny walk, the crowds were given the gift of laughter.
However, not many know that Chaplin — who believed in the power of laughter and tears as an antidote to hatred and terror  — was also an activist, and that he created a stir when he spoke for the first time in The Great Dictator, a satirical attack on fascism and his most overtly political film.
In The Great Dictator, Chaplin played a double role: Schultz, a kind-hearted Jewish barber who loses his memory after a plane crash, and Adenoid Hynkel, a humorous caricature of Germany's ruthless dictator, Adolf Hitler.
Chaplin resembled Hitler a lot: both were born four days apart, both had risen from poverty to international acclaim, and both wore the same toothbrush mustache. Nonetheless, Chaplin's son would say of his father and Hitler: "Their destinies were poles apart. One was to make millions weep, while the other was to set the whole world laughing."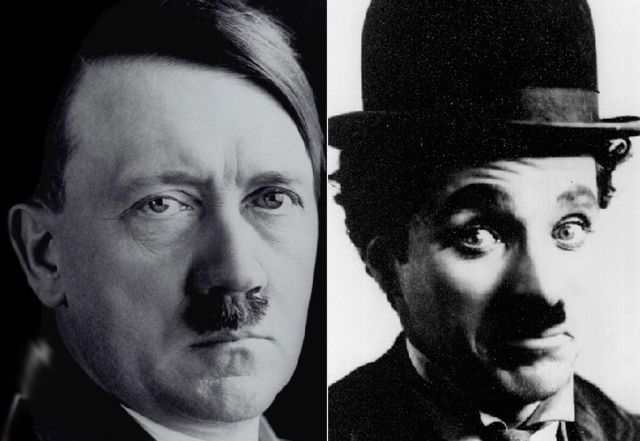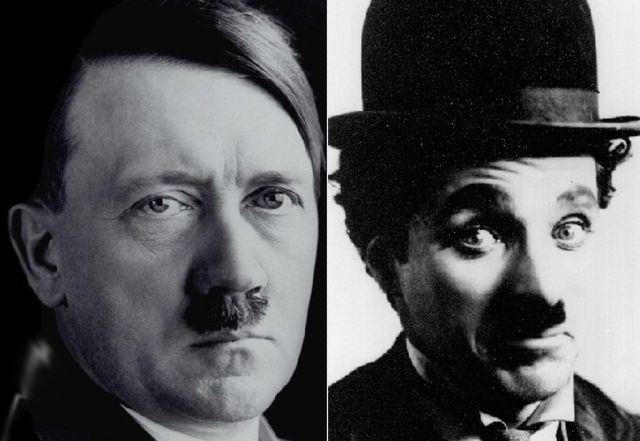 But Chaplin believed Hitler must be laughed at, and so The Great Dictator poked fun at Hitler, Nazis and fascism. However, Chaplin later asserted he would have neither made The Great Dictator nor made fun of the homicidal insanity of the Nazis had he known the actual horrors of the German concentration camps.
Nevertheless, the film quickly became Chaplin's greatest financial success; earned five Academy Award nominations; entered the United States National Film Registry for being culturally, historically or aesthetically significant; changed his fortunes and severely affected his popularity in the United States.
It was also the first time Chaplin spoke in a film. During the last few minutes of The Great Dictator, mistaken by the enemy to be their hateful tyrant, the barber was supposed to address a crowd of enemy soldiers in an attempt to save his life.
However, Chaplin did more than speak —  he ended the film with a five-minute speech in which he abandoned his barber character and expressed disgust at a system that preys on the innocent and poor, denounced a military that uses its soldiers as machines and cattle, and cried out for a world of peace and true democracy.
What did Chaplin say that amused the real-life Nazi leader? What did Chaplin say that turned the FBI against him? What did Chaplin say that forced him to settle in Switzerland? What did Chaplin say more than 75 years ago that is as relevant today as it was back then?
Chaplin was demonized for telling the truth back then; today, whistle blowers worldwide are also demonized and persecuted by governments for telling the truth. But what did Chaplin say? Here are the most powerful words from the greatest silent actor ever:
"In this world there is room for everyone, and the good earth is rich and can provide for everyone. The way of life can be free and beautiful, but we have lost the way. Greed has poisoned men's souls, has barricaded the world with hate, has goose-stepped us into misery and bloodshed. We have developed speed, but we have shut ourselves in. Machinery that gives abundance has left us in want. Our knowledge has made us cynical; our cleverness, hard and unkind. We think too much and feel too little. More than machinery, we need humanity. More than cleverness, we need kindness and gentleness. Without these qualities, life will be violent and all will be lost.
"To those who can hear me, I say – do not despair. The misery that is now upon us is but the passing of greed – the bitterness of men who fear the way of human progress. The hate of men will pass, and dictators die, and the power they took from the people will return to the people. And so long as men die, liberty will never perish.
"You, the people, have the power to make this life free and beautiful, to make this life a wonderful adventure. Then in the name of democracy, let us use that power. Let us all unite. Let us fight for a new world, a decent world that will give men a chance to work; that will give youth a future and old age a security. Let us fight to free the world! To do away with national barriers! To do away with greed, with hate and intolerance! Let us fight for a world of reason, a world where science and progress will lead to all men's happiness."
---
This article (The Greatest Speech Ever Made by Charlie Chaplin, the Greatest Silent Actor Ever) is a free and open source. You have permission to republish this article under a Creative Commons license with attribution to the author and AnonHQ.com.
---
Supporting Anonymous' Independent & Investigative News is important to us. Please, follow us on Twitter: Follow @AnonymousNewsHQ