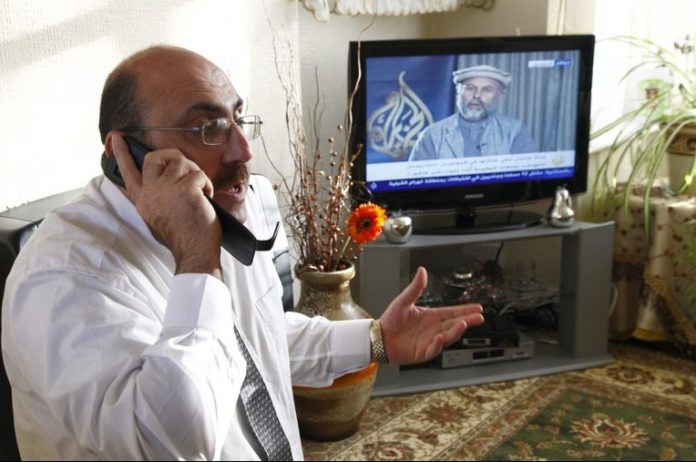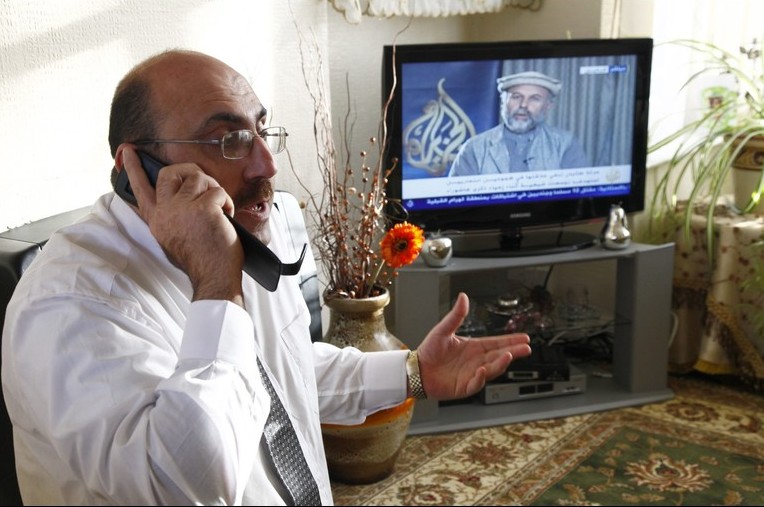 The Syrian Observatory for Human Rights is quoted as though it were the most authoritative source of information to be found in Syria. Such "luminaries" as the Huffington Post, VICE, Reuters, CNN , Fox and nearly all of  the mainstream media have been caught citing this website verbatim, without so much as questioning the reliability of this singular source.
Only RT, being a Russian outlet and thus being the butt of a lot of the site's accusations, seemed at least concerned enough about the authenticity of this source to conduct an investigation into discovering how this authority on all things Syrian had came to existence, and its process for deriving its very-"authentic" information.
Abdel Rahman is the "director" of the SOHR, though it is quite uncertain if he actually has anyone to "direct" as nobody else is known to work for/with him. He works from his two-bedroom Coventry home in the UK; this is why you keep seeing the Mainstream media call him a "London-based monitoring group".  It's quite funny, really, calling this one man a "London-based monitoring group" in the same vein as The Red Cross.
Check out its wiki page, it says the same thing. It also reveals that there are really two SOHR websites, both of which seem to hate each other, and both claim that the other had stolen the idea/entire website from the other:
The website Syriahr.org claimed that Rami Abdulrahman was in fact called Osama Ali Suleiman and he merely used the name Rami Abdulrahman, a pen-name that the website claimed to have been initially used by all "SOHR members".[6] Syriahr.org claimed that Abdulrahman was able to wrest control of the SOHR website Syriahr.net in August 2011 by changing all the passwords and that he proceeded to make himself the chairman of the SOHR, upon which an organisation claiming to be the 'real' SOHR created the rival website Syriahr.org.[6] This new website Syriahr.org then proceeded to attack Abdulrahman, claiming he only had a "very modest level of education", thus not able to "communicate professionally in English", and condemning his "lack of professionalism" and even alleging that he was a member of the Kurdistan Workers' Party.[6][7][8]
Abdulrahman, meanwhile, says the new site Syriahr.org is run by Mousab Azzawi, who used to translate for the SOHR[2] but was fired after falsely claiming to be an official spokesman for the organisation and calling for foreign intervention in Syria.[7] The SOHR which was run by Mousab Azzawi had stated that they consider reporting on the deaths of government soldiers to be "not in their interest".[2][7] Since the early conflict, it appears that Azzawi's Syriahr.org is inactive and has adopted the name Syrian Network for Human Rights with the website Syrianhr.org, whereas Abdulrahman's group continues to use the sites Syriahr.net (Arabic version) and Syriahr.com/en (English version).

RT first sent a journalist-prankster to interview the "director" of the SOHR. The journo went hunting for the singular face of this "authentic" Syrian source. Unfortunately, the man was out of the country and had a few choice words for the journalist:
"I am not a media organization. I work from my home, my private home."
"they are trying to kill me."
He then threatened the journo with calling the police, all because of an interview, and not even a serious one at that. Interesting that this man should be so fearful in the UK of all places, leaving one doubtful that this frightened creature would ever make the journey to Syria to gather his own intel. Short answer: he doesn't.
RT was dogged however, and sent a proper journo after the elusive man, who was in Kazakhstan attending a conference with the Syrian Opposition.
Apparently the "risks" this man (and the Syrian Opposition) was taking paid off in spades, because this conference was held at a luxurious hotel in Astana, the capital of Kazakhstan.  More specifically, it was held at the Rixos President Astana, where a room for a single adult would set you back between 112 to 168 USD a night, and was rated as one of the four best luxury hotels in Kazakhstan by Five Star Alliance.
Fancy. No suffering for THIS Syrian migrant.
When RT tracked him down, he finally agreed to answer a few questions:
RT asked Abdulrahman whether he personally knows "hundreds of people," as he himself puts it, working in Syria for SOHR, and whether he can really trust all of them.
"I know all of the activists working for the SOHR," he replied.
When RT wondered when the last time Abdulrahman actually went to Syria was, he said it was 15 years ago.
"But I know some of the Observatory activists through common friends. This organization only takes new members following a six-month trial period and the candidate has to be familiar to someone from the organization or to a reliable outside contact," he said.
So basically.. this one-man-show relies on "intel" allegedly gathered by 200 people whom he knows personally, yet impersonally because he has never met them and knows them only through other unspecified "friends" (whom he probably knows through other "friends"), and is considered authentic because the man has not been to Syria for 15 years- some 11 YEARS before the conflict began.
The site does not reference any sources,  probably because its sources are completely unreliable, assuming they even exist to begin with. Even its own stories contradict- according to RT, its Arabic site had attributed an airstrike to Assad, despite its English site having already attributed it to Russia…
Sources: RT,  Huffington Post, VICE, Reuters, CNN , Fox, Sputnik News, Nile Net Online, Astana Times, Five Star Alliance, SOHR
This Article (The Truth Behind The Oft-Quoted Syrian "Observatory" Of Human Rights) is free and open source. You have permission to republish this article under a Creative Commons license with attribution to the author(CoNN) and AnonHQ.com.