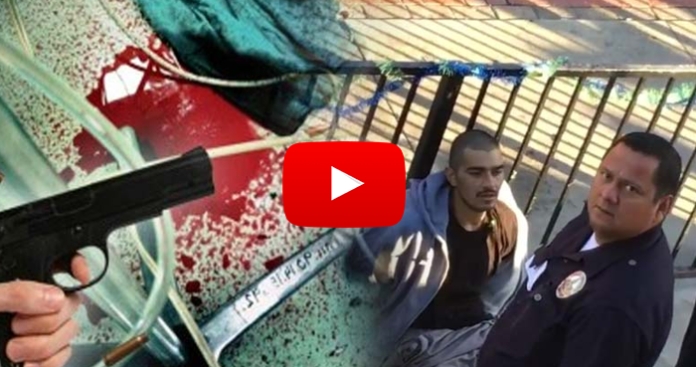 [responsivevoice voice="UK English Female" buttontext="Play"]
Torrance, CA – On the morning of Saturday the 19th, Los Angeles police officers shot and killed 26-year-old Ruben Jose Herrera, whose mother states was bipolar, in his hospital room at the Harbor-UCLA Medical Center. Herrera had been arrested and taken to the hospital to be treated for minor injuries obtained during the arrest, and was shot after the hospital cleared him to be released and taken to jail.
The incident began when officers responded to a call of someone throwing bottles and fighting with neighbors. Police found Herrera instead who, according to his mother, Graciela Herrera, was fixing a flat tire on his bike and had not thrown any bottles. Officers claim Herrera became immediately combative, and after punching and kicking the officers, reached for one of their stun guns.
Part of the arrest was filmed by a neighbor, and does not show the struggle described by police. According to both Herrera's mother and neighbor, Blanca Mendoza, it was police who were violent.
"[Herrera] did not do anything against the officers," Mendoza told NBC 4. "It was the other way around. It was the officers who started hitting [Herrera]."
In Graciela Herrera's statement:
"One officer tried to jump the fence—the one that was holding his legs—and he fell on the ground and then he said my son punched him. That's not true. A witness seen the officer jump the fence and fall. The other officer pepper-sprayed my son in his face, and grabbed him and threw him on the ground."
While at Harbor-UCLA Medical Center, Herrera is reported to have been handcuffed to a gurney during his treatment. He was cleared to go to jail at about 2:30pm, and officers claim that after they removed his cuffs, he grabbed a metal chair and began swinging it at them. After trying to subdue Herrera, officers allege he attempted to grab one of their guns, at which point Herrera was shot once, and died shortly after, despite efforts to save his life.
Due to the fact the shooting took place in a hospital with a mentally-ill individual, it is being brought to attention that medical staff deal with violent patients on a daily basis, and they do not result in fatalities. Police lack the training to deal with mentally-ill citizens, and most often tend to solve the problem with their guns.
[/responsivevoice]
---
This Article (Unarmed Mentally Ill Man Shot and Killed by LAPD in Hospital Room) is a free and open source. You have permission to republish this article under a Creative Commons license with attribution to the author and AnonHQ.com.