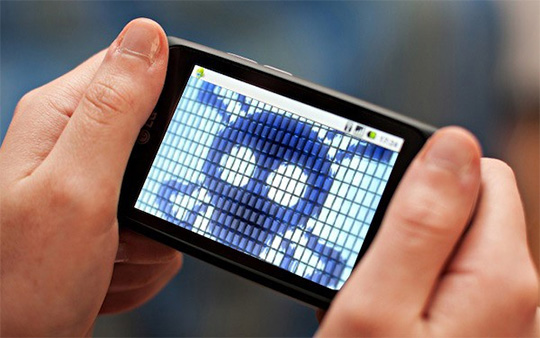 Image Source: Google Images – An LG mobile phone showing an image of skull and crossbones. 
According to a previous study, the United States is the largest seller of malicious mobile applications, whether it is for Android's Google Play Store or Apple's App Store. These applications are created by developers residing in Asia and sold to companies in the United States. Why? Because labor is cheap in Asian countries.
A company which offers mobile security and cloud security, known as Marble Security, published a report analyzing more than a million apps in North America alone and reported that those applications did not require jailbreak privileges or root privileges, which leads to the fact that they were not designed for modified devices or devices that have administrative rights.
"Our researchers indicate that all mobile users with standard iPhone, iPads and Android devices are at risk from malicious and highly risky apps. These apps are widely available on Google Play Store and Apple App Store and users need not to download apps from illegitimate locations to acquire them. In fact, most users do not know where their applications were written," reported by Marble Security.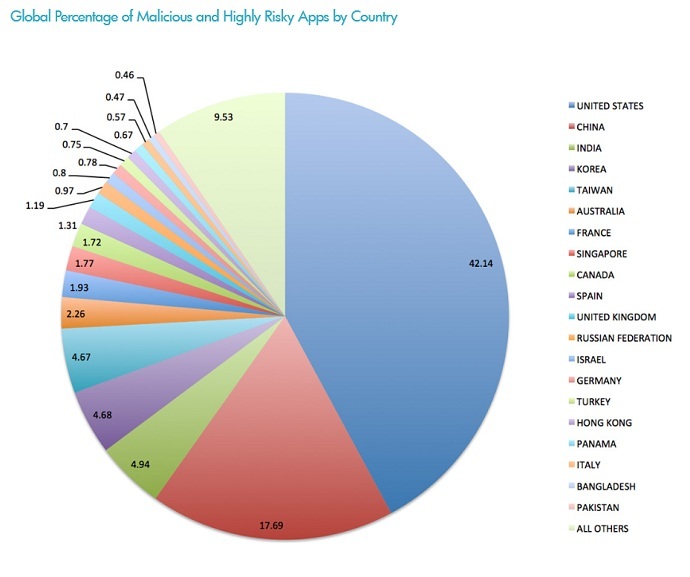 Image Source: Marble Security – A pie diagram showing global percentage of malicious apps by country. Starting with United States alone 42.14 then Israel at 4.67 then dropping all way down to Pakistan with 0.46 and other respective countries that held the market with a share of 9.53 percent. 
Furthermore, Marble Labs examined applications that were highly malicious and the results were scary. The apps are able to send user's private data, copy contact databases and send them to un-trusted locations on the web, publish browser histories to the internet and install helper applications so unwanted advertisements can be displayed, all without the user's knowledge. These malicious apps are able to send sensitive tracking information and special rate messages, including hardware identifiers, to the hacker or creator of the program. They can attempt to jailbreak or root your device without you even knowing a thing about it. And they can bombard your phone with malicious phishing websites leading to viruses and other malware, ex-filtering user data without a stated privacy policy. Also, exposing your contacts to a spammer for marketing purposes and can create a backdoor and other security vulnerabilities.
According to Trend Micro Mobile App Reputation Services, among mobile malware, FAKEINST and OPFake were the most famous, claiming thirty four percent and thirty percent of the malicious applications, respectively. FAKEINST malware disguises itself as a bonafide application; this application is genuinely a premier service abuser. While OPFake is a Trojan that creates a gateway for malicious programs and is also a premium service abuser.
While OPFake and FAKEINST are both premium service abusers, there is a very dangerous .HRXV file, called ARPUSH.HRXV, this malicious app is able to gather and steal information about the device without user permission or authorization. It has the potential to add bookmarks to certain websites; it can aggressively push advertisements and notifications and creates shortcuts – again to certain websites without user permission or authorization.
Image Source: Micro Trend Mobile Company – The high cost of premium services being abused is shown in this graphic presentation.
We recommend that you to follow these tips, published from the tech industry experts at Bull Guard:
Use your smart phone's built in security features and disable the Wi-Fi auto-connect option.
Examine closely the name of the app's developer, thoroughly reading reviews and ratings before downloading it (even if it looks safe).
Carefully read the permissions that an app requests and make sure they match the app's features. If you are comfortable with them, then you can accept them and start the download. Here is more information on what exactly these permissions mean.
If those adverts bundle up with the apps you have downloaded really start pushing your nerves, check out what marketing companies they come from, go on their websites and opt out of receiving adverts. You can also maintain your mobile's privacy by installing an application that detects ad and offers you the possibility to uninstall them; you may find such applications on the Google Play Store or Apple App Store.
If you phone starts acting all weird and abnormal i.e. sending unusual messages, or registering strange network activity, it could be that your cell phone has a virus or other malware. In this case an antivirus app for your device would really come in handy.
---
Anonymous recommends: Protect your PC & mobile devices from hackers & governments & surf anonymously 
---
Sources:
http://www.marblesecurity.com/wp-content/uploads/2015/02/MS_App-Threat-Report_Feb-2015.pdf
http://www.brightcloud.com/pdf/malicious-mobile-apps.pdf
http://searchsecurity.techtarget.com/securityschool/How-best-to-find-and-fend-off-malicious-mobile-apps