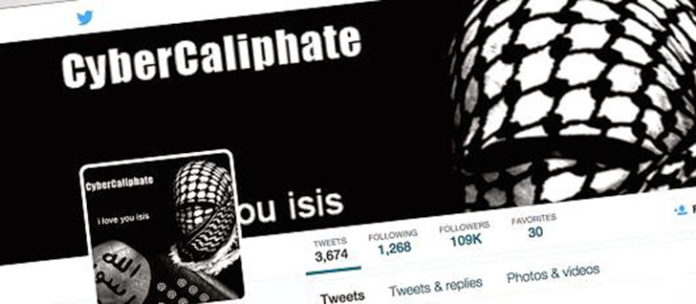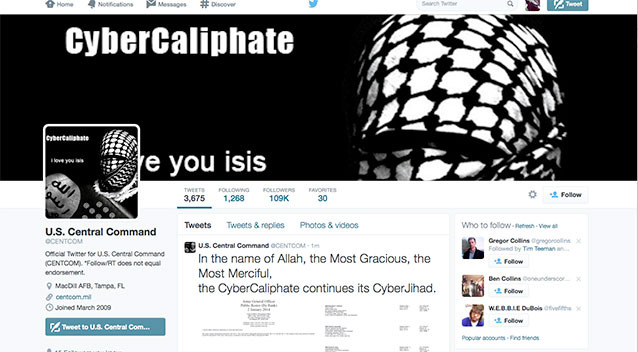 Image Source: Google Images – US Central Command Twitter account hacked by a group declaring sympathy for ISIS programmers; internal documents posted.
The Twitter and YouTube accounts that belong to the US Central Command have been taken control of by supporters of the Islamic State. One message posted said, "American soldiers, we are coming, watch your back."
U.S. Central Command twitter apparently hacked http://t.co/JqtjAuJM0y #news

— Conflict Alerts (@WarAlert) January 12, 2015
Central Command Twitter account hacked by CyberCaliphate @Gayane_RThttps://t.co/buNCoSRpj9

— RT (@RT_com) January 12, 2015
ATTENTION CITIZENS: The US Central Command twitter account has been hacked. Take cover immediately in the nearest cybershelter.

— matt blaze (@mattblaze) January 12, 2015
Central Command's Twitter account was hacked… as Obama was speaking on cybersecurity http://t.co/SIkrOiZ6Xe

— WIRED (@WIRED) January 12, 2015
US central command's Twitter account appears to have been hacked by group claiming to be supporters of Islamic State http://t.co/1pDXz2c4OO

— BBC Breaking News (@BBCBreaking) January 12, 2015
US Central Command hacked, allegedly by ISIL: http://t.co/qpvh2NLHvX pic.twitter.com/FxdGxPutdB

— The Stream (@AJStream) January 12, 2015
This is embarrassing for the United States Military – a black and white banner with the image of a covered figure and text in bold white letters stating, "Cyber Caliphate."
A defense official said in a press release, "We can confirm that the US Central Command Twitter and YouTube accounts were hacked today and we are taking appropriate measurements to solve this matter."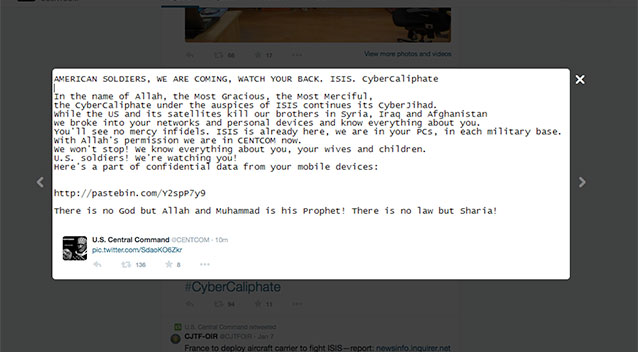 Image Source: Google Images – American Soldiers, We are coming, Watch your back, ISIS. CyberCaliphate. And further states the CyberCaliphate, under auspices of ISIS, continues its Cyber Jihad. While the US and its satellites kill our brothers in Syria, Iraq and Afghanistan we broke into your networks and personal devices and know everything about you. ISIS is already here, we are in your PC's, in each military base. They further claimed that they are CENTCOM now. 
Before taking hold of the accounts, the hackers stated that they have already taken control of their systems.
The United States Central Command is one of nine military commands in the US.  Its task is to oversee planning and conduct operations within the central area of the globe. Central Command comprises of twenty countries, including but not limited too: Afghanistan, Bahrain, Egypt, Iran, Iraq, Jordan, Kazakhstan, Kuwait, Kyrgyzstan, Lebanon, Oman, Pakistan, Qatar, Saudi Arabia, Syria, Tajikistan, Turkmenistan, United Arab Emirates, Uzbekistan and Yemen.
The Pentagon further stated that, "it was unclear if the hacking represented a genuine threat to sensitive networks." And that they were going to investigate the full effect of this hack. However, no classified documents were posted online and the account was later banned.
Anonymous recommends: Protect your PC and mobile devices from hackers & governments and surf anonymously 
________________________________________________________________________
Sources:
https://www.google.com.pk/webhp?sourceid=chrome-instant&ion=1&espv=2&ie=UTF-8#q=US+Centcom+Twitter+account+hacked+by+pro-IS+group
http://news.yahoo.com/pro-hackers-seize-us-centcom-social-media-accounts-180947171.html
https://au.news.yahoo.com/a/25979330/pro-is-hackers-hack-us-centcom-social-media/
http://www.businessinsider.com/afp-pro-is-hackers-seize-us-centcom-social-media-accounts-2015-1
http://www.thewrap.com/us-central-commands-twitter-account-hacked-with-pro-isis-messages-report/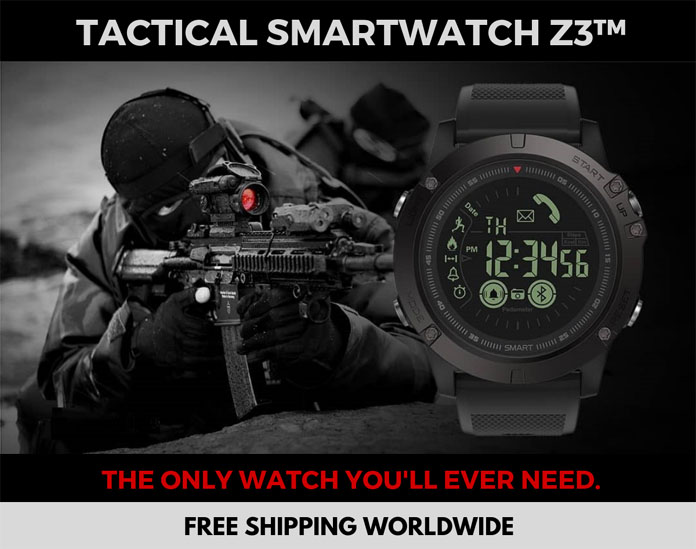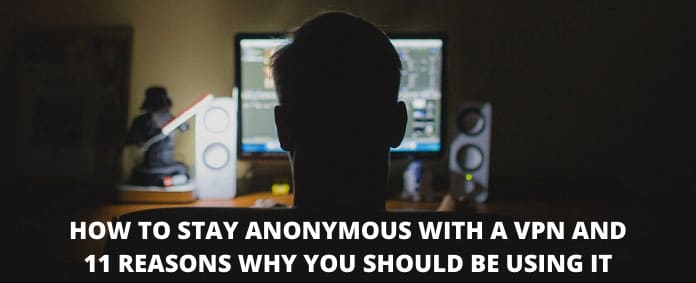 Get Your Anonymous T-Shirt / Sweatshirt / Hoodie / Tanktop, Smartphone or Tablet Cover or Mug In Our
Spreadshirt Shop
!
Click Here
Remove all ads by clicking here