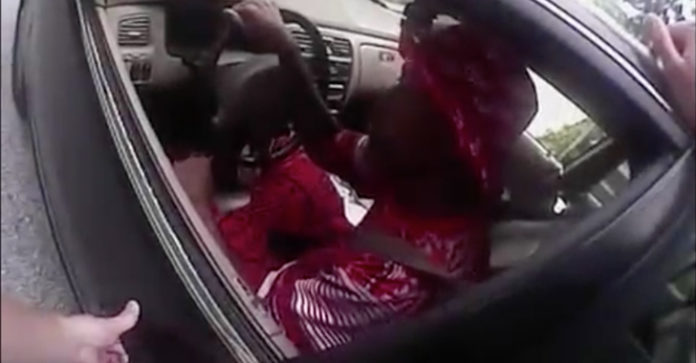 Written by Claire Bernish at theantimedia.org
Cincinnati, Ohio — Officer Ray Tensing has been indicted for murder in the shooting death of Samuel DuBose for what the Hamilton County, Ohio Prosecutor is calling "senseless" and "asinine" actions during a "chicken-crap stop." Tensing's body cam footage from July 19th clearly shows an unprovoked and wholly unjustified murder at the hands of a police officer—all because DuBose was missing his front license plate.

The video makes it graphically clear that Tensing reacted to being startled by pulling the trigger on his gun and shooting DuBose in the head from a very close range—when there was no threat to his life. The visual evidence makes it clear the shooting was not a reaction to being dragged by DuBose driving away, as UC Campus Police and the Cincinnati Police Department have stated on multiple occasions.
"This office has probably viewed upwards of hundreds of police shootings, and this is the first time that we've thought this is without question a murder,"stated Prosecutor Joe Deters in a press conference Wednesday afternoon."It was so unnecessary for this to occur," he said, adding that DuBose was"subdued" and Tensing had already obtained the man's license plate number at the time of the shooting.
Deters appeared to be livid as he told the press that a warrant had been issued for Tensing's arrest. "I'm treating him like a murderer. They're out to get him," he said. Tensing turned himself in to authorities and has reportedly been extremely upset since the shooting. "Could you imagine the outrage if this was your kid?" Deters stated. "And he didn't do anything violent towards the officer. He wasn't dragging him. And he pulled out his gun and intentionally shot him in the head."
As the Anti-Media previously reported, DuBose's family has been pleading with both police departments to release the footage—or at least answer their many questions about how a missing license plate could have led to Sam's death. They had no reason to believe police characterizations of his aggressive act toward Tensing since they say he was a gentle and non-threatening individual. His history with police, though extensive, was non-violent.
The family has previously called for the city of Cincinnati to remain calm amid the release of the video. Police and other authorities who saw the footage before its release described it as "bad" and feared possible uprisings—which the city has experienced several times in the past. Exercising an"abundance of caution," University of Cincinnati officials canceled classes on Wednesday to head off any possible incidents that could occur after video was made public.
After excessive, disrespectful victim-blaming of Sam DuBose by the public, this body cam video proves the ignorance of blind devotion to an authority that can shoot unarmed civilians without a modicum of reason. Perhaps this horrible murder on video is a chance to re-examine the scope of police brutality.
Our thoughts are with the family of Sam DuBose.
---
This article (VIDEO: Body Cam Contradicts Official Story in Police Shooting of Samuel DuBose) is free and open source. You have permission to republish this article under a Creative Commons license with attribution to Claire Bernish andtheAntiMedia.org. Anti-Media Radio airs weeknights at 11pm Eastern/8pm Pacific. If you spot a typo, email[email protected].
Claire Bernish joined Anti-Media as an independent journalist in May of 2015. Her topics of interest include social justice, police brutality, exposing the truth behind propaganda, and general government accountability. Born in North Carolina, she now lives in Ohio. Learn more about Bernish here!