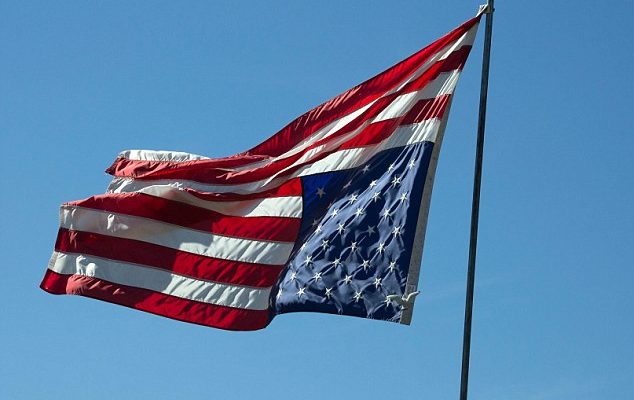 When a 63 year old veteran of the Vietnam War hangs a flag upside down outside of his home, you know he means business. Well, the Deputies of the Calhoun County Iowa Sheriff's Department meant business as well, when they showed up to the home of Homer Martz. Mar1tz was taken into custody and booked on a charge of desecrating the flag.
Martz was greeted by two Calhoun County deputies who had already taken down two flags from his flagpole, which was on private property. Martz hung a Chinese flag above an upside down American flag in a sign of protest. Dakota Access, LLC, a company that builds oil pipelines, used their influence to convince the government to seize a portion of Martz's property, under imminent domain. Martz filed a petition to move the pipeline by only 150 feet, but his pleas went unheard and his petition was denied. He hung the flag as a symbol of protest against big oil and corporate influence over government.
The deputies told him "You can't do this. We have a statute." He pleaded with them, telling them they were wrong, but they did not listen. The statute basically states that you cannot destroy, amend or desecrate the flag, nor can you do so where the public can see it. Unfortunately for the Deputies and the Calhoun Sheriff's Department, Martz's display of the flag is constitutionally protected by two Supreme Court cases. Both Texas vs. Johnson and U.S. vs. Eichman have long held that a person has a right to burn, or otherwise desecrate or display the flag, as an expression of free speech. Free speech of course, is protected under the First amendment. This particular statute was also deemed unconstitutional by Iowa's Supreme Court in 2014, however the law was never taken off the books.
Calhoun County Attorney Tina Meth-Farrington advised that the deputies simply weren't aware that the law had been deemed unconstitutional. All charges were dropped against Homer Martz. Martz stated that the deputies also took a sign he had attached to the flagpole, which read "In China there is no freedom, no protesting, no due process."
Technically, thanks to Martz's constitutionally protected rights, the deputies' behavior amounted to theft, criminal trespassing, kidnapping and false imprisonment. There is sufficient grounds for a civil rights violation lawsuit, based on these circumstances. Martz did not comment on whether or not he would pursue legal action.
Sources: The Free Thought Project, Volokh.
---
This article (Vietnam Vet Arrested for Flying U.S. Flag Upside Down) is a free and open source. You have permission to republish this article under a Creative Commons license with attribution to the author and AnonHQ.com.