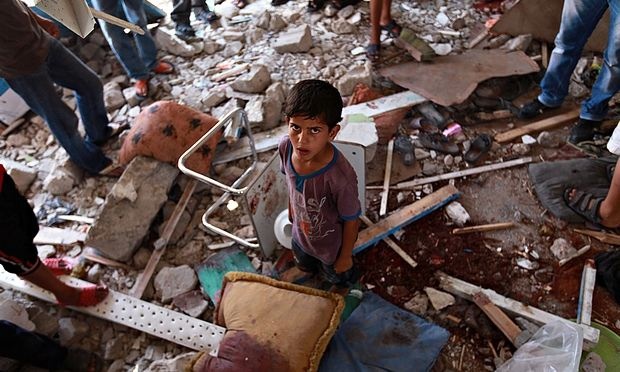 A UN inquiry has blamed Israeli Defense Forces (IDF) for seven deadly attacks, which included firing mortar rounds and the use of projectiles launched by tanks, between 8 July and 26 August 2014, on UN schools in Gaza that were used as emergency shelters for Palestinian refugees.
UN Secretary-General Ban Ki-moon, said in a statement, "I deplore the fact that at least 44 Palestinians were killed as a result of Israeli actions and at least 227 injured at United Nations premises being used as emergency shelters. United Nations premises are inviolable and should be places of safety, particularly in situations of armed conflict. It is a matter of the utmost gravity that those who looked to them for protection and who sought and were granted shelter there had their hopes and trust denied".
The 2014 war was the most devastating for Gaza's 1.8 million people, killing more than 2,200 Palestinians, mostly civilians.
Ban also hit out at Palestinian militant groups for putting some UN schools in Gaza at risk by hiding weapons in three locations that were not being used as shelters. "I am dismayed that Palestinian militant groups would put United Nations schools at risk by using them to hide their arms. The three schools at which weaponry was found were empty at the time and were not being used as shelters," he said.
A 207-page report constructed by the UN Board of Inquiry is listed as "top-secret", although 27 pages of the inquiry were published as an unclassified document. These pages show that IDF launched deadly attacks on schools that were being used as UN refugee sites, and the notion that Israel was operating in self-defense was false. UN Spokesman Chris Gunness said, "In none of the schools which were hit directly or in the immediate vicinity, were weapons discovered or fired from".
Palestinian foreign minister Riad Malki, has stated that Palestinian representatives plan on presenting this inquiry to the International Criminal Court. "We will take the report and will present to the ICC, especially that they are looking these days at our request to do a preliminary study," he noted.
The report was compiled from analysis of weapons, medical reports, photographs and video footage, and submissions and testimonies both by UN staff and other organizations.
---
You want to support Anonymous Independent & Investigative News? Please, follow us on Twitter: Follow @AnonymousNewsHQ
---
Source:
http://theantimedia.org/un-inquiry-israel-responsible-for-attacks-on-schools-during-gaza-war/