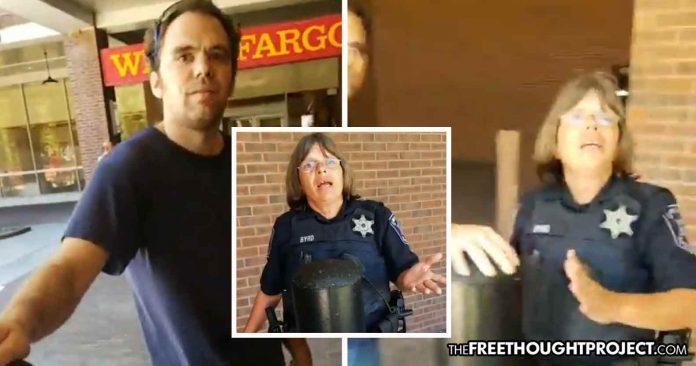 Lancaster City, PA — The vigilante pedophile hunter MR. 17540 is a self-proclaimed child predator catcher who makes viral videos exposing people who think they are meeting underage children for sex. While he's had plenty of viral videos exposing alleged child predators in the past, a video he took on Thursday is his most ominous one yet as it shows a Lancaster sheriff's deputy say and do nothing as Mr. 17540 exposes the alleged predator right in front of her.
Justin Perry is Mr. 17540, a Lancaster County man. The 17540 is the zip code where he lives and conducts his predator hunting "taking predators down one at a time."
Perry poses as a 15-year-old girl, posting ads online. He'll message back and forth with people, before meeting at a public place.
In his most recent video, Perry is confronting a 36-year-old alleged predator, identified by Perry as Tom Wise, who thinks he is meeting a girl who just turned 15.
Perry posted the graphic exchange on Facebook that led up to the meeting. In it, Wise knows that the person he thinks he is talking to is underage, yet he continues to send her sexually explicit messages and expresses his desires to meet the decoy girl. The exchange is graphic and disturbing.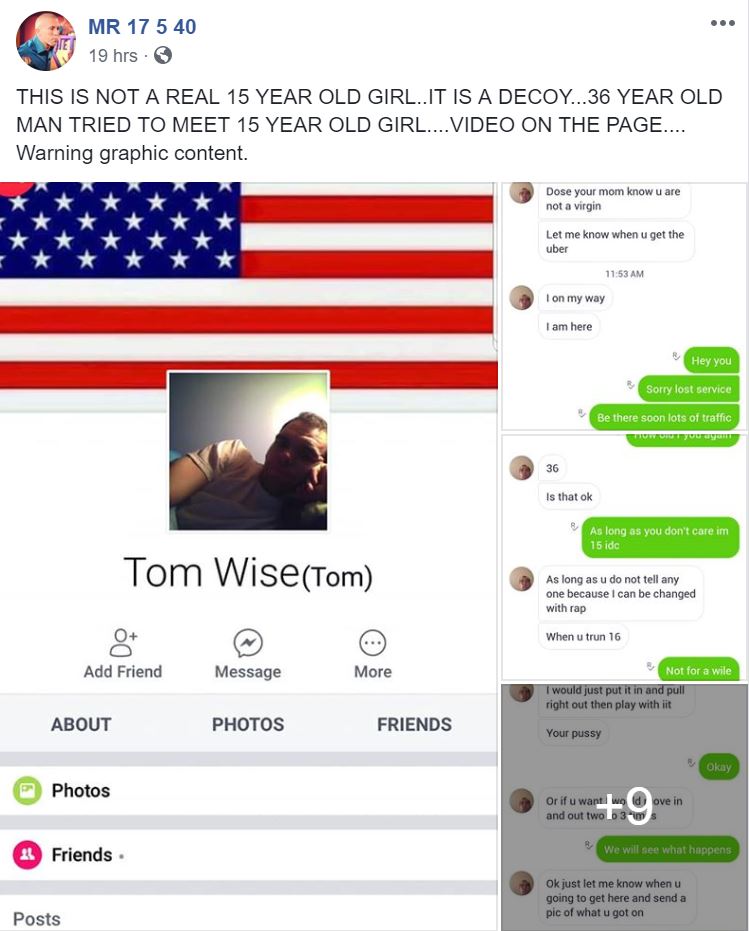 The meeting was set to take place Thursday morning and Perry filmed the interaction as he does for all of them. This time, however, as he walked up to the meeting, he noticed something extremely out of place.
Wise was talking to a Lancaster County Sheriff's deputy, identified as Donna Byrd, who said she was Wise's aunt. During the interaction, Perry explains to Byrd that Wise was there to meet a 15-year-old girl. He shows her the text messages and explains to her that this is a citizen's sting operation.
The deputy simply says, "okay, I will handle it."
This was not enough for Perry who kept pressing the alleged predator.
"He came here to meet a 15-year-old girl, talking about playing with her private parts," Perry explains.
As Perry continues to press Wise, Byrd intervenes and tells him to go, saying, "I will take care of it."
"I'm not leaving," Perry says. "He came to meet a 15-year-old girl!"
"I was getting ready to show her (Byrd) the messages," says Wise as he attempts to weasel out of the situation.
"Call the police," says Perry. "You're the sheriff, call the police. He came to meet a 15-year-old girl."
"How do you know?" asks Byrd.
"Because I'm the 15-year-old girl," explains Perry. "I have the messages right here."
"I'm very sorry about that," says Wise as he then tries to shake Perry's hand.
"I was actually gonna introduce her to her," Wise says, claiming that he was going to introduce his potential victim to a sheriff before committing statutory rape.
"You were gonna introduce a sheriff to a 15-year-old girl?" asks Perry.
Perry then points out the text message that Wise sent the decoy girl, which said, "as long as you don't tell anybody because I will be charged with rape."
Perry then turns his attention to the deputy Byrd, who says she is on a lunch break, and demands that she "do something."
"Do something, you're a sheriff," he says.
"I cannot," says Byrd who didn't even so much as radio in the incident.
Wise then leans over and hugs Byrd and then turns to walk away.
As Wise walks away, Perry screams out, "I'm gonna let everybody know, you came to meet a 15-year-old girl, and you got a sheriff protecting you!"
The rest of the video is Perry following Wise through the streets of Lancaster City, demanding he explain why he wanted to meet a 15-year-old girl.
During the video, which was broadcast on Facebook live, viewers noticed that Wise was wearing a shirt for the Colombia Fire Department. The accusations that Wise was with the department prompted a response on social media from the Columbia Borough Fire Department, who quickly distanced themselves from Wise. The statement read in part:
"With the recent social media event that took place in Lancaster City involving Mr. Thomas Wise, the Columbia Borough Fire Department would like to be transparent on this issue. Mr. Wise was a member of the former Columbia No. 1 Fire Department prior to the consolidation and has never been involved with the Columbia Borough Fire Department in any capacity since its formation. The Columbia Borough Fire Department truly regrets that Mr. Wise was wearing a t-shirt with the name of a former fire department in the Borough of Columbia and would not tolerate any member or person from doing such action."
Below is the video. If you'd like to peacefully voice your concern over deputy Byrd's lack of concern with her nephew's actions, you can do so at the Lancaster County Sheriff's Department website as their Facebook Page has just been deleted.
Update This man has been in jail since a few weeks after this video back in July. He goes to court tomorrow. The fire company on his shirt has no affiliation with him. And the deputy did nothing wrong. If someone ran up on my family like I did. I would want to handle it myself. The video is not about her. It is about the man who showed up to meet a child for sex.36 year old man meeting a 15 year old girl…..live Exposure

Posted by MR 17 5 40 on Thursday, July 19, 2018
As TFTP has reported, citizen pedophile hunters are a growing group. Their deeds, when done with in the confines of the law, are an invaluable tool to deter child predators.