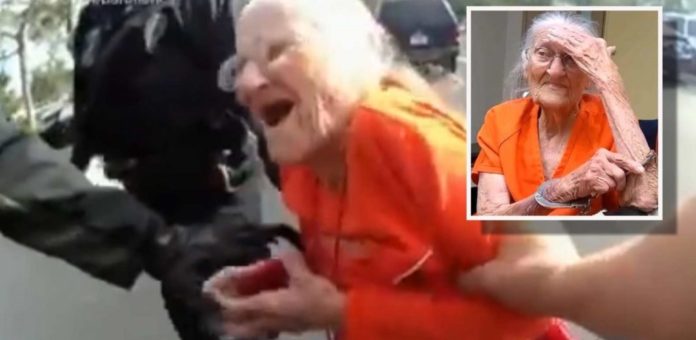 Juanita Fitzgerald, a 93-year-old Florida woman, was forcibly thrown out of her home, arrested, charged, and jailed for two days for failing to pay rent for the last three months.
Body camera footage of her arrest shows the horrifying moments Fitzgerald was roughed up by police and forcibly taken into custody — just days before her 94th birthday — for failing to heed an eviction notice after allegedly falling short on rent.
The police claims Fitzgerald purposefully slid onto the floor as they tried to escort her from the building and resisted officers' attempts to lift her up. They insist that due to her age and possibility of injury, Fitzgerald was not handcuffed.
But the video shows Eustis officers and Lake County sheriff's deputies attempting to get her into a police car with their hands around her arms even as she is heard screaming that she is in pain. Also, the video clearly shows the elderly woman in handcuffs, shackles and an orange jumpsuit with disturbing bruisers along her arms.
Karen Twinem, vice president at National Church Residences, which owns the Franklin House where Fitzgerald has lived since April 2011, claims she told the staff she held back the rent because she thought she was going to die soon.
The police claims to have offered Fitzgerald assistance from nearly a dozen agencies to avoid arresting her, but she refused, so they had no choice but to place her under arrest for trespassing.
But Fitzgerald denies the claims saying she tried to pay her rent but the housing facility employees wouldn't take it; in fact, they decided to "put her out" after blaming her for mold in her apartment.
"I paid my September rent and when she [a housing facility employee] decided she was going to put me out, she wouldn't accept any rent after that. They [the cops] wouldn't treat a murderer like they treated me," she told WFTV Channel 9.
Fitzgerald was held in the Lake County Jail on a $500 bond on charges of trespassing. But she was released on her own recognizance, a Lake County Sheriff's Office spokesman said.