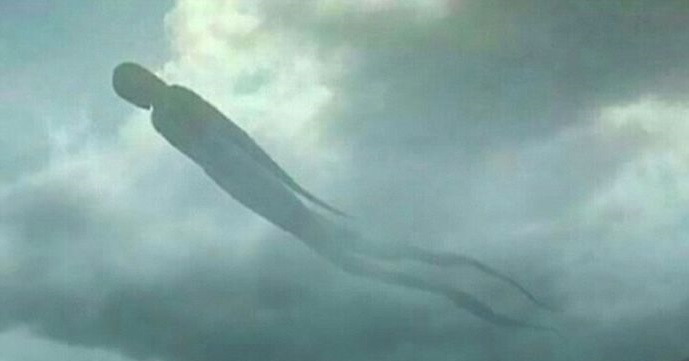 In a shocking incident, shoppers in Zambia ran for their lives when a massive man-like object appeared in the clouds above Mukuba Mall in Kitwe. The apparition, which looked like the evil Dementor characters from the Harry Potter movies, is reported to have been more than 100 meters (330ft) long.
According to The Daily Mail, the man-like object — which was apparently looking down at people — hung in the sky for about half an hour.  While some shoppers ran away in fear thinking it was a manifestation of God, it is alleged others began worshiping the object. An eye witness said:
"We were shocked to see images that looked like a human in the clouds for close to 30 minutes. Some started worshiping but others ran away. It was so strange."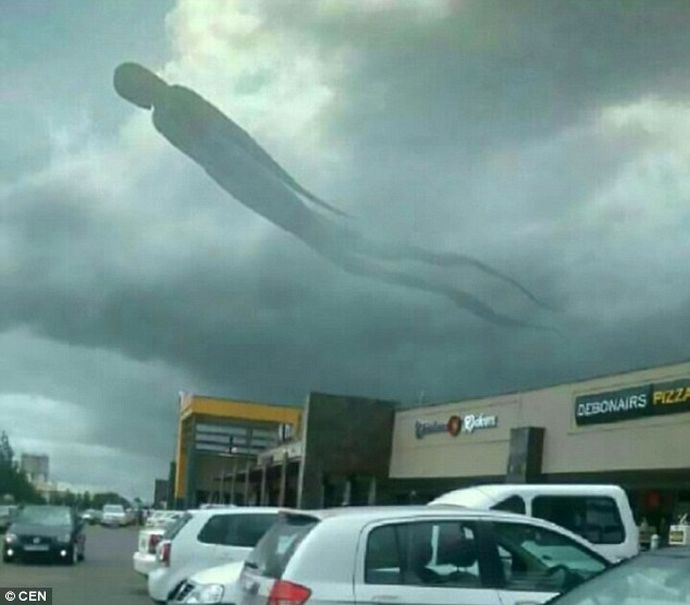 Local news outlets reported that the man-like object was in the sky for about an hour, watching over terrified people, before moving on. However, some suspect the incident is an elaborate hoax:
AnonWatcher, an Australian journalist and activist, observes:
"The image has a light halo effect around its head down to its waist. This is very typical evidence of photoshopping and is called 'feathering' — a means of overlaying one image over another and blending. I use it all the time in my landscape photography when I want to put a cloudy sky in a somewhat otherwise boring picture."
Whether it was real or a hoax, it was certainly creepy, especially when compelling scientific findings suggest aliens exist, NASA photos show a man-like creature on Mars, and passengers on board an EasyJet flight witness a man-like figure walking in the cloud at an altitude of 30,000ft above sea level.
What do you think: is it fake news or is it the Blue Beam Project? Please share your thoughts in the comments section below…
---
This article (Zambians Run in Terror as 330ft-Long Man-Like Object Spotted Lingering in the Sky [PHOTOS]) is a free and open source. You have permission to republish this article under a Creative Commons license with attribution to the author and AnonHQ.com.
---
Supporting Anonymous' Independent & Investigative News is important to us. Please, follow us on Twitter: Follow @AnonymousNewsHQ