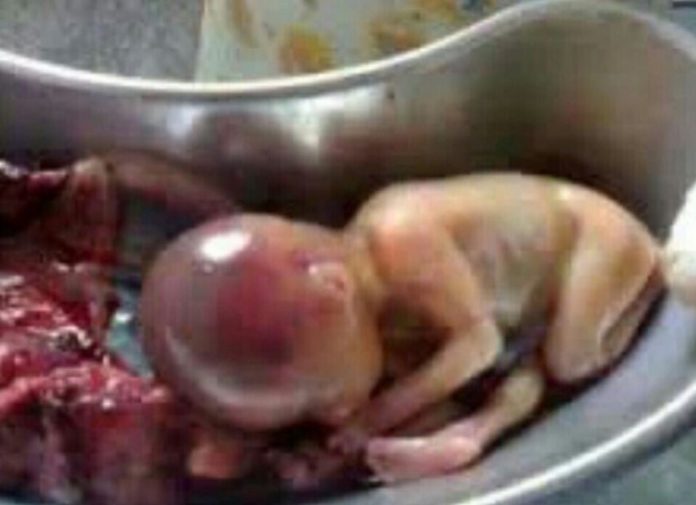 If somebody has proven an irrepressible will to live, that's definitely Melissa Ohden! Today, the 40-year-old is fighting for the rights and lives of the youngest and weakest. She fights on behalf of all unborn babies.
Today's 40-year-old Melissa Ohden found out at just 14 that she had survived as a baby in a failed abortion. Her birth mother was given an alkaline solution to stop her pregnancy – and the supposedly dead infant was thrown into a bin with medical waste. Fortunately, a nurse had noticed her faint cries and gasped for breath and taken her to intensive care.
Melissa survived abortion, bus has never met her savior. As a newborn she weighed only about 2.2lbs. Her biological mother had already left the hospital and did not realize that her baby had survived the procedure. "I've never met the woman who took me to the nursery, but she's an angel and I owe her my life," Melissa said in an exclusive interview with Mail Online.
She was adopted by Linda and Ron Ohden, who already had another adopted child named Tammy. Melissa and her sister Tammy already knew about their adoption when they were young. It has never been a secret.
"Tammy and I were arguing about how sisters usually do that," Melissa said. "It happened in the middle of one of those explosive arguments, when I was 14 years old, that she was taunting me with the words 'at least my parents wanted me'. I ran to my adoptive parents, who finally told me the shocking truth – that I survived a failed abortion. "
"That night, my world stopped turning. I was angry, scared, ashamed, and felt guilty about being alive, "Melissa says. "I drank myself terribly to numb my pain. But my parents never realized how much I felt hurt because I could hide it so well. "
Melissa spent nearly 20 years searching for her biological parents until she learned that her birth mother was forced to perform an abortion and had to live with it ever since. What was even more shocking was that at that time it was Melissa's grandmother, a head nurse in the hospital, who had instructed the nurses to let her die as an aborted baby.
"I found out that at the age of 19, my natural mother was forced by her own mother to perform an abortion, which was a nurse in hospital," said Melissa, who has a book entitled "You have carried my in your womb: the memoirs of a daughter"
After a 17-year search, Melissa met her birth mother on May 22, 2016. "When we actually met, I noticed how she first tried to keep her distance, barely dared to approach me, and at that moment did not want to become part of me. I sensed she wanted to run away. It was terrifying. "
"Then we hugged each other and cried together. I said, It was a long time. 'She told me you were stolen from me' ". In retrospect, Melissa said, "Then it suddenly felt very natural."
Melissa with her two daughters and one of the nurses she rescued 40 years ago. Her parents refused a wedding. Melissa's mother should later be "better off".
In the 15th chapter of her book, Melissa wrote about what her mother said at her first meeting: "My biggest regret is, Melissa, that I did not just run away," she said. She also told me that her parents were furious with the pregnancy, ashamed that she was unmarried, pregnant, and worried about her reputation in the community.
The most obvious solution – marriage – rejected her parents the most. They were determined that their daughter would not marry a man of humble birth, whose prospects for the future were so poor. Your daughter should be 'better off' from a socio-economic point of view.
"My mother charges a lot of guilt and regrets a lot, but I told her that I did not condemn her for all that. I have only forgiveness in my heart, for my father and even for my grandmother, "Melissa explained.
Melissa married Ryan and together they have two daughters, Olivia and Ava. Coincidentally, Olivia was born in the same hospital where Melissa was born.
"It was a long painful journey of shame and anger, of destiny and forgiveness. But I refused to allow myself to be poisoned by bitterness – that can not be a matter of life."
Melissa is the founder of the Abortion Survivors Network and has a masters degree in social work. "I'm in contact with 223 abortion survivors, mostly from the US, but also from elsewhere," she said. "There are desolate lives that reveal themselves there."
"I learned to forgive. It does not make it right, but it frees you from the pain. We are all just people and make mistakes, "she told Mail Online.