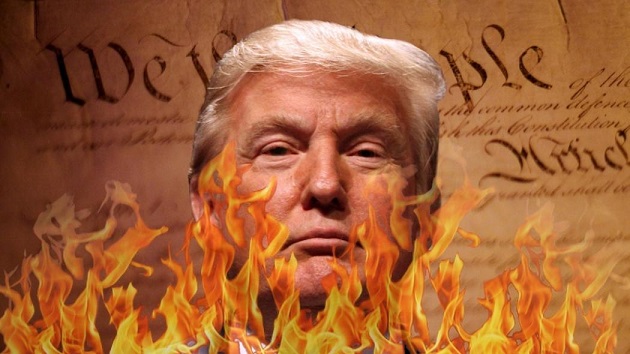 The chaos and outrage that has swept the nation over Donald Trump's Muslim ban is only a taste of what's yet to come. This week, Homeland Security Secretary John Kelly completed new guidelines meant to expedite the deportations of undocumented immigrants. The White House has granted sweeping powers to DHS to rid America of undocumented immigrants, primarily from Mexico.
The new guidelines allow for the hiring of 15,000 new immigration agents and border patrol and adds hundreds of thousands of immigrants to the list of expedited deportations. One of the biggest shifts in deportation policy is the removal of previously protected immigrants from deportation. The class of 'unaccompanied minors' have lost protection and are now in line for deportation. Besides a rollback of these protections, DHS has suggested that it would prosecute parents who have smuggled undocumented children into the US. Trump's crackdown on immigration is yet another attempt to tackle a problem that doesn't exist.
The ACLU was quick to respond to the new immigration mass deportation directions coming from the White House. "These memos confirm that the Trump administration is willing to trample on due process, human decency, the well-being of our communities, and even protections for vulnerable children, in pursuit of a hyper-aggressive mass deportation policy. However, President Trump does not have the last word here—the courts and the public will not allow this un-American dream to become reality." The ACLU believes that his new immigration executive order is also constitutionally flawed, as it removes protections for people who have already fought and won them.
The language of the order doesn't mince words. It says in no uncertain terms that immigrants who have not been convicted of a crime, but are merely suspected of committing a crime may be deported. This fundamentally upends due process, and gives DHS a green light to violate the constitution. Despite the illegality of the initial ban, many were sent home or to the country of travel. While some refused to sign their own deportation order, many were intimidated into relinquishing their rights and left the country. How many more will be illegally caught in the crossfire before a federal court overturns this order as well?
Press Secretary Sean Spicer told reporters that the new order is meant to "un-shackle" border and ICE agents from red tape associated with properly identifying subjects for deportation. "The president needed to give guidance, especially after what they went through in the last administration, where there were so many carve-outs that ICE agents and CBP members didn't—had to figure out each individual, whether or not they fit in a particular category, and they could adjudicate that case. The president wanted to take the shackles off individuals in these agencies and say, "You have a mission. There are laws that need to be followed. You should do your mission and follow the law."
Mexico is at the center of this controversy, despite no statistical information being available on the number of alleged jobs stolen by undocumented workers. According to Luis Videgaray, Mexico's Foreign Minister, the government of Mexico "will not accept" what they described as "unilateral" proposals. The back and forth between Trump and Mexican officials over his proposed border wall funded by Mexico has caused tension in recent weeks, with these new "immigration proposals" sure to add fuel to the fire.
Sources: Business Insider, The Root.
---
This article (ACLU Responds as Trump Ramps Up Mass Deportations) is a free and open source. You have permission to republish this article under a Creative Commons license with attribution to the author and AnonHQ.com.
---
Supporting Anonymous' Independent & Investigative News is important to us. Please, follow us on Twitter: Follow @AnonymousNewsHQ