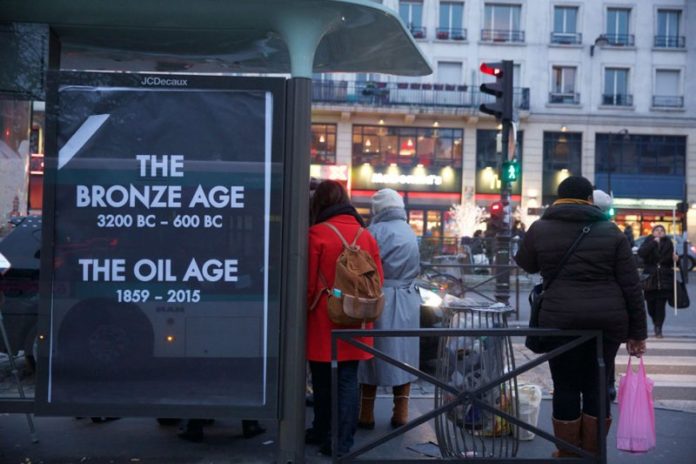 By Amanda Froelich at trueactivist.com
For the Brandalism project, 82 artists from 19 countries joined forced to protest the corporate takeover of COP 21.

Just days before the launch of the UN Climate Conference in Paris, 82 artists from 19 different countries collaborated on a project to protest the corporate takeover of COP 21 and urge the public to care about climate change.
The activists replaced 600 advertisements throughout the city with artwork that calls out heads of state and corporations that have been complicit in the destruction of the Earth's climate, reports AddictingInfo. 
Their aim was to reveal the connections between advertising, the promotion of consumerism and climate change. One might say they succeeded.
It wasn't coincidence the activism took place on Black Friday, the day the group refers to as the "annual day of consumerist frenzy."
The group said in a statement: 
"Despite the state of emergency banning any gathering, following the attacks of 13 November in Paris, [the] Brandalism project, conducted with Parisian activists, has placed throughout the city hundreds of unauthorized artwork[s]. These posters emphasize the links between advertising, consumerism, dependence on fossil fuels and climate change.

We take possession advertising space because we want to denounce the role that advertising plays in promoting a consumerism unsustainable. The advertising industry feeds our desires for products based on the exploitation of fossil fuels, which have a direct impact on climate change. As for the climate negotiations and side events sponsored by large companies, the outdoor advertising allows more rich to ensure that their voice is heard beyond all others. "
Watch the video above for a glimpse at the action, and scroll through some of the upgraded advertisements below. The full gallery from the project can be viewed here.
"By sponsoring the negotiations climate, major polluters such as Air France and Engie can promote themselves as if they were part of the solution, when they are actually part of the problem ." – Joe Elan
---
This article (Activists Replace 600 Advertisements In Paris With Truthful Art [Watch]) is free and open source. You have permission to republish this article under a Creative Commons license with attribution to the author and TrueActivist.com