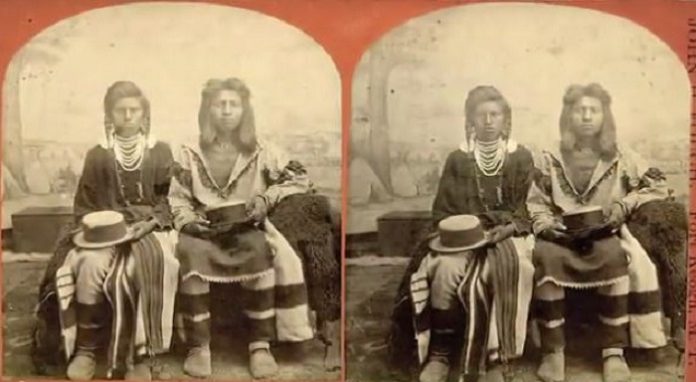 Gender roles and sexual identity have been a controversial topic in America for centuries. Today, as society evolves, it is becoming more accepting of the fact that every person is different – that they do not fall into a certain box, whether it be race, gender or sexuality.
Unfortunately, the LGBT community – as well as other communities – still have a long fight ahead of them for complete acceptance and understanding within both government and society as a whole. Current political events are evidence of this ongoing struggle. However, while it may be hard to believe, it was not always like this in America.
The Navajo, the second largest federally recognized tribe in the United States, have long recognized four genders.  As well as acknowledging traditional, puritanical Eurocentric genders – male and female – the Navajo also accepted that some people identified with a gender that does not correspond with their birth sex. The Navajo called these people "nádleehí," which means they embody both the male and female spirit – or "two-spirits."
Instead of being ostracized, these people were revered. This historic lesson became the topic of a documentary called 'Two-Spirits' in 2009. The documentary follows the story of Fred Martinez, a 16-year-old Navajo boy who was bludgeoned to death with a rock in 2001 because he was nádleehí.
"The masculine and feminine are oftentimes reflected so completely in the body of one person, it's as if they have two spirits," Two-Spirit organizer Richard LaFortune said.
The hate crime took place in Colorado, where Martinez had gone to school. After being harassed for his 'feminine manner', he decided to continue his education by taking adult-education courses. Sadly, he was unable to escape the harassment and discrimination. He was chased into a rocky canyon just south of Cortez before being repeatedly beaten in the head with a rock by Shaun Murphy of Farmington.
"In Navajo teaching, in the old traditional world, there were four basic genders. Women are the first gender, because Navajo is a matrilineal society. Men are the second gender; and the third gender is the nádleehí, who is born as a male person but functions in the role of a girl in early childhood and in the role of a woman in adulthood. And it's just the opposite for the fourth gender." Thomas adds, "where they were born biologically female but functioned in the role of a boy in early childhood and matured into a man, and conducts their life in that gender identity."
"In Western culture, when they say 'a girl,' there's an automatic assumption that that girl is female. Or when they see a boy, they never pause to think that boy may be female," Thomas points out.
Investigations revealed that Murphy's actions were motivated, at least in part, by his hatred of Martinez's sexuality. Murphy was arrested and charged with first and second-degree murder.
Unfortunately, Fred Martinez is not the only American to have been murdered because of his gender. In the first 60 days of 2017, there was a  total of seven reported killings of transgender women. As a result, 2017 is on track to be the most violent year on record for transgender people in the United States. Is it a coincidence that the number of hate crimes has increased since Trump's inauguration?
While it is impossible to make that conclusion so early on in the year, the evidence suggests that minorities are at a greater risk of violence under the Trump administration. If so, this could be linked to Trump's plans to scrap many of the LGBT rights gained under the Obama administration. Last week, for example, a motion was filed by the US Department of Justice that suggests that the Trump administration will scrap a rule that prohibits discrimination based on race, skin color, national origin sex, age, or disability in healthcare settings.
---
This article (Americans Traditionally Recognized Four Genders – Not Two) is a free and open source. You have permission to republish this article under a Creative Commons license with attribution to the author and AnonHQ.com.
---
 Supporting Anonymous' Independent & Investigative News is important to us. Please, follow us on Twitter: Follow @AnonymousNewsHQ