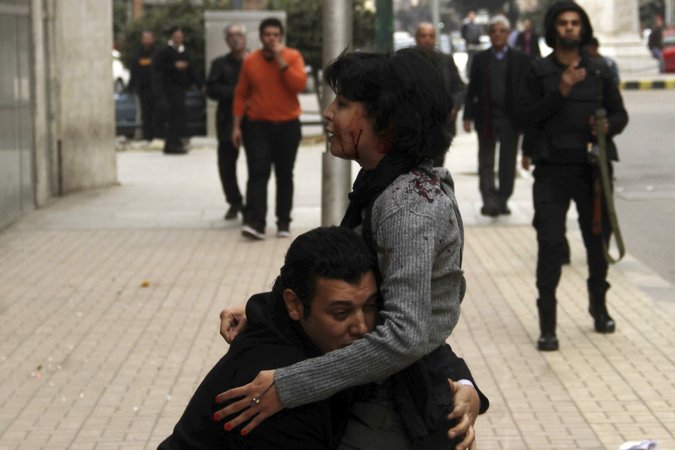 Image Source: Reuters – Graphic images of Shaimaa Al Sabbagh, an Egyptian activist who was shot and killed at a peaceful rally in Cairo on Saturday, sowed outrage on social networks in her final moments before her death.
Egyptian police attacked marchers carrying flowers to Tahrir Square, killing protesters. Among them was a woman named Shaimaa Al Sabbagh, an Egyptian activist and a mother of one.  She died at the age of thirty two, gunned down during the demonstrations as the death toll rose to eleven on the anniversary of the Arab Spring.
Shaimaa Al-Sabbagh, an affiliate of the socialist and well known Alliance Party, passed away this week during a protest demonstration close to Tahrir Sq immediately after being hit by birdshot in her back. The pellets from the shotgun triggered a series of wounds, from lacerations inside the lung area as well as the coronary heart along with major hemorrhaging, based on a key report published by the Forensic Medicine Authority.
Al-Sabbagh ended up being shot – by those who are supposed to protect people – in the dispersal of a modest demonstration using tear gas along with bird shot, as outlined by eyewitness accounts.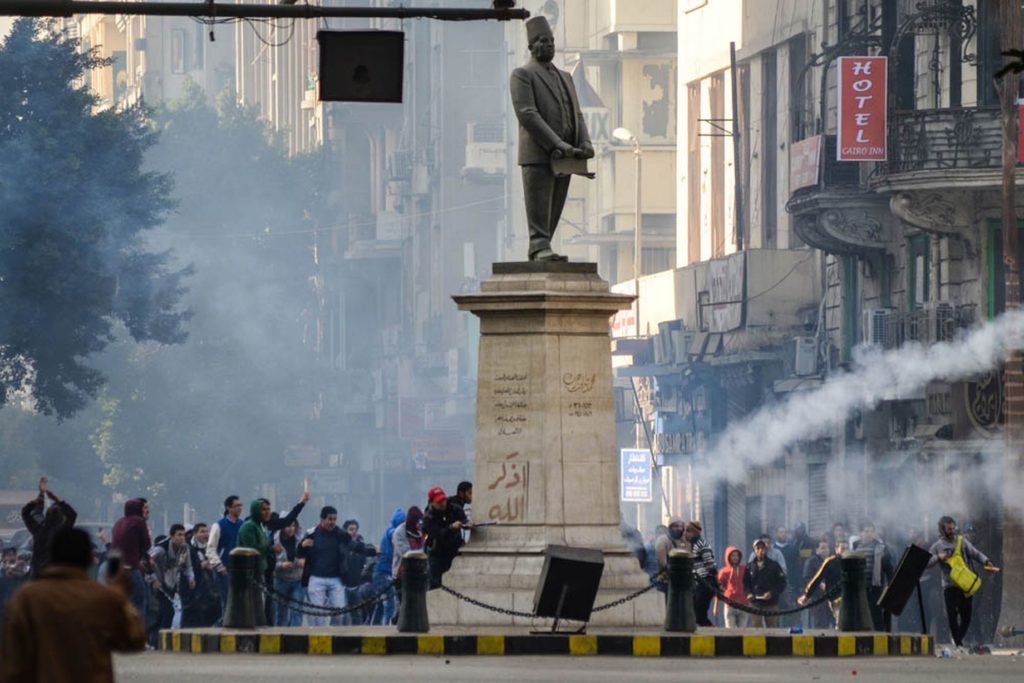 Image Source: Barcroft – Protestors are seen clashing with policemen during an anti-government demonstration, ahead of the fourth anniversary of toppling Egypt's former President Hosni Mubarak
A "march of flowers" was organized by the Socialist Popular Alliance before the anniversary of the twenty fifth January Revolution. The actual walk was meant to start from headquarters in Talaat Harb Street and end all the way at the Tahrir Square, where the martyrs from the twenty fifth Revolutions were laid to rest.
Ahmed Abdeen, a journalist and a very close friend of Ms. Shaimaa, told Daily News Egypt Sunday that, "Shaimaa travelled from her hometown Alexandria to Cairo to specifically participate in the march."
Her burial took place in Alexandria on Sunday and was reportedly attended by more than ten thousand people sharing the same passion as she did, and chanting the songs of revolution against Mohammed Morsi and Fattah Al Sisi.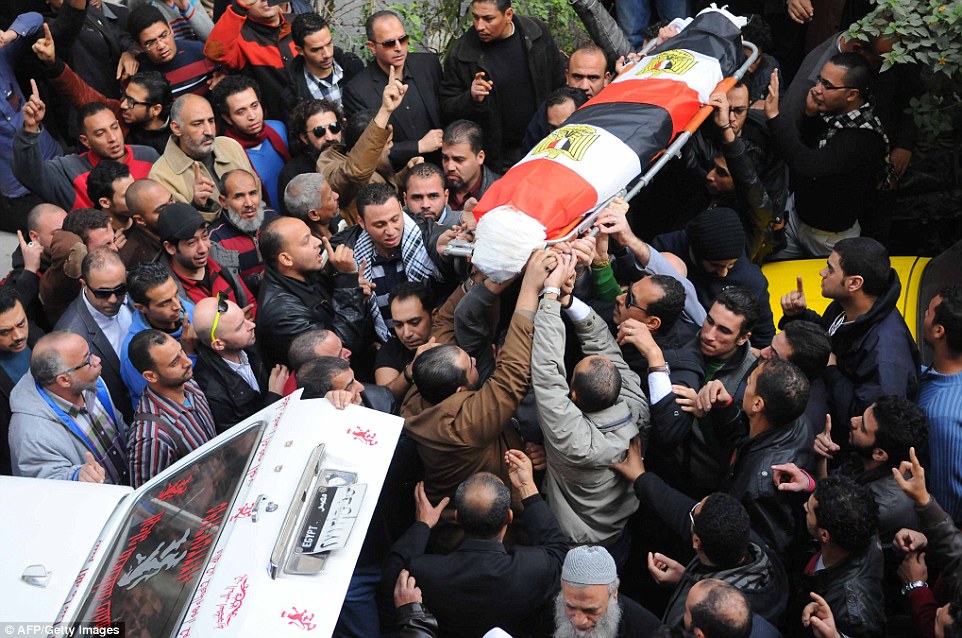 Image Source: Getty Images – Mourners carry the coffin of Shaima al-Sabbagh, an Egyptian protester who was killed in clashes with the police, during her funeral on in Egypt's second city Alexandria on Sunday
The peaceful protest that was held on Saturday, had a total of fifty people who held the party's flag and posters asking for justice; even in those conditions, the masked police officers were standing close to them
The Socialist Popular Alliance along with Al Dostour Party, held a press conference on Sunday blaming the regime's act of violence causing the death of their member, they further said that they should know the difference between terrorists and peaceful protesters.
"Government is lying and mixing between terroristic demonstrations and the killing of Al Sabbagh amid protesters carrying flowers," stated Khaled Daoud, an activist and spokesperson for Al Dostour Party.
Halla Shukrallah, the chairman of Al-Dostour Party, spoke against what is the excessive use of force by the police and other law enforcement agencies against a peaceful demonstration, he furthered demanded a complete investigation and reminded them that this could start another '2011 protest'.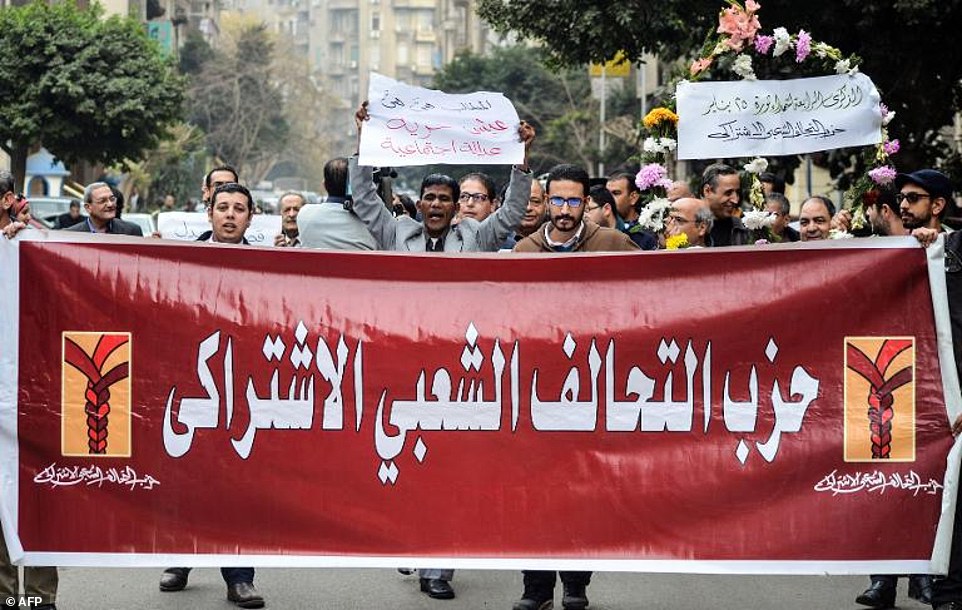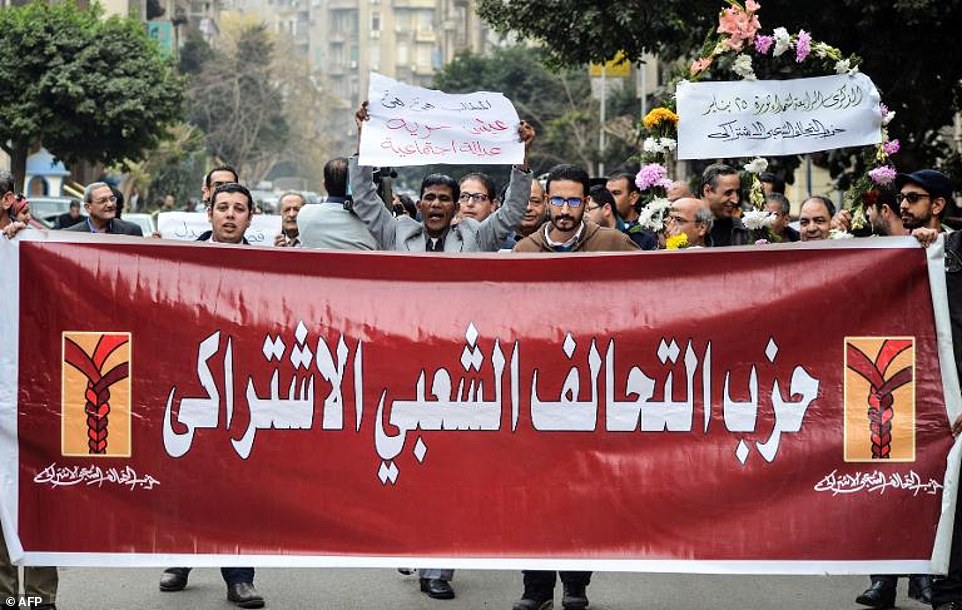 Image Source: AFP – Supporters of the Popular Alliance party demonstrate in Cairo's Talaat Harb square on Saturday
She believed in the revolution and hated enforcement of a military state; those were the words of El-Massry, a lawyer and activist. El-Massry commented on her Facebook account, saying she knew Ms. Sabbagh before the 2011 revolution.
The episodes of harassment were shown on TV channels and the web, demonstrating a few of her friends carrying Ms. Sabbagh, with obvious damage to her face as she was carried around in search of medical transportation, she appeared oblivious.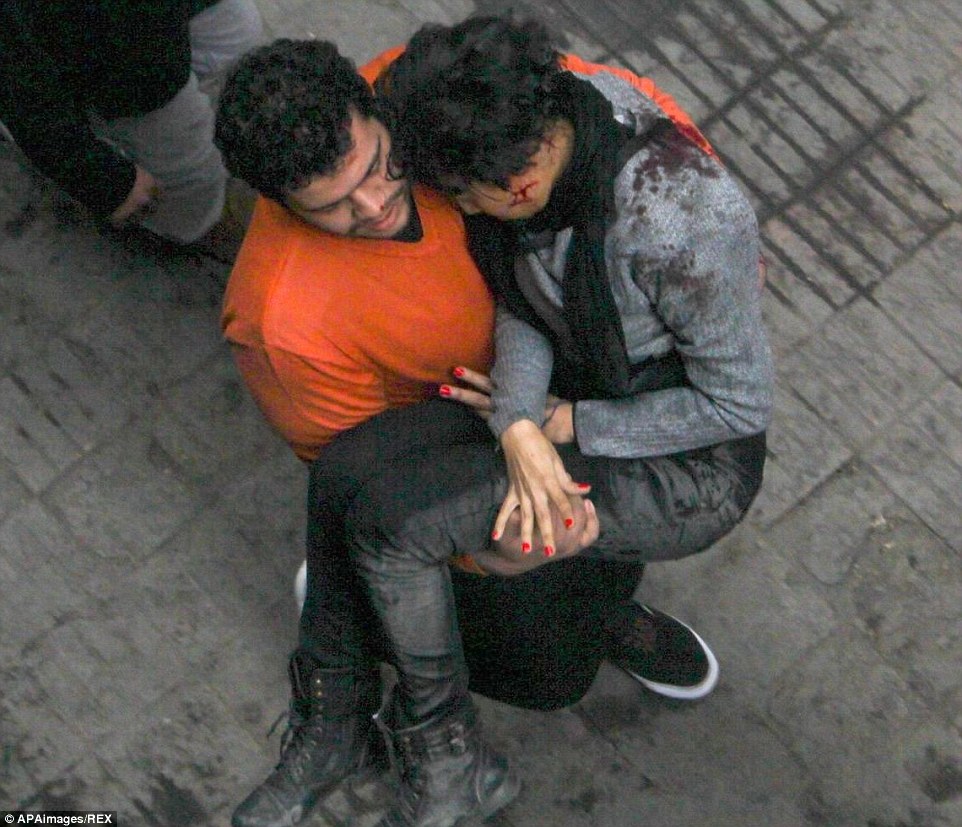 Image Source: APA Images – A fellow protester carries the injured Ms al Sabbagh from the scene after she was shot
Meanwhile, Ms. Sabbagh's associates and a percentage of the individuals who attempted to help her were captured, Yehia Al-Ga'afary, a part of the Socialist Popular Alliance, told Daily News Egypt Sunday.
Al Ga'afary also added that the police arrested a few parties' main individuals, listed below:-Talaat Fahmy – Party's Secretary General
Mohammed Saleh – Head of Student Affairs
Sayed Adul Ela – Senior Member & Head of Party Workers and Party Affairs
Hossam Nasr – The person who carried Ms. Sabbagh
Mustafa Abdul Al – Friends of Ms. Sabbagh and support of the party
Doctor – Who was helping Ms. Sabbagh
Cafe Owner – Where Ms. Sabbagh was taken to, too be looked after and a
Photojournalist
Furthermore, Al Ga'afary says that the arrested members were beaten and taken to the police station of Qasr Al Nile. They have not been referred to the prosecution yet, but were transferred to Abdeen police station.
Brave Egyptian women holding a protest on Talaat Harb where #ShaimaAlSabbagh was shot dead. pic.twitter.com/RfNUUnqQWW

— cecilia udden (@ceciliauddenm) January 29, 2015
https://twitter.com/TheGrumpyBitch/status/559475312762032131
Share ppl
Egyptian Female Activist #ShaimaAlSabbagh Killed By Police In Tahrir Square Protest(VIDEO)!!!… http://t.co/Lr1DSYGOqR

— Mohamed (@MTal3t_) January 25, 2015
#ShaimaAlSabbagh militante de gauche et aussi poète: "Une lettre dans mon sac à main" (poème) http://t.co/klwMqPORiw pic.twitter.com/arFvHIWEQ9

— algeriades (@algeriades) January 27, 2015
It should be noted that the party did not obtain required authorization as Protest laws mandate, as they did not think of their small march as a protest, but things really started to heat up when the security forces interrupted their demonstration and the members began negotiating with officials, then the shooting started.
The investigation was looked over by the Prime Minister and the Prosecutor General's Office, and the Ministry of Interior was to be presented with eye witness accounts to speed up the process, but the Ministry of Interior denied them and suggested that elements of terrorism were present in the protest.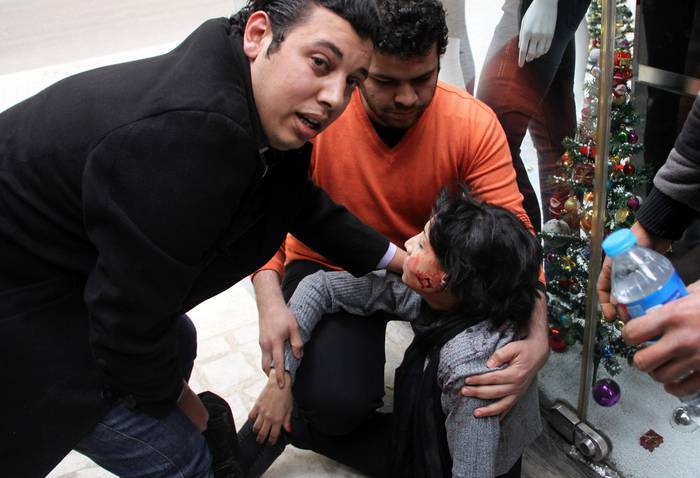 Image Source: Volkskrant – Ms. Sabbagh is helped to her injuries. Moments later she dies.
This came as strengthened security encompassed the square and the Ministry of Interior affirmed "extreme efforts to establish safety," cautioning residents against taking an interest in any challenges. In that capacity, Journalists against Torture's free gathering cautioned correspondents who planned to give live feeds on Sunday's occasions.
The military, composed with the Ministry of Interior, was to structure gatherings of 'exceptional fighting powers' to scatter dissents on 25 January, claimed daily paper, Al Ahram, writing about 21 January.
"No matter how big the story you will tell your readers is, the more important thing is that you come home safe," the movement said. Journalists against Torture also advised reporters not to stand among protesters or security forces, not to express political views, to avoid clashing with police in the case of an arrest, show ID, to be knowledgeable of the area's entries and exits and to be equipped with first aid material.
"Female reporters are advised to wear clothes that are difficult to tear, to avoid sexual assault and harassment," the group added.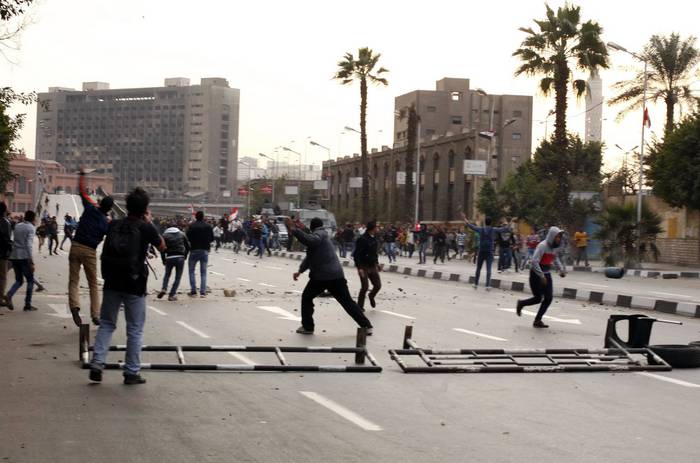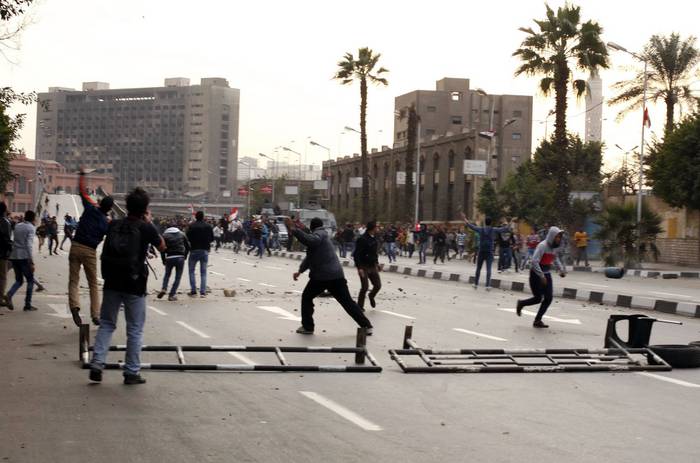 Image Source: Volkskrant – Anti-government protesters throw stones at pro-government protesters in Cairo
A few TV channels caught up with the occurrences and talked with Hisham Abdul Hamid, the authority representative of the Forensic Medicine Authority, and in addition, Abdel Fattah Osman, media representative of the Ministry of Interior, who said on the CBC channel that the police did not utilize birdshot as a part of the dispersal effort.
Activists criticized dubious TV host, Ahmed Moussa, who runs a show on Sada El Balad, when he displayed a photograph from a past dissent, wherein a man wearing non-military personnel garments and evidently holding a birdshot firearm, and asserted that he was the executioner.
Moussa asserted that the police did not shoot dissenters, charging activists instead, for example legal adviser, Khalid Ali, of arranging their own "ridiculous occasions", to make promulgation and charge the police.
Moussa and a writer named Nagat Abdul Rahman, had beforehand denounced the 25 January Revolution, offended its members and alluded to activists as 'swindlers'. Dissident, Israa Abdel Fattah, documented a claim against the two last September, and the Press Syndicate eluded them to examination on grounds of criticism last September.
Moussa was accused of spreading false news about rights; legal counselor, Tarek Al Awady, while under previous presidential competitor, Hamdeen Sabbahi, chose to sue him toward the start of 2015.
In his Saturday night show, Moussa said: "It was not the time for dissents, as the nation is grieving King Abdullah receptacle Abdul Aziz's passing last Friday," for which President Abdel Fattah Al Sisi affirmed a seven day state grieve.
Thus Mustafa Sherdy, a TV presenter, utilized the same feature on the Mehwer TV channel and said the members in the dissents, "push us to abhor the 25 January Revolution, notwithstanding the president's discourse that demanded keeping up the estimations of the transformation."
The picture supposedly fit in with the adolescent development "Ahrar," which sorted out a challenge on 22 January in the surroundings of Tahrir Square, and Al-Shorouk daily paper had posted the photograph as a component of its scope on that day.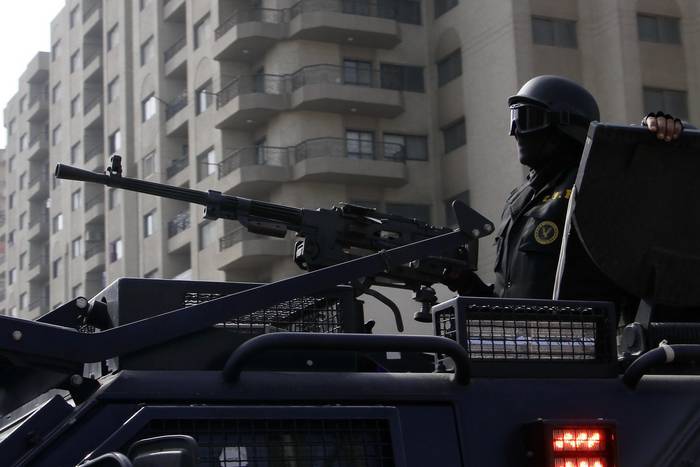 Image Source: Volkskrant – Security forces in the northeastern district Matariya in Cairo
The Egyptian government has suspended festivals of the revolution because of the demise of previous Saudi ruler, Abdullah. The administration uprooted Tahrir Square's dedication stone base, introduced and initiated in November 2013 by previous head administrator, Hazem El Beblawy.
"The stone was evacuated a week ago in the midst of improvement and reclamation lives up to expectations in Tahrir Square," Khalid Mustafa, the representative for Cairo Governorate told Daily News Egypt via telephone, yet was not able to affirm what the careful substitution would be.
---
Sources:
http://time.com/3681599/egypt-activist-shaimaa-al-sabbagh-tahrir-square-shot-killed/
http://arablit.org/2015/01/26/a-letter-in-my-purse-from-slain-poet-shaimaa-el-sabbagh/
http://www.mirror.co.uk/news/world-news/shaima-al-sabbagh-heartbreaking-picture-shows-5039047
http://www.nytimes.com/2015/01/28/world/middleeast/egypt-condemns-western-outrage-at-fatal-shooting-of-protester.html
http://www.dailymail.co.uk/news/article-2924709/Shocking-moment-female-socialist-activist-gunned-police-demonstrations-4th-anniversary-Arab-Spring-ousted-Hosni-Mubarak.html
http://www.volkskrant.nl/buitenland/doden-bij-verjaardag-egyptische-revolutie~a3837102/