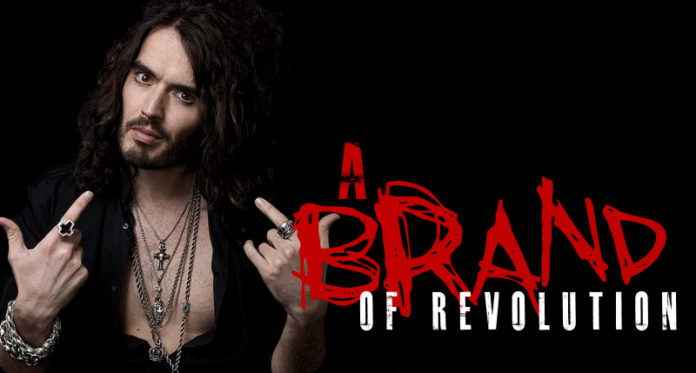 Written by: Anon DiVinci
When you hear the name Russell Brand, undoubtedly many different things comes to mind.  Some know him as an actor and some know him as a comedian.   Russell Brand is a man of many masks.  However, unless you follow him, you may not know him as "Russell Brand -The activist."  Those who do follow Brand however, know that the actor/comedian is making waves with his statements and beliefs, that some call controversial.
Brand and his stance on government became the topic of headlines when he was interviewed in 2013 by Jeremy Paxman on the BBC's hit Newsnight, after acquiring a role as guest editor of the New Statesmen's revolution-themed issue.  What started as an engaging conversation/interview, quickly became a heated debate when Paxma asked Brand, "Why would anyone listen to a man who has never voted in his life?"  Anyone watching undoubtedly saw a shift in the conversation as Brand replied, "I don't get my authority from this pre-existing paradigm, which is quite narrow and only serves a few people.  I look elsewhere for alternatives that might serve humanity."
Within that 2013 interview, Brand called for revolution, stating, "If we can change things, why wouldn't we?  Why is that naïve?  Why is that not my right, because I'm an actor?  I've taken the right.  I don't need the right from you.  I don't need the right from anybody.  I'm taking it."  News of this call to action made headlines all over the world, and went viral on social media.
Following Brand's book Revolution, Brand strikes again.  One of the topics of his new book that has garnered him a lot of criticism is his stance on the September 11th attacks.  When asked in a recent interview whether he believes the official story of the attacks, he says "What I think is interesting is the relationship that the Bin Laden family have had for a long time with the Bush family.  Do YOU trust the American government?"
Brand's book Revolution has also been widely attacked due to the fury it has caused over Brand's stance that it is pointless to vote, stating "I don't vote as I believe democracy is a pointless spectacle where we choose between two indistinguishable political parties, neither of whom represent the people but the interest of powerful business elites that run the world."
In response to Brand's distaste for the democratic process of voting, Toni Pearce of the New Statesmen says  "If you don't vote, you don't matter."  He goes on to say "If you don't vote, the government will ignore your job, ignore your education and ignore your family.
Brand holds steadfast to his call to arms stating that "If we want to make a difference, then we have to be different."  His hopes are that not only his stance but his book, brings a lot of issues to light that are often overlooked and ignored.  He feels that his status as a known actor can help bring this message to a much larger audience.
What do you think?  Do you agree with Russell Brand?  Do you agree that voting is pointless?  Do you agree that it's time for a change and a revolution?  Let us know what you think in the comments.
______________________________________________________________
Sources: