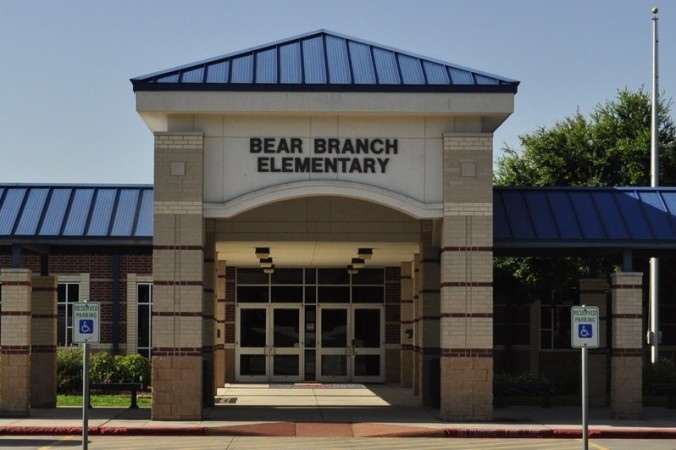 Magnolia, TX – Parents have been forced to make their child take the school bus and/or endure pickup car lines for over an hour each day or face trespassing fines and jail time. The end goal, the principal says, is to establish a safe dismissal process for the children.
The Bear Branch Elementary School, for years, has already had safe procedures in place. However, according to FOX 26 news, parents are now removing their children from the school and teachers and staff are resigning for greener pastures.
The new procedure implemented by principal Holly Ray – one that prevents parents walking their children to school – is more an act of bullying than safety, according to parents, and Ray, despite petitions and protests, refused to move from her position.
"This has happened to many parents," Wendy Jarman told FOX 26. "They have been cited. They have been threatened, if they step one foot on school property, they will be arrested and charged with who knows what."
The new policy is also enforced by the local law enforcement. The Montgomery County Constables are now on patrol watching for the parents in this police state environment. According to FOX 26 and the parents, the principal is "overstepping" her boundaries.
Wendy Jarman, a private school teacher who enjoyed the walk to school with her children has since enrolled them in a private school to escape Ray's bully tactics.  Another parent, Frank Young has also removed his children from the school.
"Mrs. Ray's policy is implying that a parent doesn't have the ability or capability to decide what is safest for her children and that the school district does and I disagree," Young says. "The most toxic thing we can do for our kids is not fight for the truth and justice."
For the mere act of walking your child to school, a special time in a child's life that parents have the right to enjoy and cherish; they will face criminal charges if they continue. Stepping "one foot on school property" will, without a doubt end in a citation or warning, reports FOX 26.
Two other parents have been threatened with arrest, but according to FOX 26 they are not ready to address the matter publicly. Students, staff and teachers are fed up with the principal's tyranny and are leaving. But what makes the matter worse is that law enforcement is eagerly supporting the matter, as is the school district.
"The Bear Branch Elementary School drop off and pick up procedures have been in place since the beginning of the school year. The District works with the constable's office to ensure an organized and safe dismissal of students which is based on several factors including campus location and available infrastructure," The Magnolia Independent School District responded in a letter.
At the end of the day, what is more safe than a parent escorting their child to class? It appears that this normal, everyday activity now constitutes breaking the law.
What's next?

---
This article (Elementary School Bans and Arrests Parents Who Walk Their Children to School) is a free and open source. You have permission to republish this article under a Creative Commons license with attribution to the author AnonWatcher and AnonHQ.com.
---
Supporting Anonymous' Independent & Investigative News is important to us. Please, follow us on Twitter: Follow @AnonymousNewsHQ