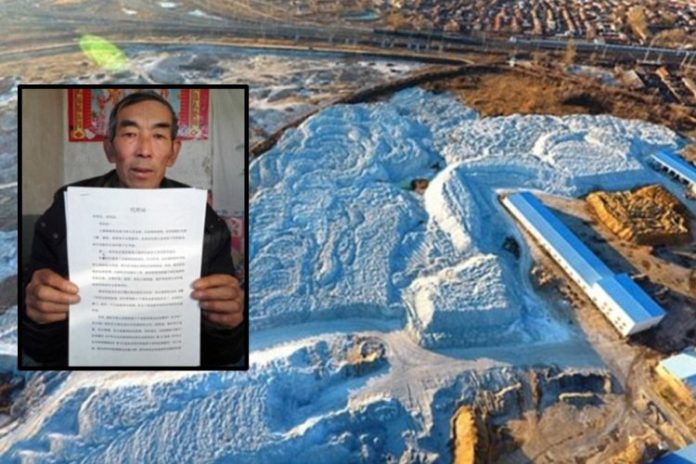 Wang Enlin, a farmer who had dropped out of primary school at the third grade, has won the first round of a high-profile case against China's state-owned chemical firm, Qihua Group, which dumped toxic chemical waste into his farmland in the Heilongjiang Province in 2001.
According to Wang, who is in his 60s and lives in the Yushutun village near the city of Qiqihar in north-east China, Qihua discharged hazardous wastewater from its factory nearby Wang's village at Lunar New Year, 16 years ago, which flooded his house, his neighbors' houses, his farmland, and his fellow villagers' farmlands.
The chemical waste, in both solid and liquid form, not only contaminated the farmland and left it incapable of producing crops, it also polluted a nearby lake and left it sterile, tranquil and completely devoid of life.
When Wang wrote a letter to the Land Resources Bureau of Qiqihar to complain about the pollution Qihua had brought to his village, he was asked to produce evidence to prove that the village's farmland had been polluted. "I knew I was in the right, but I did not know what law the other party had broken or whether or not there was evidence."
A government document from 2001 acknowledged that the affected farmland "cannot be used for a long time" due to the pollution, affecting the majority of residents who relied on agriculture for their survival. It was also reported that between 2001 and 2016, Qihua produced polyvinyl chloride and released 15,000 to 20,000 tons of chemical waste every year into Wang's village.
In April 2001, the elected Village Committee of Yushutun Village agreed to lease 428 mu of village land to the Qihua Group as a dumping ground for solid lime waste from their chemical production process. Due to the company's failure to adopt pollution control measures the 428 mu dumping ground along with an adjacent 300 mu of land contaminated by sewage water became so polluted that the land was stripped of all arable properties, making agricultural cultivation completely impossible.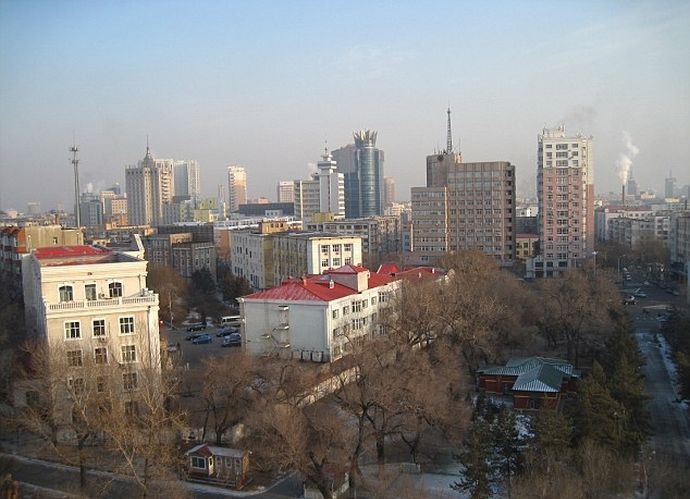 The powerful firm, which employs 5000 workers in mines and kilns across China, and turns over around  ¥2 billion (£235 million) a year, reportedly created a 71-acre wasteland with calcium carbide residue, and a 478-acre pond with its perilous liquid waste in the same period. Still, Wang had to fight and provide evidence for the truth.
Determined to seek justice for himself and his neighbors, Wang decided to study law by himself. The Daily Mail reports:
"At the time, he did not have money to buy the books, so he spent day after day reading the books at the local book store and copying the relevant information by hand. In return, he would give bags of free corn to the shopkeeper for letting him stay there. Not only that, he also used the legal knowledge he had learnt to help his neighbors gather evidence."
Wang was often ignored by the local courts and faced counter-accusations from inspection agencies. But his efforts paid off when in 2007, a Chinese law firm provided free legal advice to him and his neighbors as well as agreed to help the villagers file petition in the court; however, the court only began processing Wang and his neighbors' case in 2015.
The Angangxi District Court of Qiqihar has finally ruled that the 55 affected families in Yushutun village would receive financial compensation amounting to ¥820,000 (£96,000) from the Qihua Group.
Although Qihua has appealed against the court's verdict, a determined Wang, who feels the victory was important for the farmers who stood up for their rights even though the compensation would only amount to less than ¥15,000 for each family, told reporters: "We will certainly win. Even if we lose, we will continue to battle."
---
This article (Farmer Studies Law for 16 Years; Wins Case against Firm for Polluting His Land) is a free and open source. You have permission to republish this article under a Creative Commons license with attribution to the author and AnonHQ.com.
---
Supporting Anonymous' Independent & Investigative News is important to us. Please, follow us on Twitter: Follow @AnonymousNewsHQ