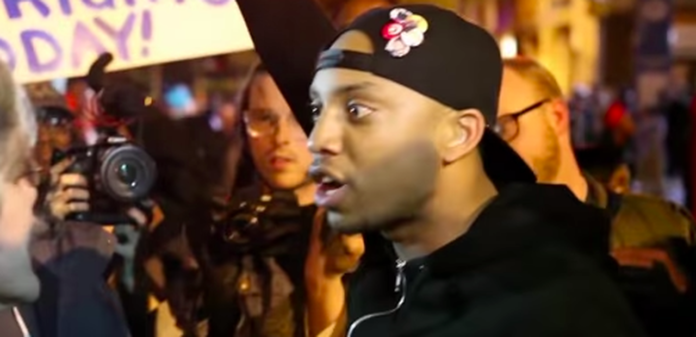 On April 28th, as Fox News' Geraldo Rivera prepared to report on the unrest in Baltimore following the death of Freddie Gray, he was confronted by a young black Baltimore resident frustrated with Fox News. The protester was critical of Fox for ignoring stories about Baltimore's poverty, nonviolent protests, and its failure to highlight Freddie Gray's death.
Major salute to this man and how he put Geraldo Rivera's racist ass in his place http://t.co/ZWZ6X1Avsf

— b drake (@BDrake4) May 1, 2015
Why is Geraldo Rivera relevant?! I don't watch Fox News, but seeing people in Baltimore telling him to leave is almost worth it! — angee (@asm0080) May 1, 2015
A Baltimore resident confronts Geraldo Rivera over Fox News Irresponsible coverage. LOVE pic.twitter.com/z0WDtckR1J

— holly armínda (@hollyarminda) April 30, 2015
The young man told Rivera, "We're angry. A black man can raise his voice and you don't have to be intimidated. I want you and Fox News to get out of Baltimore City, because you are not here reporting about the boarded up homes and the homeless people under MLK. You're not reporting about the poverty levels up and down North Avenue… but you're here for the black riots that happened. You're not here for the death of Freddie Gray."
"Stop blocking my camera, stop blocking my camera. Stop it, you're making a fool of yourself," Rivera was heard saying.
As the argument got heated, the protester shouted, "We don't need your false coverage. No, don't walk away once we start talking – that's the problem. You want to report that we're thugs and we're breaking shit down. You've got these people around to protect you from all these black folks. We're the ones that need protection… You're working for Fox News."
The next day on Fox & Friends, Rivera called the protester annoying and an obstructionist, accusing the resident of exhibiting, "exactly that kind of youthful anarchy that led to the destruction and pain in that community." He argued that, "hip-hop has done more damage to black and brown people than racism in the last 10 years."
In another contentious interview with Fox News, Baltimore City Councilman Nick Mosby also urged reporters at the network to focus on larger issues plaguing the city, as the underlying causes which led to the death of Freddie Gray and the riots.
Since the unrest began in Baltimore, Fox News has exploited the crisis to criticize and blame the civil rights community, black parents, and President Obama, while dismissing police brutality and even accusing Freddie Gray of playing a part in his own death.
How media reporting misses the main point of #Baltimore protests: the police culture of #violence http://t.co/OYIql9YVAG #policebrutality — Steve Hayes (@hayesstw) May 1, 2015
Black lawmaker tells Geraldo Rivera that Fox News is "inciting people" in Baltimore: http://t.co/UOCVuwohey

— Talking Points Memo (@TPM) April 29, 2015
Just watched Fox News and saw Geraldo Rivera try to incite a crowd around him in Baltimore to put the spotlight on him. — Barry Green (@BSG) April 29, 2015
---
You want to discuss a certain topic with likeminded people or you want to organize a local protest or you have an idea for a project that can help people in need in your local community or all around the world? Join our forum! www.anonboards.com
---
You want to support Anonymous Independent & Investigative News? Please, follow us on Twitter: Follow @AnonymousNewsHQ
---