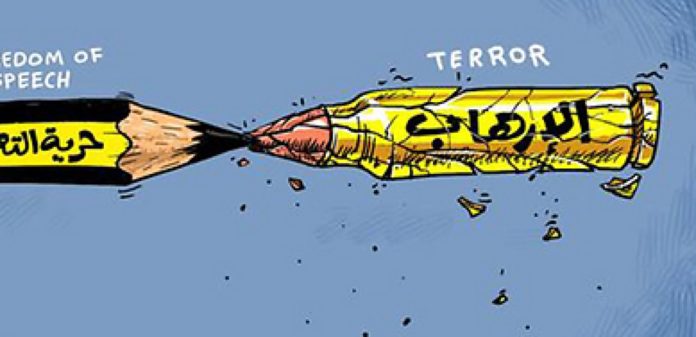 No, the Arab world DID NOT celebrate the attack on Charlie Hebdo. While there were reports of Palestinians celebrating the killing of blasphemers in the West Bank and in Lebanese refugee camps, rest of the Arab world was clearly outraged. Many newspapers across the Arab world published cartoons expressing solidarity and support with the French satirical magazine.
Qatar
Al-Arabi Al-Jadeed printed a powerful picture of a pencil overpowering a bullet.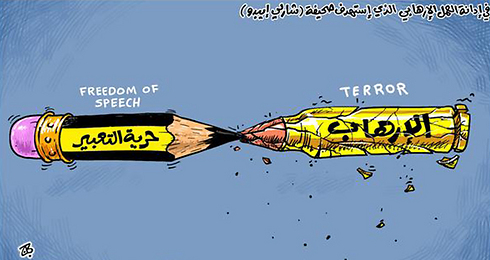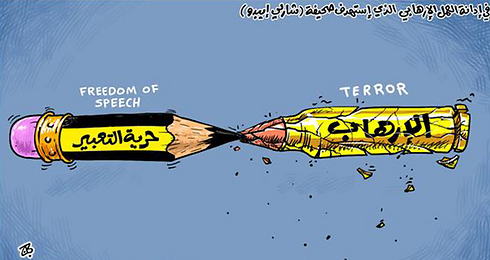 Egypt
Al-Masry Al-Youm's young cartoonist Makhlouf drew two cartoons. The first one says on top "In support with Charlie Hebdo" with the hashtag #JeSuisCharlie.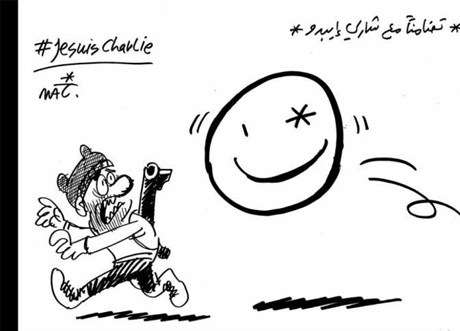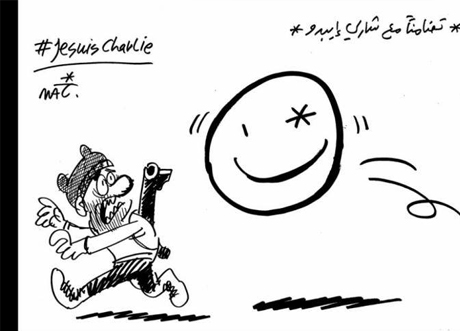 In the below cartoon, Makhlouf drew himself holding up a pencil in front of a masked gunman. It again says "In support of Charlie Hebdo".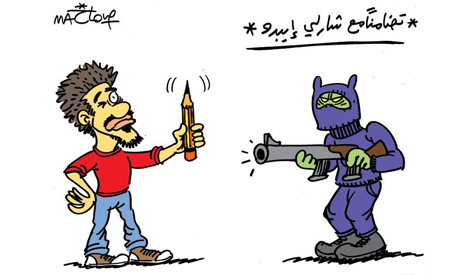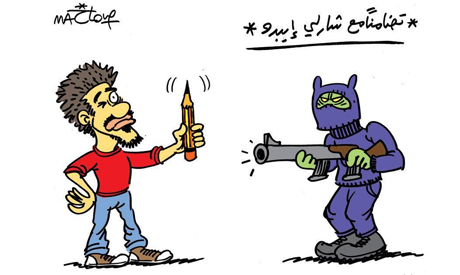 Iran
Iranian government's official newspaper Iran dedicated most of its front page to the Paris attack, with the headline "Bloody Show Of Terrorists In Paris".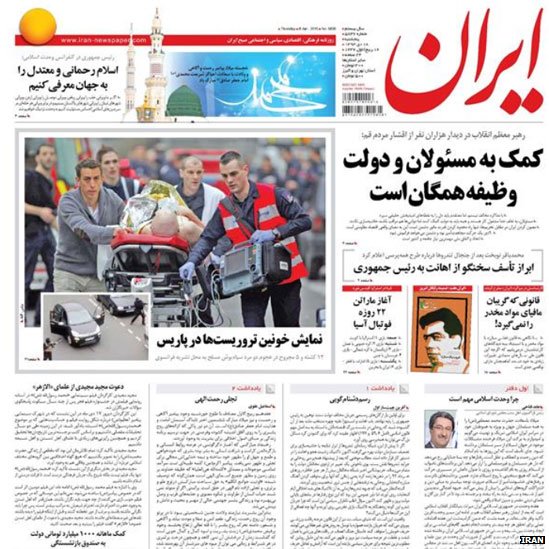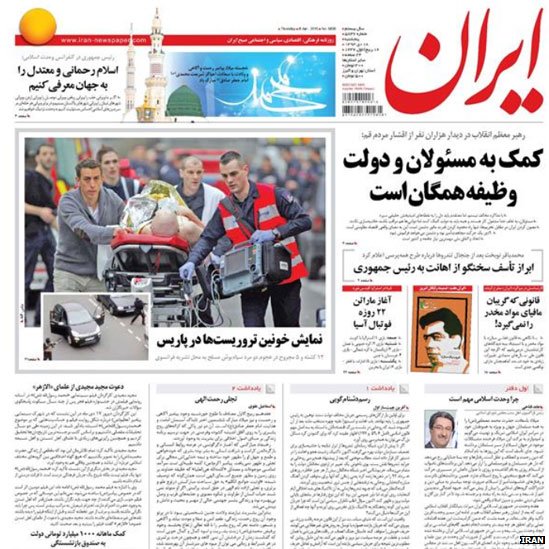 Lebanon
Below two cartoons are from the An Nahar newspaper. The first one reads "But … he called me a terrorist". And the second one reads "This is how we avenge the cartoonists' killer".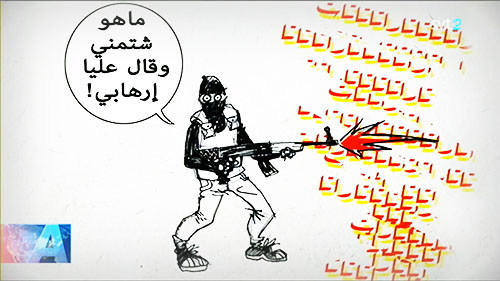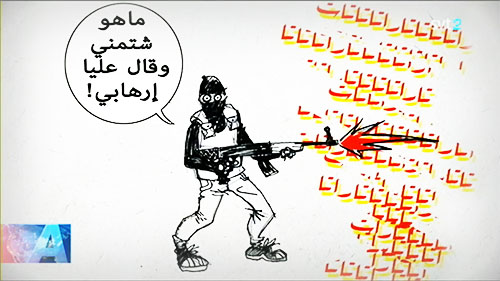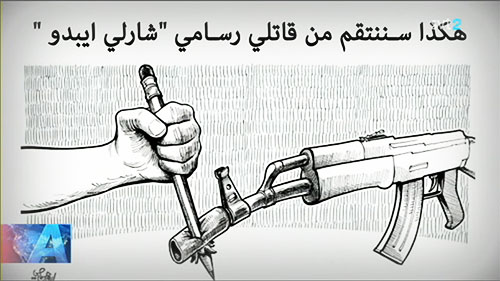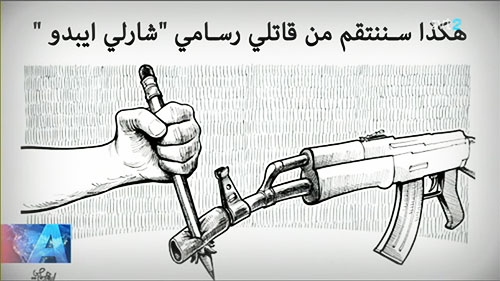 The Al Akhbar newspaper printed the following cartoon that read "freedom up in the air".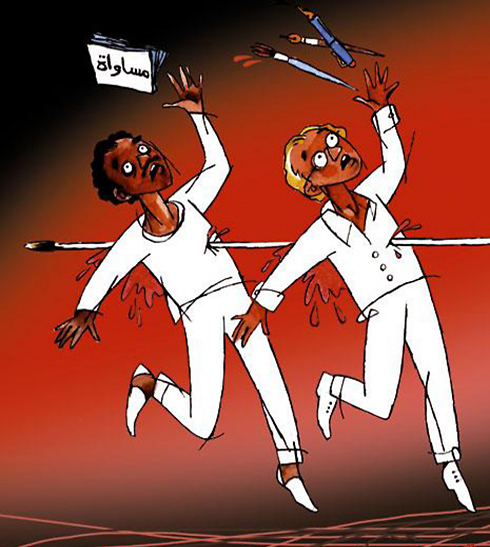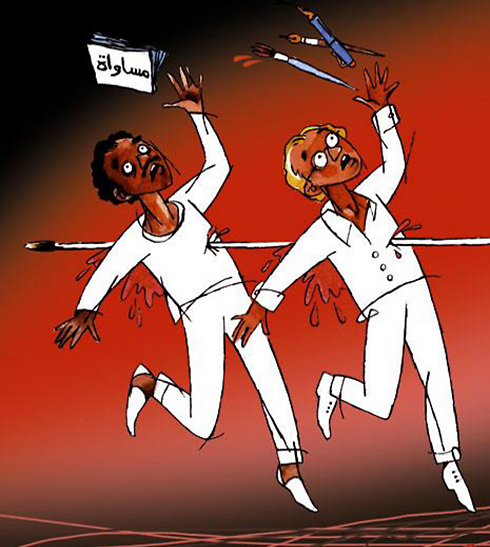 The pan-Arabic newspaper Al-Hayat sharply condemned the Paris attack. Its headline read "Terrorists Hit The Heart Of Paris in Cold Blood".
Saudi Arabia described the attack on journalists as a "cowardly terrorist act which Islam as well as other religions reject," the state-run Saudi Press Agency quoted an official source as saying.
Related Articles:
Catholic League Defends Murders at Charlie Hebdo
#JESUISAHMED|Story Of The French Police Officer Who Was Gunned Down While Saving Charlie Hebdo
Terrorists' Slaughter of French Journalists Boosts Europe's Racist Far-Right
Muslim Activist Tweets What's Most Offensive About The Paris Shooting
______________________________________________________________________
Source:
http://mic.com/articles/108076/here-s-how-arab-papers-reacted-to-the-charlie-hebdo-massacre