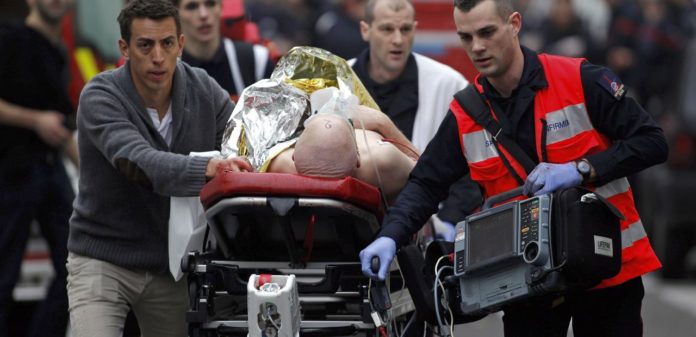 The manner in which 12 innocent lives were cut short at the Paris headquarters of satirical magazine Charlie Hebdo on January 7 has sent shock waves across the globe. The world is together in grief, disgust and anguish, and condemns brutal massacre as a form to justify ideological points of view. What hurts the most is that the political and cultural consequences of a tragedy of this magnitude, when individual ideological points of view are attached to radical Islam, lead to gross generalizations and Islamophobia. A tweet from Iyad el-Baghdadi, Palestinian blogger and human rights activist, who shot to fame during the revolutions in Egypt and Tunisia, captures the troubling implications:
As a Muslim, killing innocent people in the name of Islam is much, much more offensive to me than any cartoon can ever be. #CharlieHebdo

— Iyad El-Baghdadi (@iyad_elbaghdadi) 7. Januar 2015
Iyad el-Baghdadi's words are a powerful rejection of those who use religion to justify cruelty; they're a reminder that the Paris terror attack does not reflect the values of Muslims worldwide. He found support in the leader of the Lebanese Hezbollah group Sheikh Hassan Nasrallah who on January 9 addressed a gathering in southern Beirut via video link and said, "Islamic extremists have insulted Islam and the Prophet Muhammad more than those who published satirical cartoons mocking the religion".
While he and Hassan try their best to remind people of this 'reality', fear looms large as Paris shooting can spur a slight increase in anti-Muslim sentiment and add to the rising tide of Islamophobia in France and elsewhere. In a chilling video footage, taken by terrified onlookers, screams of 'Allahu Akbar' or 'God is great' could be heard amid the gunfire. The attackers were heard shouting, "We have killed Charlie Hebdo. We have avenged the Prophet Muhammad," sending strong signals that the masked gunmen acted as part of a religious vendetta against the magazine known for printing offensive cartoons of the Prophet.
Daniel Trilling at the New Humanist sums it up perfectly:
"It's worth stating that journalist should have the right to publish offensive material without fear of violence retribution. They should have the freedom to publish it, and others should have the freedom to criticize it. Let's defend those rights. One effect that terrorism can have is that it scares large groups of people into hating each other, into endorsing stereotypes and restrictive laws they might otherwise not. Let's resist that too".
Let's just hope that the horror of this massacre does not breed more hatred, xenophobia and brutality. Else, the gunmen would win even if they lost the plot completely.
Related Articles:
Catholic League Defends Murders at Charlie Hebdo
#JESUISAHMED|Story Of The French Police Officer Who Was Gunned Down While Saving Charlie Hebdo
Terrorists' Slaughter of French Journalists Boosts Europe's Racist Far-Right
Here's How Arab Newspapers Reacted to The #CharlieHebdo Massacre
___________________________________________________________________________
Source:
http://mic.com/articles/107898/one-tweet-sums-up-what-s-really-offensive-about-the-paris-shooting