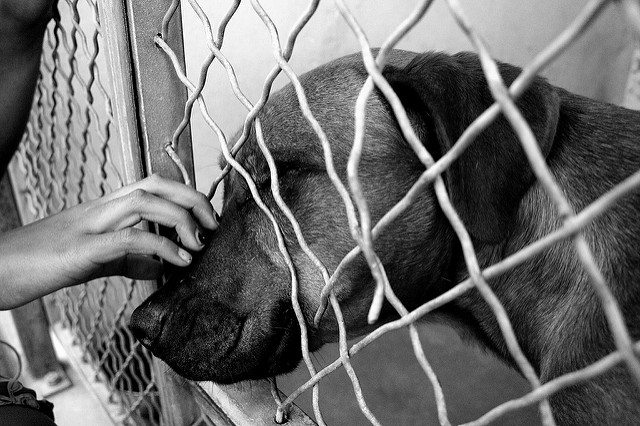 In recent weeks the annual Lychee and Dog Meat Festival in Yulin, China, has sparked many debates across the western world. Many animal welfare organizations, celebrities and media sources have voiced their outrage at the barbaric festival and the practices often seen at the event.
However, while many vigorously condemn the festival – and the legality of eating dog meat – others are claiming that their anger is unjustified and hypocritical. Every year, millions of animals are slaughtered for human consumption. While many of these animals do not share the cute and fluffy appearance as our loyal canine companions, all of these animals experience fear, pain, hunger and anguish.
Many have argued that intelligence plays a primary role when determining whether a species is fit for human consumption. However, as many studies have shown, pigs are intelligent, aware, emotionally and socially sophisticated beings.
In the paper, titled Thinking Pigs: A Comparative Review of Cognition, Emotion, and Personality in Sus domesticus, authors Lori Marino, a neuroscientist and founder of the Kimmela Center for Animal Advocacy, and Christina M. Colvin, a professor at Emory University, write that pigs are mentally and socially similar to dogs and chimpanzees.
"What is known suggests that pigs are cognitively complex and share many traits with animals whom we consider intelligent," they write in the paper.
In addition, scientists have also found that cows are intelligent and emotionally sensitive beings. Signs of advanced cognitive abilities, problem solving abilities and understanding of cause-and-effect relationships are among the many traits that have been observed within the species.
From this, it becomes apparent that many people do not truly care about the level of intelligence of the animal that ends up on their plate every evening. Therefore, we can assume that social norms play a large role when it comes to selecting the animals that we wish to farm for food.
Lamb, beef, pork, poultry and fish are the most widely used meat products in western diets. Although a large percentage of the rest of the world also consume these meat products, other species of animals  – many of which would be seen as disgusting or strange to those in other countries –  are also commonly eaten around the world.
Frog, insects, turtle, snake, spider, crocodile, shark and whale are just some of the many different meats people regularly dine on across the world. In China, people have been eating dog meat for more than 400 years. It is seen as a tradition, with many believing that dog meat would help ward off the heat felt through the summer months.
In the UK, 2.6 million cattle, 10 million pigs, 14.5 million sheep and lambs, 80 million fish and 950 million birds are slaughtered for human consumption every year. In Canada, more than 650 million animals – mostly poultry – are slaughtered for food annually. Finally, in the United States, around 8 billion land animals and roughly 100 billion marine animals (fish and shellfish) are killed for food each year.
However, although many countries are under increasing pressure to source the majority of its food products from its own farmers, a large percentage of the meat we see and buy from the supermarket shelves are sourced from other countries. As a result, slaughter statistics can easily appear skewed for many consumers in western nations.
In India, around 80 percent of the population practice Hinduism, a religion which honors the cow and believes the species a symbol of grace and abundance. Despite the fact that the majority of the population are vegetarian and honor the cow, India has been the largest exporter of beef in the world since last year.
This contradiction highlights the high demand for meat, especially in western countries, where many of us have become dissociated with the slaughter process of the animals that we really consume. For these reasons, animal activists and environmental advocates are highlighting the hypocrisy that was seen during the annual Lychee and Dog Meat Festival in Yulin.
Every year, over 56 billion farmed animals are killed by humans. Please note that these statistics do not include fish and other sea creatures, whose deaths are so great they are only measured in tonnes. In comparison, it is estimated that 10,000 dogs are killed for meat at the Lychee and Dog Meat Festival.
Once you compare these figures, it becomes easy to see how one might perceive the criticism given to those at the festival as hypocritical. Yes, while there are many horror stories regarding the treatment at the dogs at the festival, the practices seen at many slaughter houses or factory farms in our own nations are often as equally gruesome.
Like the dogs at the Lychee and Dog Meat Festival, the animals are enclosed within overcrowded spaces, which typically causes the animals a lot of stress and discomfort. In addition, in both instances, the animals are also left to sleep, eat and live among feces and other animal waste. Disturbingly, it is also common for the animals to live among the rotting corpses of those not strong enough to survive such conditions.

To put it simply, you needn't look far to see the barbaric and inhumane practices that are taking place every day in factory farms worldwide. However, as eating poultry, beef, fish and lamb is a cultural norm – values handed down to us from the society we live in – in many western countries, many of us are unaffected by the reality of industrial livestock production.
It is only when we see this reality being inflicted on an animal we see as a personal companion, that we stand and take notice of the barbaric practices involved in animal agriculture. Can we really measure one life against another in this manner? Share your thoughts with us in the comment section below.
Image: Flickr, Erick Pleitez
---
You want to support Anonymous Independent & Investigative News? Please, follow us on Twitter: Follow @AnonymousNewsHQ
---
This article (Hypocrisy? Outrage over China's Annual Dog Meat Festival Highlights the Realities of the Meat Industry) is a free and open source. You have permission to republish this article under a Creative Commons license with attribution to the author and AnonHQ.com.